Heidi Pino, Life Care Public Relations
This year, there was plenty of wearin' o' the green at Life Care facilities around the country as St. Patrick's Day came around.
Every building had its own special way of celebrating the Irish holiday, and here are a few of the highlights.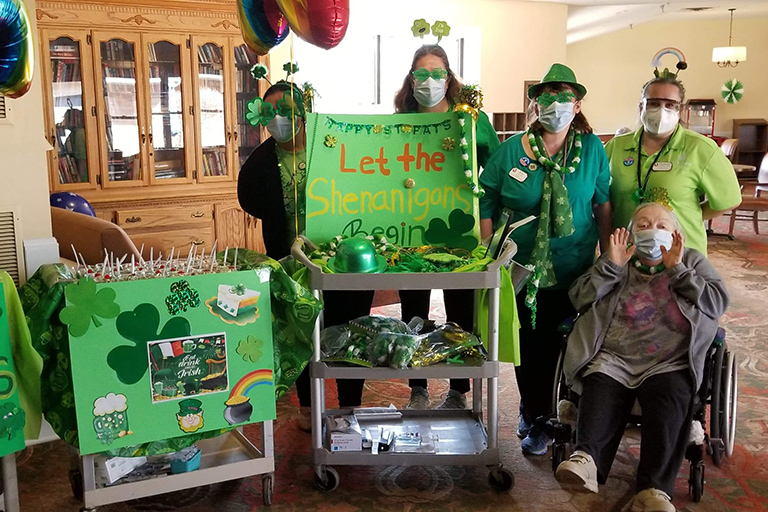 Associates at Life Care Center of Medina, Ohio, dressed up in green, and the facility did a parade of party carts throughout the building. Among the goodies residents received were rainbow punch, pudding parfaits with Lucky Charms, necklaces, bracelets, party noisemakers and hats.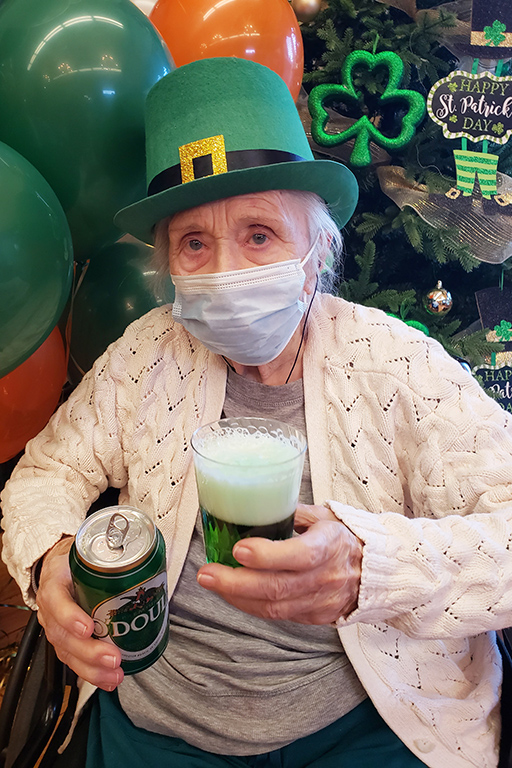 At Life Care Center of Kirkland, Washington, residents and associates alike took part in the festivities throughout the week. Residents enjoyed a lunch of corned beef and cabbage and had a scavenger hunt with mini pots filled with chocolate gold coins. Some residents enjoyed near beer and took their picture in front of the holiday tree. Associates had a potato bar for lunch and played a guessing game to see how many cheese puffs were in a container. Winners got to take home the giant jars of cheese puffs. In their rooms, residents enjoyed the in-house TV channel, which offered specials from Riverdance and Celtic Woman, and Paige Day, activity assistant, hosted a slide show on Ireland. To cap it all off, the Bonnie Birch Trio played live Irish music outside the building for all to hear.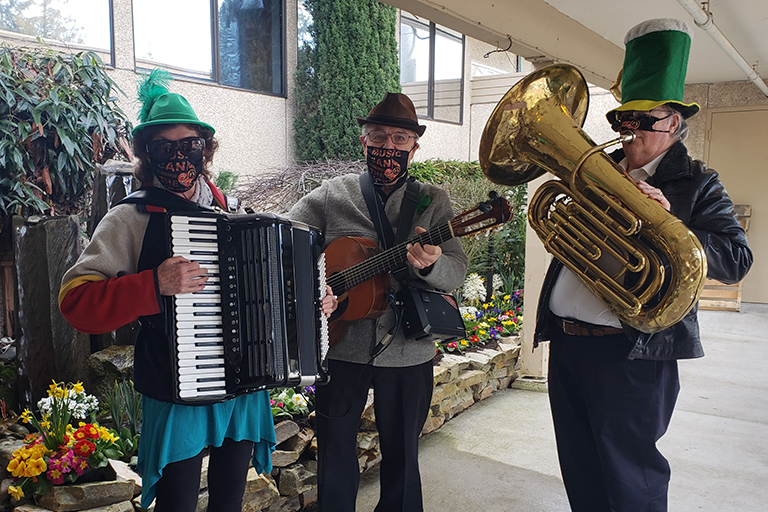 At Life Care Center of Port St. Lucie, Florida, residents celebrated with a St. Patrick's Day bingo social in which they could win St. Patrick's Day themed prizes, including socks, shirts, snacks, beads, tiaras, halos and more.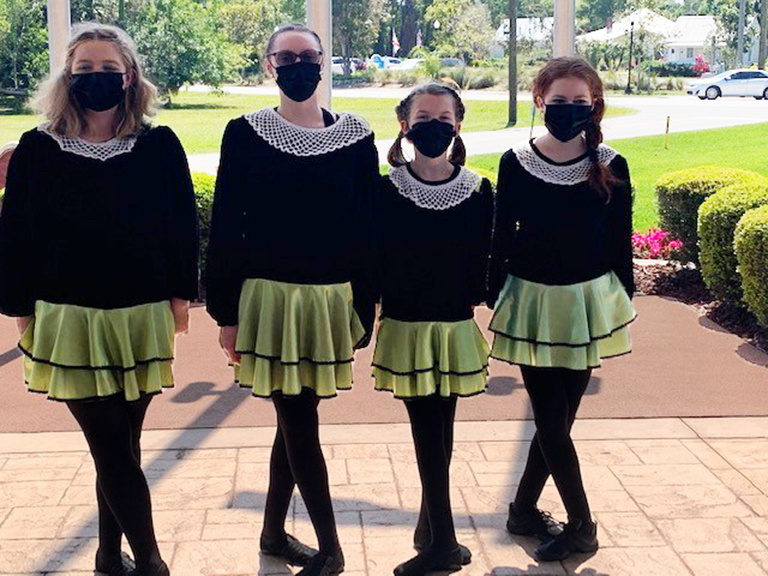 Life Care Center of Punta Gorda, Florida, had a week full of entertainment, including young dancers from the Sarasota School of Irish Steppers, Piper Dave and a round of St. Patrick's Day "Jeopardy!" style trivia provided by Trilogy Home Healthcare.
At Life Care Center of Gray, Tennessee, residents enjoyed a party with mint chocolate chip milkshakes, and at Life Care Center of Cape Girardeau, Missouri, associates passed out crafts, festive hats, green leis and beads and green cookies.
Cookies were also popular at Valley View Villa in Fort Morgan, Colorado, where the treats included Lucky Charms baked in. Residents also enjoyed non-alcoholic beer and the chance to have their photo taken against a pub backdrop.
A dancing leprechaun made an appearance at Life Care Center of Hendersonville, North Carolina, while folks dressed in their favorite green attire and enjoyed green punch with lots of foam. Similarly, residents at Life Care Center of the North Shore in Lynn, Massachusetts, enjoyed green and orange "leprechaun floats."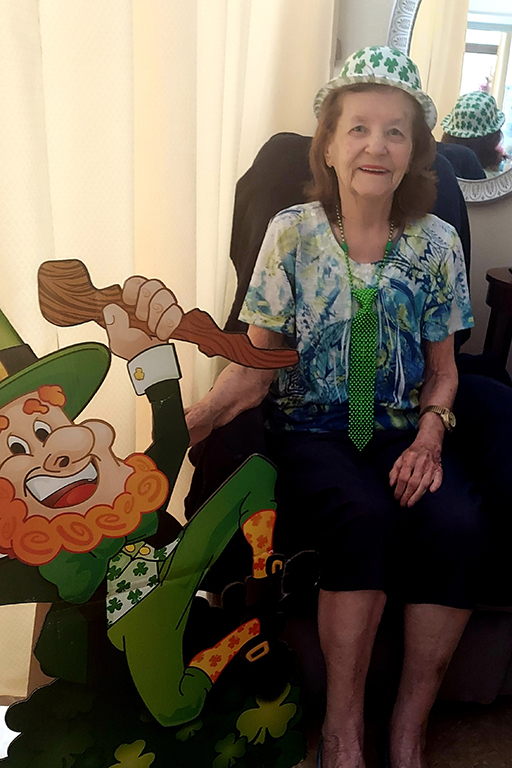 Life Care Center of Sierra Vista, Arizona, started its St. Patrick's Day activities on Monday with a Lucky Duck virtual bingo game. Tuesday featured Ireland travel videos and Irish trivia. Wednesday started out with lucky pennies, and the dietary department prepared corned beef, cabbage, potatoes and a lucky leprechaun cake. After lunch, residents played a game in which they had the chance to win prizes. One resident even commented she was "blown away" by all the fun activities.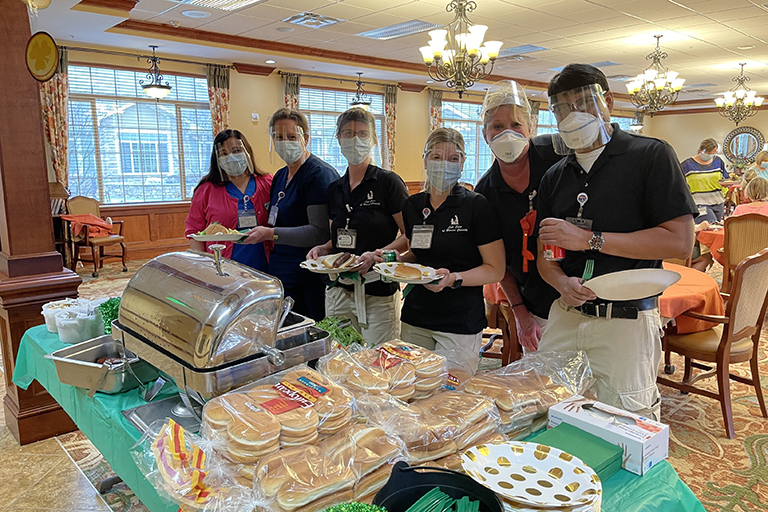 Residents at Life Care Center of Port Orchard, Washington, took part in St. Patrick's Day trivia and wore green beads. Green sherbet was the treat of the day for them, while residents at Life Care Center of Blount County in Louisville, Tennessee, mixed lime sherbet with Sprite and rainbow sour candy to make floats. That same day, associates at the center celebrated St. Patrick's Day with a staff appreciation cookout with hamburgers, hot dogs and green prizes.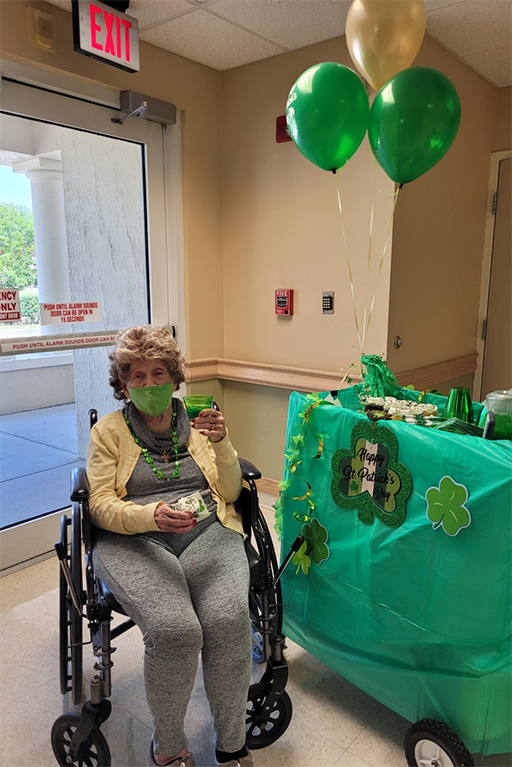 Shamrock necklaces and pins were prizes for St. Patty's Day trivia at Life Care Center of New Port Richey, Florida, where residents also enjoyed cupcakes, green drinks and a visit from a leprechaun.