Even the COVID-19 pandemic protocols couldn't hold back the fun this Fourth of July at Life Care facilities around the country.
From Massachusetts to Hawaii, activity associates found ways to make Independence Day memorable and fun!
Family parades were popular at Life Care Center of Blount County in Louisville, Tennessee, and Heritage Park Care Center in Carbondale, Colorado, with family and friends driving by the facilities to wave to their loved ones. Many of them decorated their cars and made signs with messages of greeting and love for their country.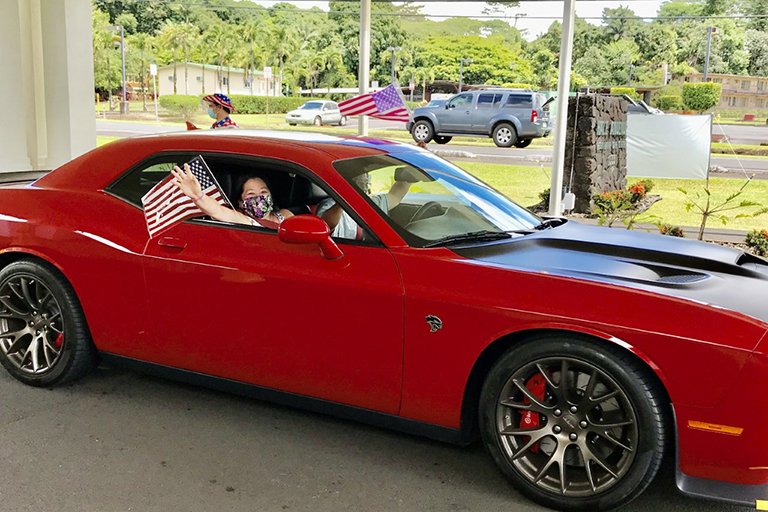 At Hale Anuenue Restorative Care Center in Hilo, Hawaii, a local car club, the Hilo Hawaii Classic Cruisers, put on the parade for the residents and associates. More than 50 cars took part in a Fourth of July Hot Wheels for Healthcare Heroes parade in the area, cruising to multiple facilities. "When the vintage cars came to Hale Anuenue, they were met by the residents and healthcare heroes, who cheered and waved them on with their flags, social distancing, watching from their windows or the patio areas, wearing their patriotic colors and masks," said Shelley Yashuhara, activity director. "What a spectacular display of classic cars that brought back so many nostalgic memories for our residents! And what a show of support from our community!"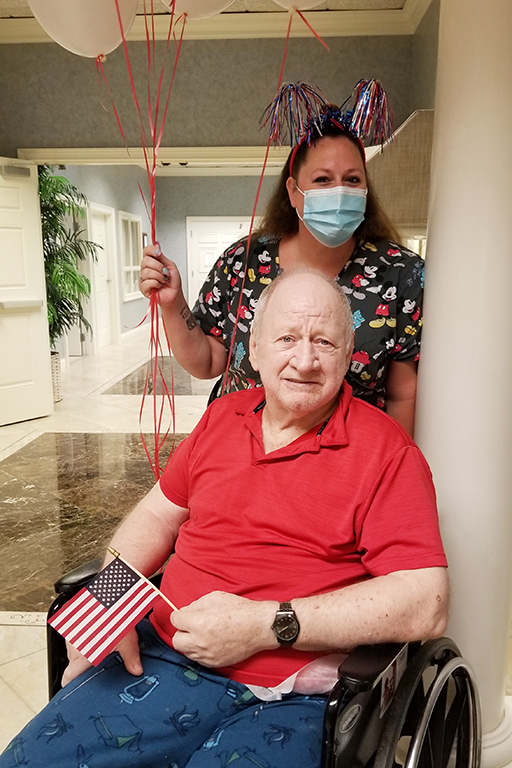 Several indoor parades also took place during the holiday weekend. Residents and associates at Life Care Center of Palm Bay, Florida, dressed up in red, white and blue and marched up and down the hallways with balloons, garlands, streamers and flags while singing patriotic songs. The parade ended with an American favorite – apple pie.
Life Care Center of Sandpoint, Idaho, had an indoor parade in which residents showed off their decorated wheelchairs. They had spent several days decking out their ride as part of a contest, and everyone voted for the best decorated chair. The winner received a gift certificate to order a free pizza.
At Life Care Center of Orange Park, Florida, associates dressed up and decorated carts to look like parade floats, including a ship, a fireworks display and a Statue of Liberty. Associates passed out candy and gifts to the residents as they marched by. You can see a video of the parade here.
Speaking of candy, much of the American celebration around the country revolved around food. Garden Terrace at Houston residents enjoyed watermelon, sodas, non-alcoholic beer, cake and cookies. At Rivergate Terrace in Riverview, Michigan, the residents voted on how to celebrate Fourth of July and selected a red-white-and-blue fruit salad with watermelon, blueberries and bananas, as well as punch.
Life Care Center of Sierra Vista, Arizona, residents enjoyed an outdoor picnic on July 3 with barbecue beef, macaroni and cheese, coleslaw and fruit pops, and then on July 4, they donned their new tie-dye shirts and had a good time watching and listening to the Golden Line Dancers, who performed on the patio.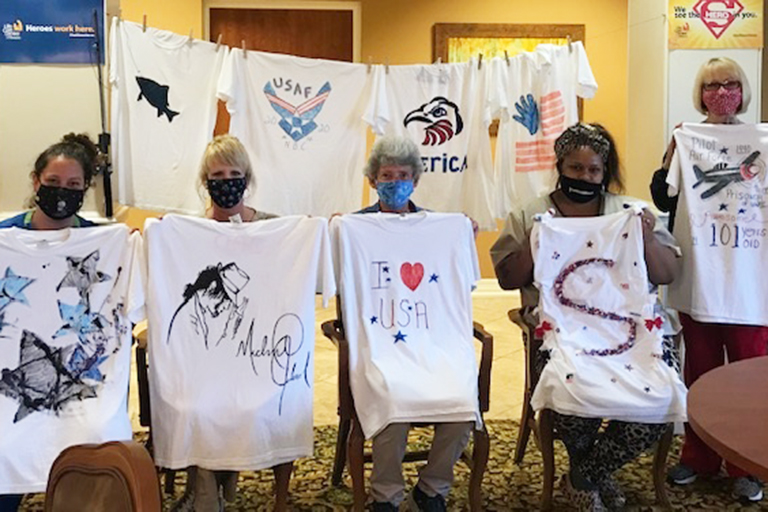 Fourth of July had something to do with T-shirts at Life Care Center of Hixson, Tennessee, too. Several residents and associates participated in a T-shirt decorating contest. Associates adopted a resident and were given a T-shirt to decorate either with a patriotic theme or something about their resident. Ten associates took on the challenge, and at the end of the day, the shirts hung on a clothesline for voting. First place went to Leslie Zetko, certified nursing assistant, for her star design. Second place was a tie between Lisa Jackson, environmental services director, who did a Michael Jackson shirt for a resident who is a big fan, and Mae Petty, activity director, who celebrated her resident's history as a pilot and prisoner of war in World War II. Third place went to Karen Grasham, receptionist, who made a Tree of Love with the resident's fingerprints.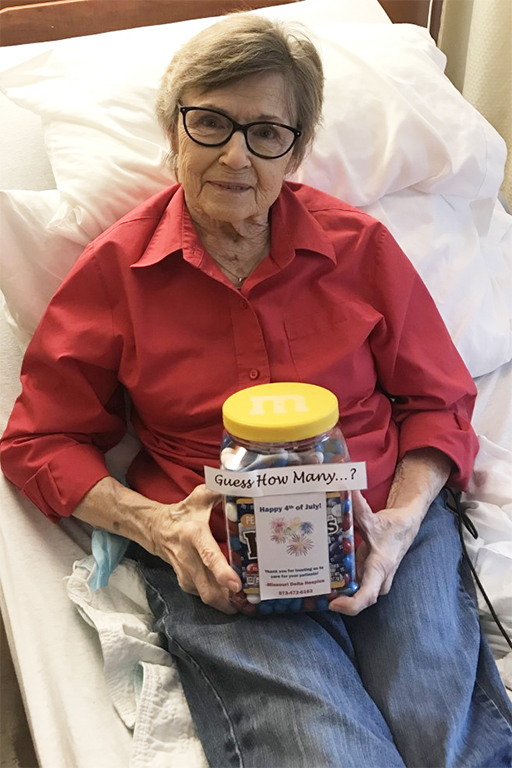 Other activities for the weekend included Fourth of July trivia and word searches at Life Care Center of New Port Richey, Florida, fireworks at Life Care Center of Gray, Tennessee, and lei-making at Life Care Center of Cape Girardeau, Missouri. Residents in Cape Girardeau also guessed how many M&Ms were in a jar, with resident Trena Novak guessing the closest and winning a treat of her choice – a 12-pack of Pepsi!
Thank you to all our associates, family members and community members who made this Fourth of July a blast for our residents!