Heidi Pino, Life Care Public Relations
Residents and associates at Life Care facilities around the country donned their red, white and blue and had a blast celebrating Fourth of July this year!
Here are some of the unique ways our facilities celebrated.
Garden Terrace at Fort Worth celebrated the holiday twice! On Friday, July 2, Kristen Carlson, executive director, grilled hot dogs for the staff. And on Sunday, July 4, the residents enjoyed musical entertainment and went outside to fly kites.
Bomb Pops were the patriotic treat of the day on July 4 at Life Care Center of Seneca, Kansas. Residents enjoyed the icy sweetness while they watched fireworks outside!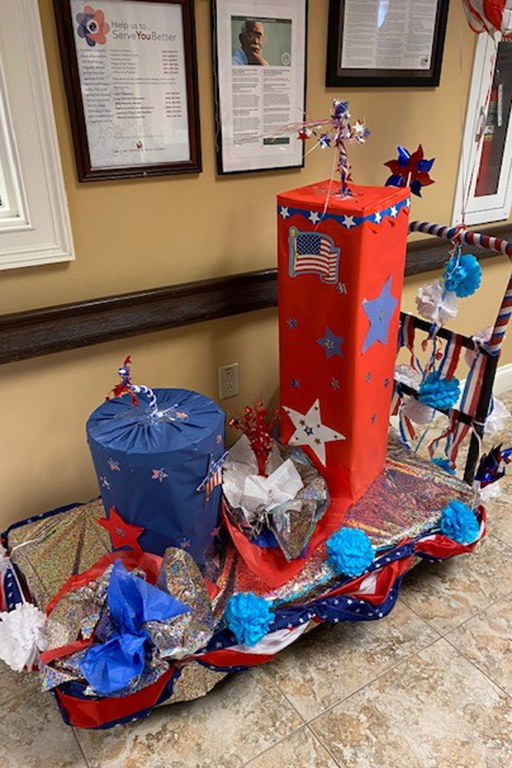 Life Care Center of Punta Gorda, Florida, also held two events. There was an Independence Day parade on July 2 as associates and residents pranced down the hallways with patriotic music, confetti and a float. Others chose to sit in their doorways, waving and singing and watching the processional. On July 4, residents and associates celebrated with red, white and blue treats, including watermelon, pigs in a blanket, cupcakes and blueberry lemonade with the rims of the cups coated in cherry Pop Rocks.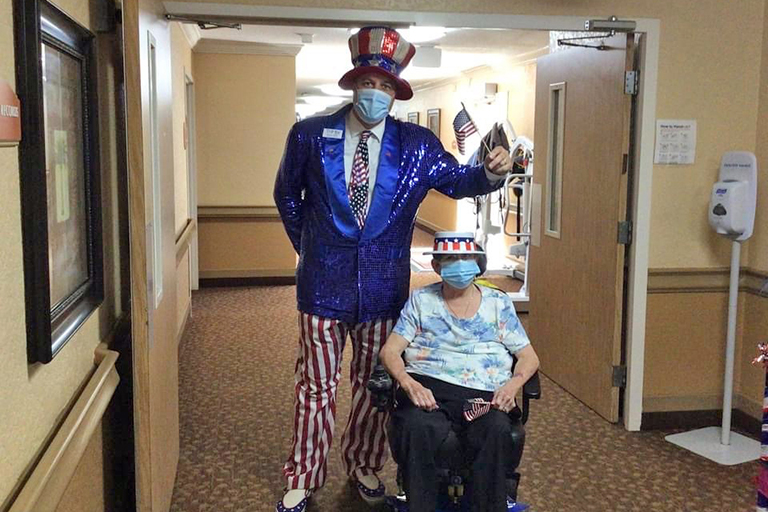 Life Care Center of Melbourne, Florida, celebrated with patriotic music. Associates gave out American flags and hats to the residents and associates, and veterans at the facility got some special attention with certificates and pins.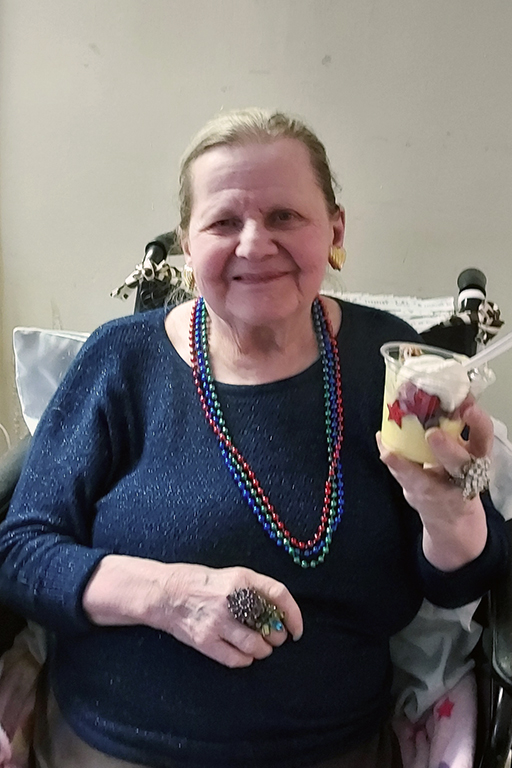 The day was sweet at Life Care Center of Medina, Ohio, as well, where residents enjoyed red, white and blue cookies and fruit parfaits with raspberries, strawberries, blueberries, blackberries, pudding and whipped cream.
Heritage Healthcare in West Lafayette, Indiana, celebrated with a Fourth of July parade involving residents and associates. "We made homemade floats and had patriotic music, and we went up and down all the halls generating the true spirit of our heritage," said Bonnie Anderson, activity director. For an American meal, residents enjoyed ribs, potato salad, baked beans and ice cream with all the toppings.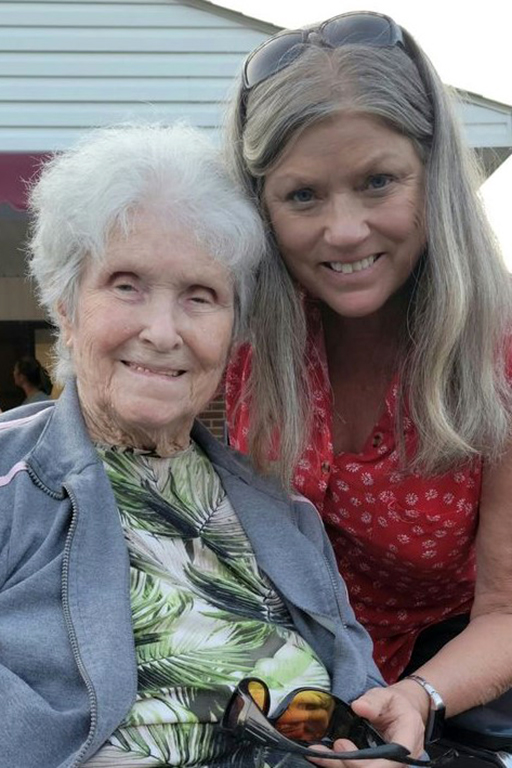 Life Care Center of Crossville, Tennessee, held its annual BBQ and Booms event again. Associates participated in a friendly barbecue competition, and they, residents, and families of each came out to enjoy the food, which also included fried pickles. Other activities for the families included corn hole, sidewalk chalk, face painting, bubbles and (of course) fireworks!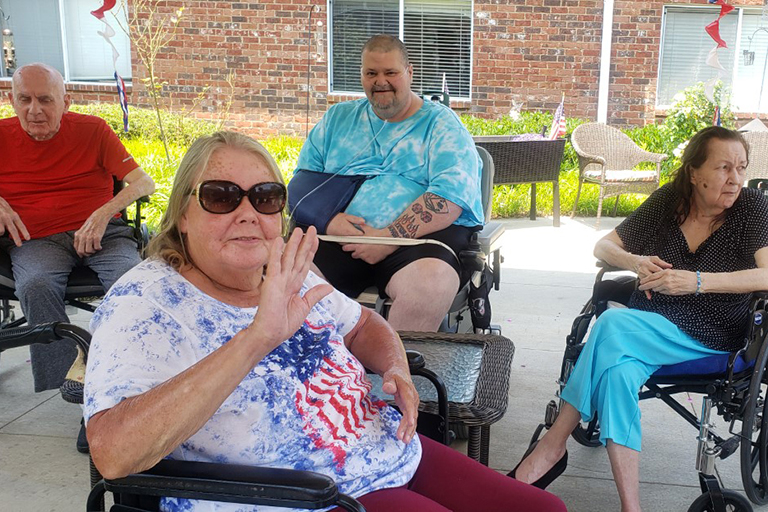 Since Fourth of July fell on a Sunday this year, Life Care Center of Hendersonville, North Carolina, started its holiday celebration with an outside church service with Pastor Brandon Harrell from Bethesda Baptist Church in Flat Rock, North Carolina. "After church, we had food, games and a lot of fun," said Dorothy Jeffery, activity director. "The residents were all laughing, talking about the good old days when they would have a cookout into the evening hours and then take their children to see the fireworks." Residents raved over the flag cake and the chance to fellowship and share appreciation of their country.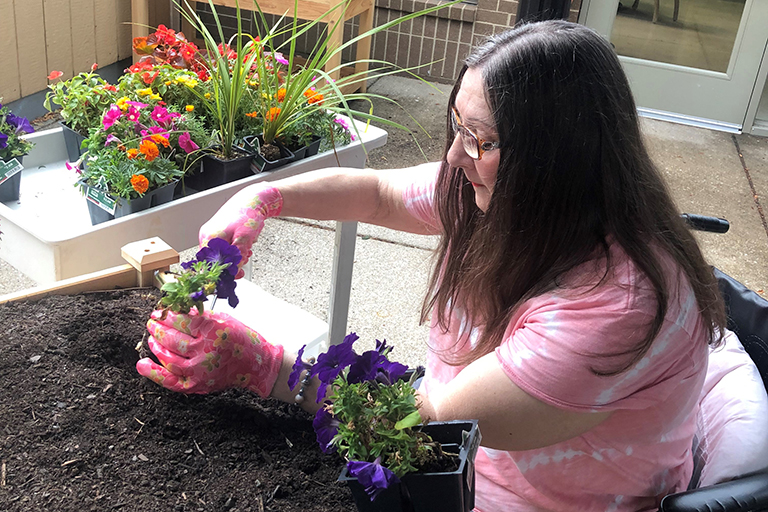 Residents at Mayfair Village Nursing Care Center in Columbus, Ohio, enjoyed some sunshine on the Fourth as well. The facility recently installed three raised beds for plants, and residents enjoyed planting flowers in the fresh air. "Planting flowers is the ideal thing to do," said Radames Perez, activity director. "It represents life."
From blooms to booms, flags to parades, Life Care's residents truly had a good time celebrating Fourth of July!