Bri Dodge, Life Care Public Relations
Residents and associates at Life Care Center of Sierra Vista, Arizona celebrated Independence Day with a parade of patriotic activities over the Fourth of July weekend.
Activity Director Debora Steele planned a weekend full of fun events, starting with an indoor picnic on Friday. Residents and associates kicked off their festivities with barbecue ribs, burgers and various side dishes with fresh watermelon and mini apple pies for dessert.
Resident Benny Cortez raved about how much he enjoyed the picnic: "It was the best burger I've had in a very long time! Two thumbs up!"
On Saturday, the facility had to alter their plans due to a bout of rain. But the activities team didn't let this stop their fun! Residents watched classic Americana movies and played a version of bingo called "BURST" to continue with their 4th of July theme. They also played a game of singalong trivia and "Armchair Traveler," featuring the song "America the Beautiful."
"We had this planned a month ahead of time, but the rain came in on us," said Debora. "So, life is about how you handle plan B! On Saturday, we planned for Elvis to come and perform on our outside patio. Elvis came on Sunday instead and performed for the residents. We also did a balloon release on Sunday since we couldn't use actual fireworks."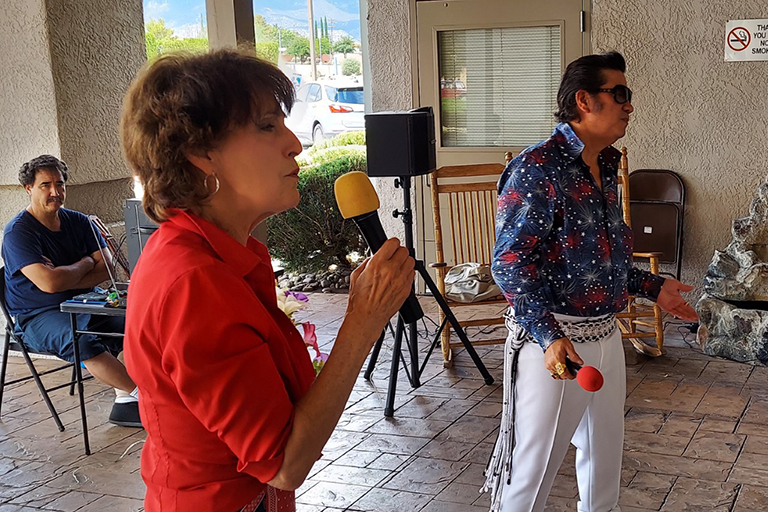 Also on Sunday, for the weekend finale, residents gathered outside for a program featuring music, prayer and a patriotic balloon release led by resident John Keller dressed as Uncle Sam.
"We had a great turnout," said Debora. "It's slowly getting back to normal here. We're still taking precautions, wearing masks and social distancing. But I think everyone feels better doing more activities outside of the room."
Residents Ralph and Michelle Myers bragged about how well they felt the activities team did planning the weekend celebration.
"They really outdid themselves all weekend," they said. "We liked the McRibs and watermelon the best!"
"Everyone did a really good job [putting the celebration together]," said resident Randall Lutz. "It's important for us to celebrate the Fourth of July because it celebrates our freedom. I'm proud to be an American. If it weren't for the soldiers that went ahead of us, we wouldn't have our freedom. Thank God for our soldiers."