Heidi Pino, Life Care Public Relations
Each Life Care facility across the country has hosted COVID-19 vaccination clinics for every resident and associate who chose to be vaccinated.
Along with the vaccines (Life Care facilities either received the Pfizer or the Moderna vaccine), hope spread – hope of protecting residents and associates and their families from COVID-19.
Here are some of the ways Life Care centers made Vaccination Days special.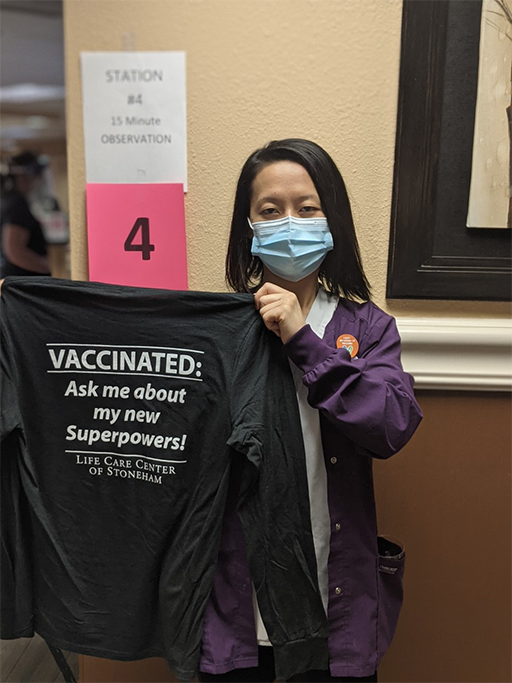 The Facility Unification Network (FUN) at Life Care Center of Stoneham, Massachusetts, met prior to Vaccination Day to brainstorm how to make the day fun and efficient. Leaders put up signs for different stations and directions to facilitate easy social distancing. Department heads greeted associates and laminated their vaccination cards. And the food services team treated associates with brownie bites, KIND bars, water and sparkling grape juice. Vaccinated associates also received T-shirts and listened to soft soul and rock music while they waited 15 minutes to ensure no adverse reactions after their shots.
At Life Care Center of Burlington, Kansas, associates cheered on the residents as they came out of the vaccination room, and residents and associates who got vaccinated received stickers.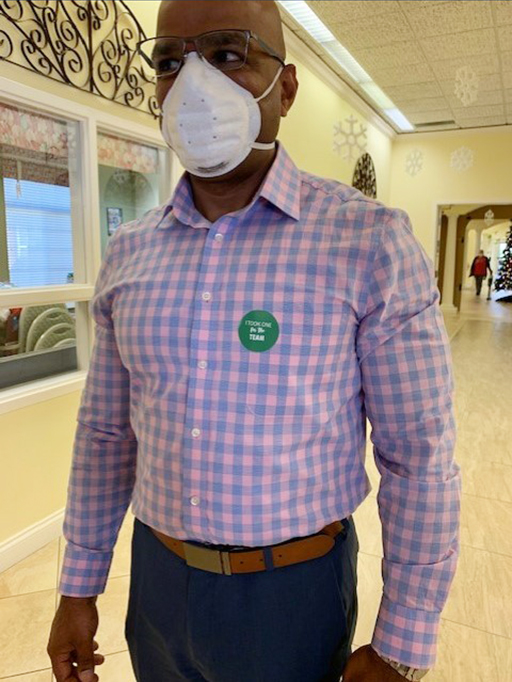 Life Care Center of New Port Richey, Florida, held a variety of events surrounding its vaccine clinics. The facility served refreshments for associates as they learned the facts about the vaccines, and the executive director, Sree Chirayath kept an open door for anyone who had questions and wanted to talk privately about the vaccines to do so. Sree also was the first associate at the building to receive the vaccine at the clinics, and all who were vaccinated received stickers.
At Life Care Center of the North Shore in Lynn, Massachusetts, associates set up speakers and played upbeat and fun dance songs for staff to listen to during the check-in and waiting process. "We had staff dancing and singing along while they were waiting to receive their vaccines!" said Casara Lane, activity director.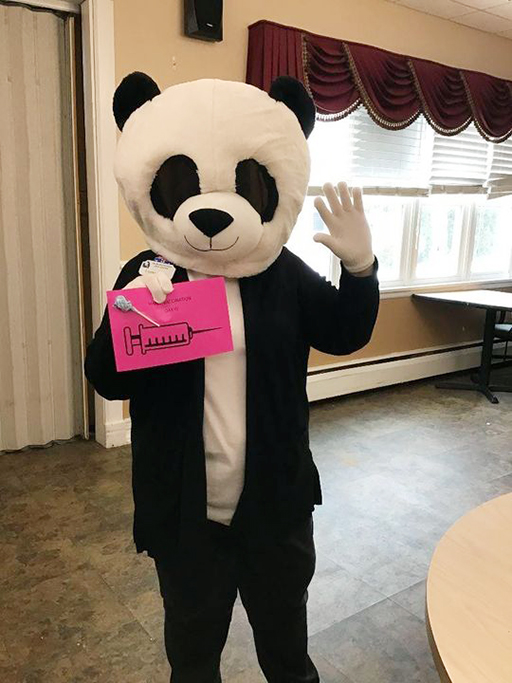 Luanne Gray, physical therapist assistant at Hammond-Whiting Care Center in Hammond, Indiana, made the day fun by dressing up as a panda bear and handing out lollipops to associates who got vaccinated.
Bridgeview Estates in Twin Falls, Idaho, held a drawing among associates who chose to vaccinate, with a beautiful outdoor grill as the prize. "There was one associate who was hoping so hard she would be the lucky name drawn out of the numerous names in the jar," said Amy Burton, clinical liaison. "The name was drawn, and lo and behold, it was her name! It was definitely a feel-good moment for all."
Life Care Center of Wilbraham, Massachusetts, associates used dry erase boards to write out the reasons they were getting vaccinated. They had photos taken and posted by the activity room.
At Life Care Center of McMinnville, Oregon, associates took pictures with placards stating the reason they wanted to vaccinate. In addition, a local hospice company provided associates with hot lunches and specialty gourmet cookies.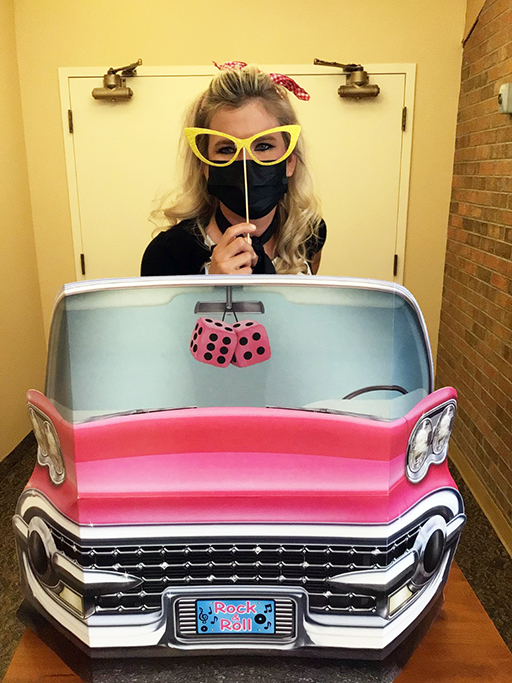 Valley View Villa in Fort Morgan, Colorado, gave the day a 1950s spin. Associates could take photos with a cardboard cutout of a car, and associates served malts during the clinic.