Life Care Center of Palm Bay, Florida, has a tradition of celebrating Environmental Services Week, and with all the extra precautions in place this year, celebrating these incredible frontline workers was more important than ever!
From Sept. 13-18, 2020, the men and women in the housekeeping, laundry and maintenance departments took center stage with a little something special each day.
Kiara McGee, housekeeper, shared, "This is the first facility that I have worked at where they did anything for Housekeeping Week. I felt special. I took pictures every day!"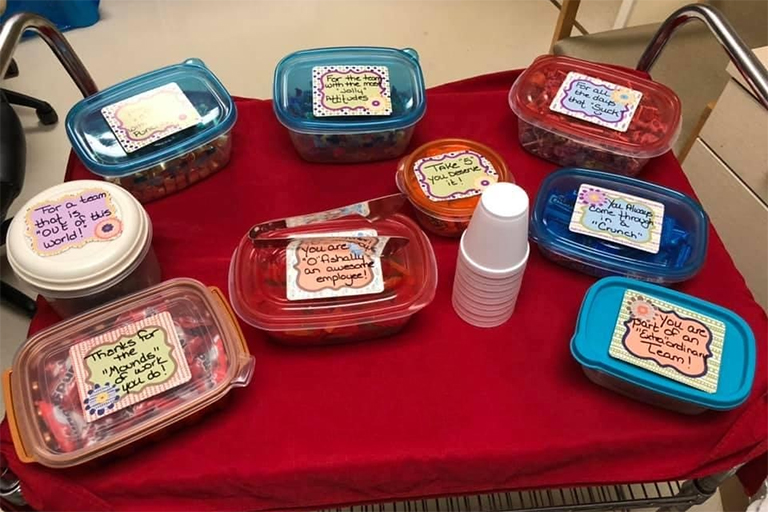 On Monday, a candy bar allowed associates to help themselves to a variety of sweets.
On Tuesday, they had prize drawings for items including cups, messenger bags, lunch pails and lunch serving dishes. The admissions department even kindly provided a gift to each environmental services worker: a wall charger and a car charger that came with a charger with multiple USB cables to fit any device.
On Wednesday, the team was treated to a buffet breakfast, while they had a potluck on Thursday with all homemade sides in addition to subs and cake from Publix. Friday closed out the week with all the team members wearing their department shirts. That day, Tiffany Alfinez, housekeeping aide, also won the facility's August Whatever It Takes And Then Some customer service award.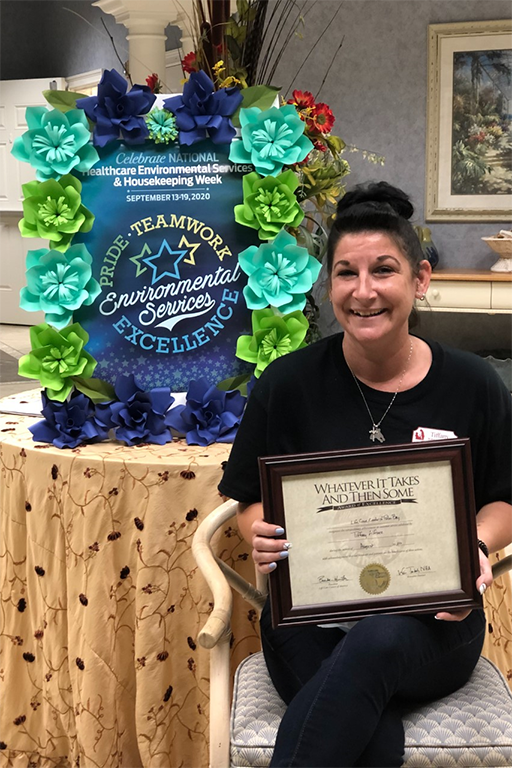 "Environmental Services Week is always special to me, since it is a time when I can try to show my employees just how appreciated they are," said Sheryl Davis, director of environmental services. "They have worked hard to keep our facility clean and COVID-free so far. I am blessed to work with a great bunch of people. I truly hope they know that each and every one of them is a special piece of the puzzle of our Life Care Team."
According to the team members, the week achieved its goal.
"I am truly blessed to be a part of a team that recognizes your hard work," said Michelle Felder, laundry assistant.
"This is my second Environmental Services celebration," added Patti Walker, laundry associate. "This one was just as great as last year's. It makes you feel special and appreciated."