Heidi Pino, Life Care Public Relations
Ten dementia residents at Life Care Center of Nashoba Valley in Littleton, Massachusetts, are enjoying cuddling with their new "pets."
Dawn Galli, memory support unit director at the facility, heard about a company called Petsies through Facebook.
"Since pet therapy is so wonderful for dementia residents, I sought out companies that would possibly make donations to our memory support program," Dawn shared.
Petsies is a company that produces realistic-looking stuffed animals, often based on photos of the purchaser's real pet. When Dawn inquired, the organization generously sent 10 "pets" – eight dogs of various breeds and two cats.
The facility received the stuffed animals in mid-March.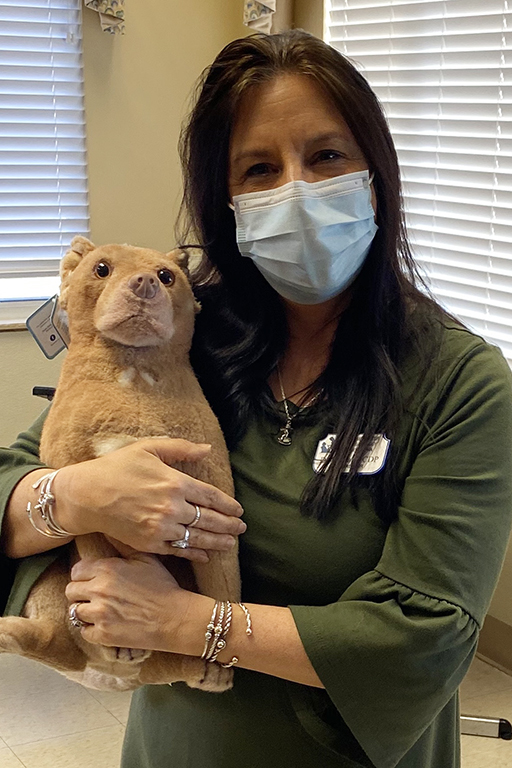 "I chose 10 residents who have dementia who would feel more calm and at ease with a pet to love," Dawn said. "The residents helped me open the box and honestly felt that the pets were real. It was so sweet. They were so happy, and I saw tears in a couple of the ladies' eyes."
Individuals with dementia may not be able to remember many things, but they can often still feel deep emotion when it comes to animals, remembering former pets or even just enjoying the relaxation of petting a dog or cat's fur.
"These pets are extremely helpful in the afternoons when we see residents sundowning," Dawn said, citing the fact that individuals with dementia tend to become more agitated toward evening hours. "Two of our ladies are now more at ease in the afternoons with their cats."
Life Care Center of Nashoba Valley is unique as a Life Care facility and is well known in the area for being the nursing home and rehabilitation center with two alpacas and a llama. Residents enjoy visiting these creatures outside and receiving an occasional inside visit from them, but now, several residents have their own comforting animals… in their own rooms.