Heidi Pino, Life Care Public Relations
Life is made of moments – some happy, some painful, some moments of decision that change the trajectory of our lives. Many moments are forgotten, but other moments we remember forever. Some even enter the public consciousness for generations, captured in history books and commemorated in communities.
Ruth "Duncan" Bates Todd, a resident at Life Care Center of the South Shore in Scituate, Massachusetts, has experienced all these moments. In fact, she is currently writing her memoir.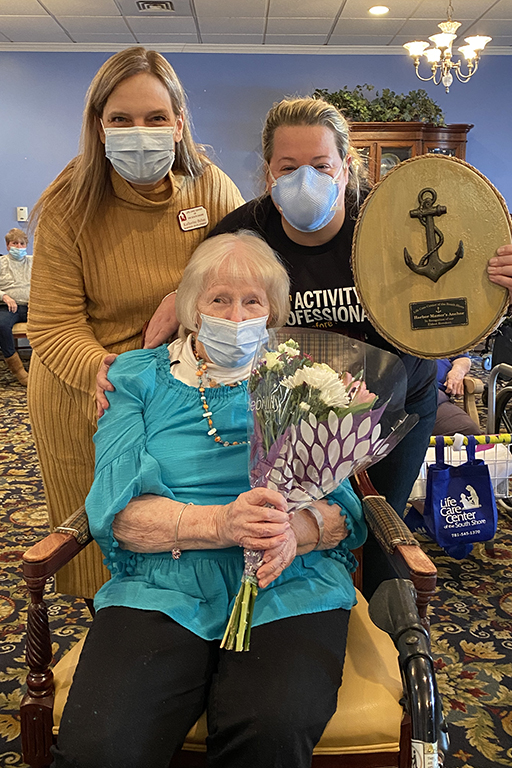 The facility's business development director, Kathy Behm, tipped me off to this amazing lady when she shared about a special event at the center. On Jan. 26, 2022, Life Care Center of the South Shore presented Duncan (her preferred name) with its Harbor Master's Anchor plaque awarded to the facility's oldest resident. From Kathy's description, I learned that Duncan is a New England historian and the author of "The Fourteenth Lot," a book about her ancestors and their place in Scituate history.
But that was just grazing the surface of Duncan's amazing life….
A Local Heritage
Duncan was born in Scituate on Nov. 4, 1923, to William Carmen Bates and Lina Victory Quigley Bates. She was the second girl of three and had two brothers. The family called her Duncan, and the name stuck. She didn't even know that she was christened Ruth until she was 7 or 8.
She couldn't escape the Bates part of her name, however. Her great-great-grandfather, Simeon Bates, is a local legend as the first keeper of the Scituate Lighthouse. The structure was built in 1811 and helped many sailors steer safely to shore. Two of Simeon's children, Abigail and Rebecca, are also important in Scituate history for saving the town during the War of 1812. They spotted a British warship off the shore and, hiding behind bushes, played their fife and drum as loudly as they could to make the British believe the militia were there. The ship passed the town by.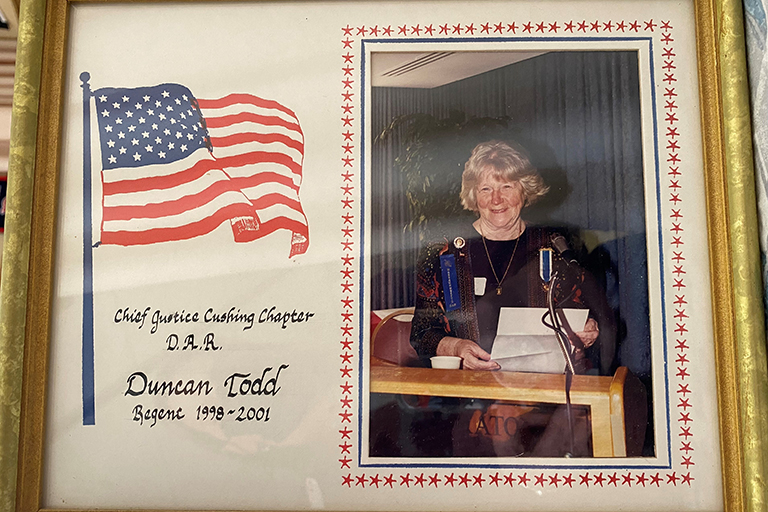 It was this story that led Duncan to write and publish her book in 2004. She was reading local history books and noticed that they all listed Abigail and Rebecca as young girls. From her own knowledge of the family, she knew that they were actually older, and she set out to correct the misconception, sharing other facts about other family members along the way.
Stepping into History
Duncan's own entry into history came long before she wrote a book, however. She graduated from Scituate High School in 1941 with plans to become a schoolteacher, but another opportunity came knocking.
Duncan was invited to be a correspondence review clerk for the war effort. She had a big decision: to stay in school or take the plunge into history. She chose the latter.
First, though, Duncan had to become proficient in typing. After meeting that requirement, she was off to Japan in 1948, to Gen. Douglas MacArthur's headquarters in Tokyo.
"I read every piece of correspondence that went into the adjunct general's office," Duncan said. "Most I would pass on to an Army officer, but extra-secret messages went to Gen. MacArthur."
Duncan proved herself sharp, trustworthy and efficient and became assistant editor, then editor when the Korean War broke out. Even after President Truman fired MacArthur, Duncan stayed on under Gen. Matthew Ridgway.
"I had to stay because I was needed," Duncan said. "I'm proud of what I did."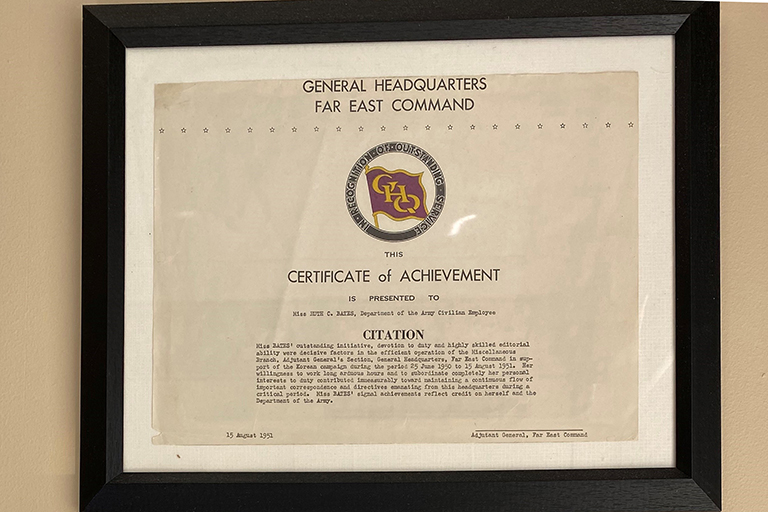 Even when Duncan returned to the States in 1951, her job was her highest priority. She was offered a position in Washington, D.C., at the Pentagon.
"I worked for the research and development board, next to the Chief of Staff's wing," Duncan said.
There, she met all sorts of intelligent and important people.
One man she met was Rudolph Christoph Freiherr von Gersdorrf, a former German general who was sharing with the United States what had happened during World War II on the inside of the German army. She later learned he had tried to assassinate Adolf Hitler with a suicide bomb but was unable to because the Führer rushed through his tour of the building too quickly. Rudolph had to diffuse the bomb himself in the bathroom.
"That's the general I danced with and corresponded with," Duncan said. "I even sent things to his daughter that they couldn't get in Germany."
Her privilege came with responsibility, though.
"I had a clearance for most of my life," Duncan said. "When you have high clearance, your behavior is so important. I had to be selective of the people I associated with."
A Growing Family
At 30, Duncan found herself still single. After visiting one of her sisters and spending time with her children, she decided it was time to settle down and start a family of her own.
Along came Tom Bauer, a brilliant engineer working with the budding space program. The two married.
"That was the opportunity to see the entire country," Duncan shared. As a space program engineer, Tom and his family moved to 11 different states. "The beauty of the country is just overwhelming."
Duncan's dream of having children also came true as the couple had four – Valerie, Linda, Mollie and Peter.
Tom got to be part of the team helping land the first astronauts on the moon.
"Watching the 50th anniversary coverage on TV, I had tears coming down my face because I remembered everything we did that day," Duncan said.
Sadly, after the moon landing, Tom got laid off when Boeing lost a big contract. The couple went through a rough time and ended up divorcing.
Coming Home to Scituate
After the divorce, Duncan returned to her roots, coming home to Massachusetts. She interviewed for a senior secretary position at Harvard University's School of Business.
"I thought I might as well go for the best," Duncan said. "I was interviewed by two full-time top professors. They called me and asked, 'When can you start work?'"
Duncan loved that job, working with the doctoral students, proctoring exams and being in an environment where pursuit of knowledge was highly treasured. She worked there for 13 years.
During this time, love blossomed for Duncan once more. She reconnected with John Todd, who she had met after World War II and considered too cocky at the time. He had married one of her childhood friends, but after his wife passed away, their relationship became more than friendship.
"I met him back in 1948 and married him in 1986," Duncan said. "He was very kind and a wonderful provider for the family."
The couple retired together and enjoyed a life of travel and leisure. John passed away in the 2000s.
Finding Joy in Life
In 2010, Duncan's life changed again. She was at an airport, flying out to Seattle to visit three of her children for Mother's Day, when she bent down to pick up a 50-pound suitcase and sprained a groin muscle. Unfortunately, the injury has left her with chronic pain.
Duncan moved to Life Care Center of the South Shore in 2016. She is still connected to the community of her birth, the community she loves. She is close to her older sister and her daughter Linda. And though she still deals with the pain, she chooses to focus on the joy.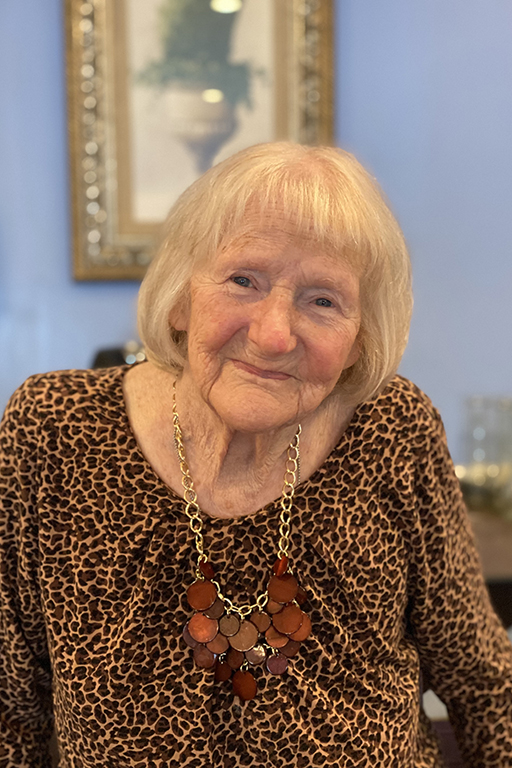 "When your life changes drastically, through no fault of your own, you have to learn how to live with the new reality," she said. "I look at the happy side. I look at the pictures on my walls. I feel cozy here. I've had a great life, and this is my home now."
Duncan loves to read and continues to keep a list of every book she has ever read.
And now, of course, she is working on completing her memoir, writing it from her recliner at the facility.
When I asked her what she is most proud of in her life, she responded, "Having children and grandchildren, seeing them and knowing that they're part of you – that's a thrill. The happiest part of life is your family."
And from someone who has seen and done so much in her life, I believe her. These are the best moments in a momentous life.