Life Care Centers of America's Whatever it Takes Champions program honors associates who go beyond their job descriptions in caring for residents, their families, and fellow associates. Here are four of the inspiring stories from our recent winners. These associates are certainly Champions of Care!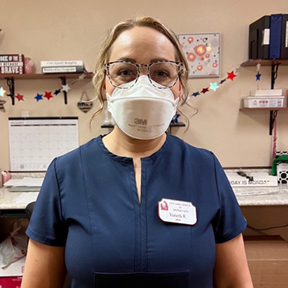 Yaneth Raygoza, Restorative Nursing Assistant at Life Care Center of Sierra Vista, Arizona, came through for a friend and coworker during their time of need. After a foot surgery, this coworker could not walk or drive, which meant she had no way to get to work each day. So, Yaneth volunteered to drive this coworker to and from work every single day, loading her scooter in and out of the trunk of her car in the process. According to the coworker who was blessed by Yaneth's selflessness, "We could all take lessons from Yaneth in integrity and humanity."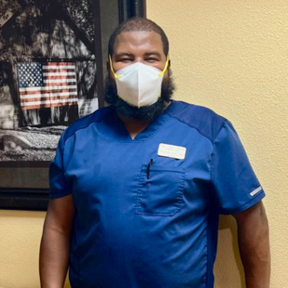 Donravis Cotton, Certified Nursing Assistant at Life Care Center of Winter Haven, Florida, made a great impact on a family member of one of our residents. Here's what the family member had to say about Donravis's exceptional care and service:
"Don was such a blessing to my mom! Many afternoons, I saw him get ice cream from the ice cream parlor and push a cart through the hallway, with music playing, as he delivered ice cream to those who weren't able or didn't want to go get in line for ice cream. My family and I felt he was the most kind, thoughtful person for going out of his way to brighten the residents' day."
Lydia Clement, Occupational Therapist at Life Care Center of Cleveland, Tennessee, has a spirit of care and generosity that transcends normal working hours. A rehab patient who had just completed treatment was preparing to go home, but she had one more challenge standing in her way: attaching a hitch to her vehicle in order to transport her power wheelchair. Hearing about the patient's dilemma, Lydia arranged a time to meet with the patient so that she and her fiancé could help the patient install the hitch and finally return home!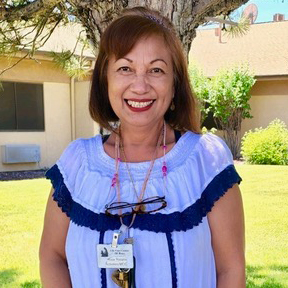 Rosemarie Rosalia, Activities Assistant at Life Care Center of Reno, Nevada, has been at her facility for 8 years and is committed to caring for her residents, doing all she can to make sure they feel their best. But her care does not stop with the residents. Recently, one of her fellow associates was diagnosed with cancer and needed extra help with covering medical expenses. When the facility organized a fundraiser to help the associate with medical costs, Rosemarie stepped up and made 200 eggrolls and lumpia and heaps of delicious pancit. All of her food sold out within 20 minutes! Thanks, Rosemarie, for doing all you can to serve our residents and our associates.