Violet Petrikas, Life Care Communications
On Jan. 25, Bethany Sattovia, Missouri Region rehab director for Life Care Centers of America, was named the overall 2022 winner of Fit For Life, Life Care's associate wellness program.

The Fit For Life program encourages associates to complete and track wellness activities. Associates can log their progress in one of four categories –– exercise, health, financial and community –– and gain points for activities such as biking, dental cleanings, donating blood or having a savings account. Each year, winners of the program's three levels –– gold, silver and bronze –– are selected through a blind drawing.

Bethany won the gold level after logging more than 10,000 activity points during 2022. She beat out associates from around the country –– those representing the corporate offices in Cleveland, Tennessee, as well as the more than 40 Century Park communities and nearly 200 Life Care facilities across 27 states –– and took home a prize of $3,000 and three additional vacation days.

"I was completely shocked and humbled because I had been doing this program, entering my activities, for a couple years, and I had never dreamed of winning the big gold prize," Bethany said about winning. "To have your efforts recognized by a company that you work for and support I think is probably the biggest compliment ever."

Bethany is incredibly active, so it's no surprise that most of her activity points came from the exercise category.

Bethany is part of a women's running group, and several times a week she runs for two hours with the group. She also stays active with her husband, Marc, and their 11-year-old son. Together they hike, play pickleball, tube in the lake, bike and ski.
Like her, Bethany's son loves activity and is involved in several sports, including football, wrestling and swimming. Bethany attends all his sporting events to support and cheer for him.

"The main reason I stay active is to show my son and lead by example, so I want him to see what it is like to live a healthy, active lifestyle," Bethany said. "And if you put your mind to something, you can make anything happen."

Bethany says she has always enjoyed working out. In 2016, she completed her first half Ironman, a grueling 70.3-mile race that combines running, swimming and biking. Since then, she's run numerous races and half marathons, and she's currently training to run a full marathon in October.

"I always try to set goals and achieve them," Bethany said. "So, every year, whether it be a new half marathon, a full marathon – I think in order for things not to become stagnant, you've got to set new goals, new inspiration, and find what motivates you."
One of Bethany's favorite exercise-related experiences is the time she met her childhood idol, former track and field star Jackie Joyner-Kersee. While jogging along a path one day, Bethany and her running group spotted the three-time Olympic gold medalist and shouted her name. Jackie stopped running to talk and even took a photo with the elated group. Bethany called the experience "probably the best, most memorable story of my running career, ever."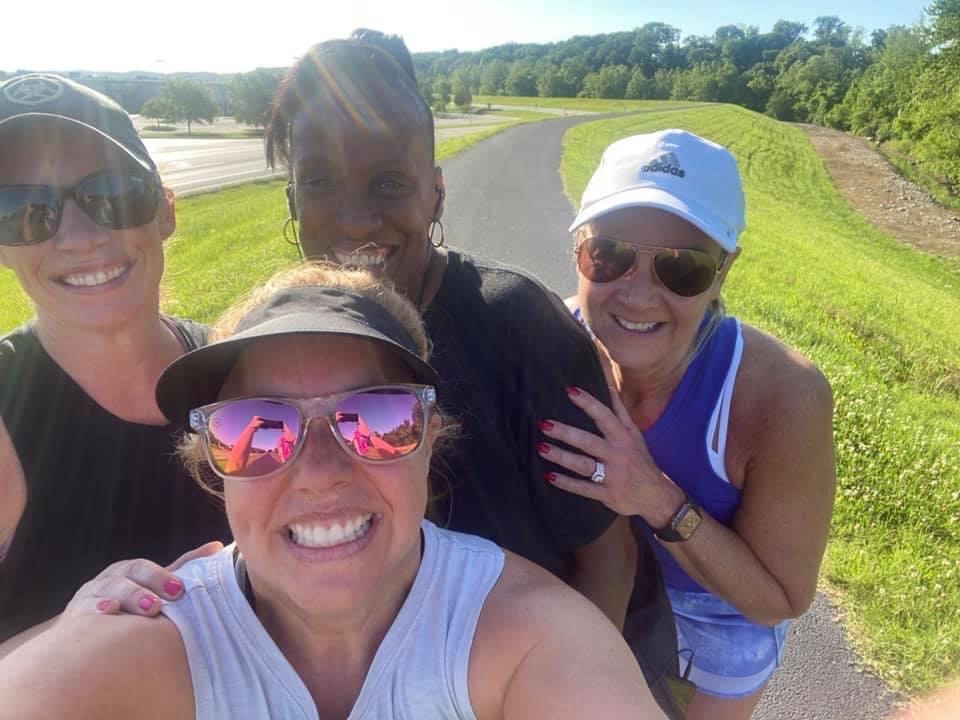 Bethany's passion for being active is equaled by the passion she shows for her chosen field. She began working as a speech-language pathologist at The Westchester House in Chesterfield, Missouri, in 2006. She soon worked her way up to assistant director of rehab, then senior director, and in 2019, she was named rehab director for the Missouri region.

From the beginning, Bethany has recognized that seeing her patients succeed is what motivates her, so she does whatever she can to help them reach their rehab – and life – goals. In 2014, she learned that one of her patients had never been taught to read, and she determined to help him achieve his lifelong goal of reading.
Every day, she brought him books out of her home and gave him homework assignments to complete. Her compassion, encouragement and dedication to this resident helped him succeed, and by the end of his stay at the facility, he could read an entire children's book with minimal assistance.
On the day of his discharge, Bethany escorted him around the facility so he could read a thank-you speech he had written to associates. Later that year, Bethany received Life Care's Central Division Whatever It Takes And Then Some Award for this act of service and for her overall excellence and dedication to residents.

A huge congratulations to Bethany and everyone who participated in the Fit For Life wellness program in 2022!