Heidi Pino, Life Care Public Relations
Self-care is vital for busy professionals, and a local doctoral student decided to use her Capstone experience to benefit the staff at Life Care Center of New Market, Virginia.
Cindy Thai, working toward her Doctor of Occupational Therapy degree through Mary Baldwin University in Staunton, Virginia, approached the facility in January about setting up a tai chi class for associates. Associates welcomed the opportunity to participate in this exercise of gentle movements and stretching.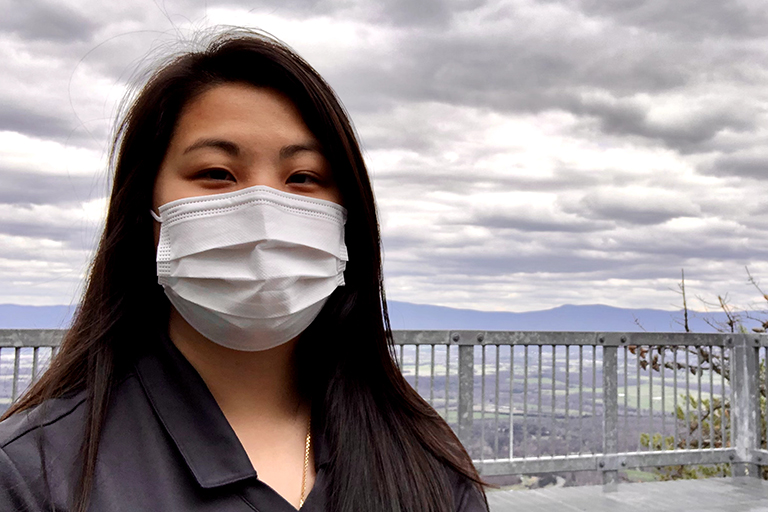 Cindy, who is also a certified instructor through the Tai Chi for Health Institute, set up a four-week program at the facility. Associates started by answering surveys about their stress levels, how they were managing their stress and their thoughts and feelings about daily activities like sleep, balance and energy levels.
"I hoped to provide stress-relief tools and resources and to spread awareness of the multitude of benefits tai chi can help with, such as improving balance, flexibility, endurance, strength, posture, awareness of your body and much more," said Cindy.
Then, the tai chi program began, running throughout March.
Cindy offered three 10-minute sessions throughout the day to benefit different shifts. Sessions took place on Tuesdays, Wednesdays, Thursdays and Fridays, to also benefit staff members working different days. Sessions averaged a participation of three to five associates.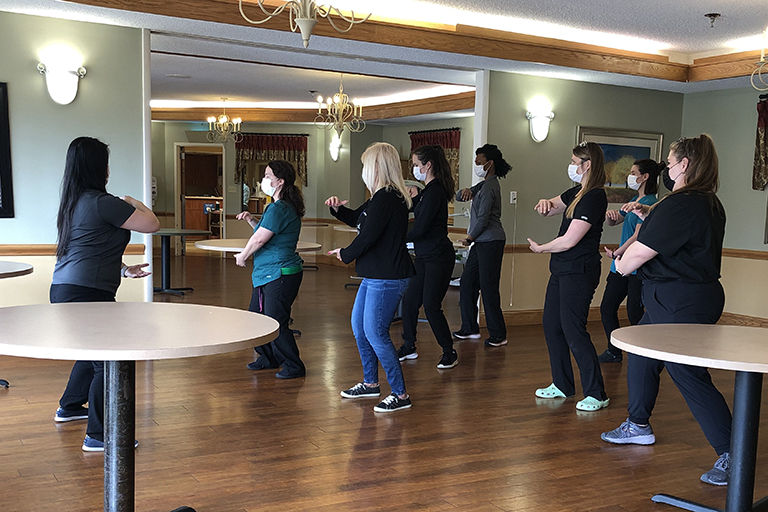 Fourteen associates took part in the program as a whole. Cindy also created a series of online tai chi videos for associates who were not able to attend the sessions or for associates in the program to be able to go back to on their off time.
Participating associates learned the basic movements of tai chi, as well as breathing techniques such as palm breathing and diaphragmatic breathing.
Cindy surveyed the associates again in the middle of the program and one last time at the end.
"Prior to the tai chi program, many associates had a hard time managing their stress at work," Cindy said. "The data shows that participants enjoyed the tai chi program as it not only helped them manage their stress during the workday but also increased their balance and self-awareness of their body movements, refreshed their minds, relaxed and grounded them, improved quality of sleep and led to higher energy levels. They mentioned that the stress-relief techniques, such as the breathing exercises, were useful during stressful moments at work."
Associates also shared that they were glad for the opportunity to learn something new.
"Tai chi has been very helpful to keep myself grounded during the past month," said one associate. "I've had a lot of big life decisions/changes happening, and it gave me the opportunity to check in with myself each day, take some time to relax and connect through the gentle movements and breathing techniques. I found that my sleep quality improved on the days I was able to participate. I was better able to manage my emotions and maintain a positive attitude. Thank you, Cindy, for breaking down the steps/movements to allow me to participate and reap the benefits of tai chi – it was a great program to participate in!"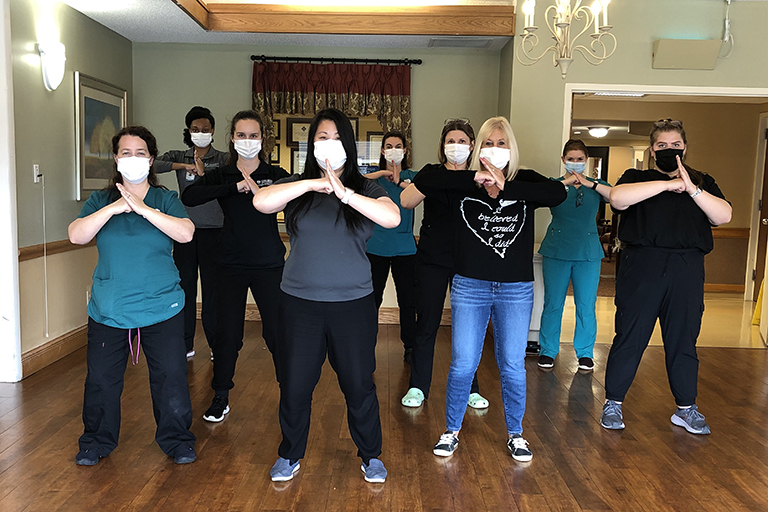 Cindy hopes that the tai chi sessions will continue at the facility even now that her own Capstone project has completed.
"As all associates provide so much high-quality care and attention to the residents, there is a need to care for the hardworking associates too," she said. "I enjoyed teaching the associates all that I know about tai chi and hearing their experience. It's amazing how much difference a simple practice can make in changing a person's mood. I could sense the associates' stress levels melt by the end of the session. They are happier and leave with a smile by the end of the session, and seeing their smiles warms my heart."