Each quarter, we select associates from our list of monthly Whatever It Takes Champions to be recognized further for their outstanding service. One associate per division is chosen and presented with $250 and a special plaque.
Below are a few of those quarterly winners. Congratulations to each of these Champions of Care for the amazing job they have done in caring for our residents!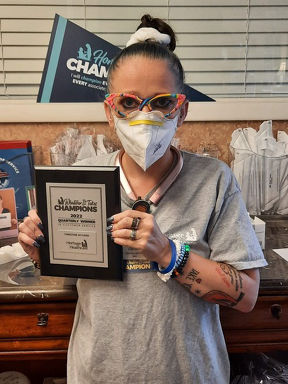 Christine McCord, Qualified Medication Assistant at Heritage Healthcare in West Lafayette, Indiana, was recognized for her outstanding devotion to caring for residents and assisting her team.
"I am proud to have won this award and want to thank those I work with every day!"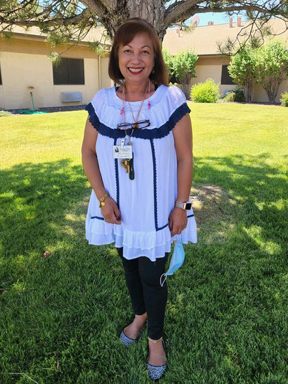 Rosemarie Rosalia, Activities Assistant at Life Care Center of Reno, Nevada, recently provided food for a fundraiser to help a fellow associate cover their medical costs.
"I will treasure this once-in-a-lifetime award because I know this makes my family proud. I never expect this kind of award since I come to work each day, giving service without expecting anything in return. I come with a smile on my face, seeing the residents, my colleagues and my bosses, because they've been very nice to me ever since I came here in 2013. This facility became my second home, giving me a meaningful life. If given a chance by the residents to grant them a favor, to make their stay worthwhile, I do so, if that will paint a smile on their faces and make them happy."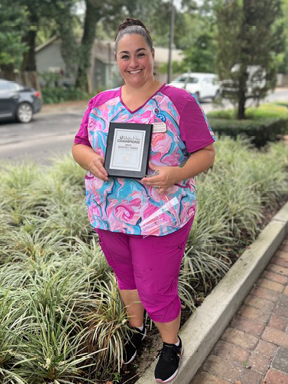 Amanda Barela, Certified Nursing Assistant at Life Care Center of Pensacola, Florida, received praise from a resident's family member, who overheard her being especially patient, skillful and kind with a resident.
"This is so exciting! I love taking care of people. When I moved to Pensacola, my husband told me one day that I needed to go back to work, because I am happy when I am taking care of people."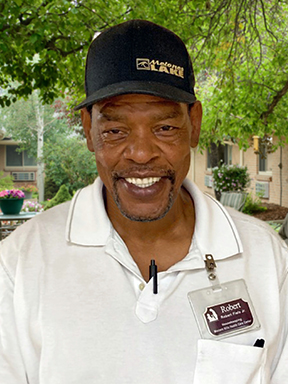 Robert Fields, Jr., Floor Tech at Western Hills Health Care Center in Lakewood, Colorado, has been called a "quiet soldier fighting the fight," as he performs his duties not only well but with a smile on his face and kindness in his heart.
"Here at Western Hills I've enjoyed the residents, the top-notch staff, and the very pleasant job of being a floor technician."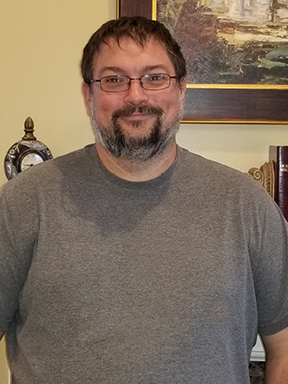 Okey Adkins, Maintenance Assistant at Life Care Center of Collegedale, Tennessee, serves not only through facility maintenance responsibilities but also generous personal touches, like filling residents' bird feeders and helping associates with minor auto problems.
"For the first time in a long time, I feel like I'm where I need to be, doing something I enjoy for and with people I love. I have a true heart for helping people who can't do it for themselves. This company has not only given me a place to be useful and fulfilled but also a chance to work with others who, like me, truly want the best life possible for our awesome residents."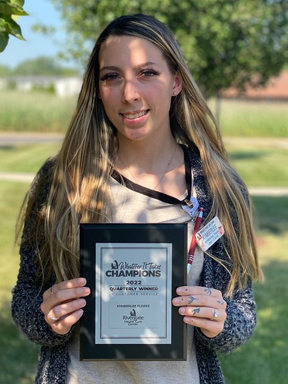 Kymberlee Flores, Certified Nursing Assistant at Rivergate Healthcare Center in Riverview, Michigan, helped a stranger in need while she was on her lunch break. A mother's child required medical attention, so Kymberlee sprang into action and performed CPR on the individual until medical personnel could arrive!
"To receive this award has reminded me of why I have chosen this profession. It validates that my true passion is to care for people, especially during a crisis. I am beyond thankful to be chosen and will continue down my chosen path knowing that no act of kindness, no matter how small, ever goes unnoticed. We rise by lifting others."