Violet Petrikas, Life Care Communications
Life Care Center of Cleveland is taking our company's slogan –– Whatever It Takes and Then Some! –– to heart. Over the last two years, the facility has provided outpatient therapy to four of its own team members after they were injured or underwent surgery.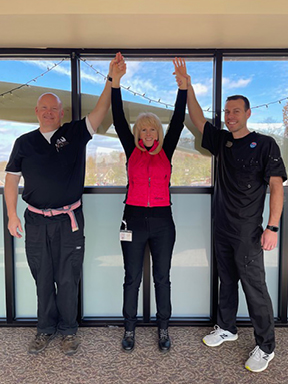 In 2021, Lydia Sandberg, social services director, was swimming in the ocean when she tore her left shoulder joint rotator cuff. Later that same year, while walking her two large dogs, she tore her right cuff as well. Lydia received surgery to repair her left shoulder in November 2021 and immediately enrolled in Life Care Center of Cleveland's outpatient program.
Chad Grisham, physical therapist and director of rehab, gave her exercises to alleviate the pain and increase her range of motion and shoulder strength. After completing treatment for her left shoulder, she underwent surgery for the right side and returned to the facility in August 2022 for a second round of therapy with Certified Occupational Therapy Assistant Jonathan Wash.

Lydia has worked at Life Care for 29 years. Throughout that time, she has watched members of the Cleveland rehab team devote themselves to their residents: "From working with our therapists through the years, I was aware that they will fight for their patients, and that they care deeply and become personally invested in the success of their patients."

It was this devotion that first drew Lydia to the facility as an employee and is why she ultimately chose to receive therapy there when she needed it for herself.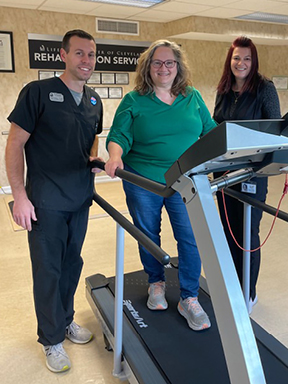 Physical Therapist Assistant Kelly Newbould also chose to complete her therapy at the facility after sustaining a fall that injured her left patella (kneecap) and rendered her unable to work.

Kelly began receiving treatment in February 2021 from her boss, Chad, and fellow Physical Therapist Assistant Anya White. The treatment focused on strengthening and stabilizing her knee, and in just one month, she was able to return to her job.

As a PTA herself, Kelly values quality therapy. She also values the team's training diversity and holistic approach to treatment, so for her, it was an easy decision to choose Life Care Center of Cleveland for her own therapy.

"Chad did challenge me, a lot, which is what I needed," she said.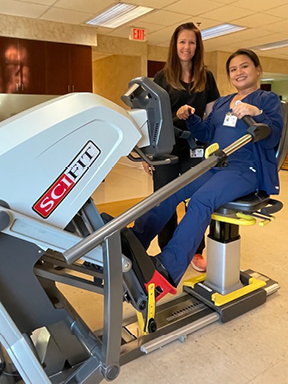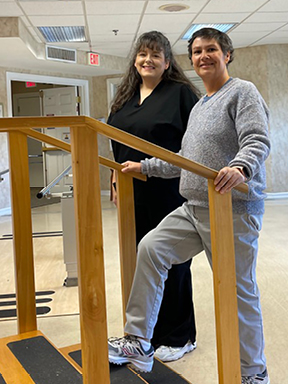 In addition to Lydia and Kelly, Grechie Salo (top), certified nursing assistant, and Jeanne McCuiston (bottom), activities director, also received treatment from the facility after injuries. Grechie worked with Physical Therapist Kim Stone to recover from a leg injury, and Cami Hilton, physical therapist assistant, provided Jeanne with strengthening exercises after she injured her foot. Both Grechie and Jeanne met their rehab goals and were discharged from the program earlier this year.

For Chad and his team, being able to help Life Care associates has been an honor.

"Treating our own associates allows us to provide exceptional care to staff that have been working on the front lines," Chad said. "It's a way of giving back 'Whatever It Takes, and Then Some' to associates who have given so much, especially in the last two years. And it allows those associates to get back to a level where they can once again provide great care for our residents."
We are so proud of our associates for their devotion to their patients. They are true Champions of Care!