Heidi Pino, Life Care Public Relations
Whether you're Irish or not, there's a lot of fun to be had for St. Patrick's Day, and residents and associates at our Life Care facilities around the country enjoyed their celebrations this year! Here are a few of the ways they made the holiday sham-rockin'!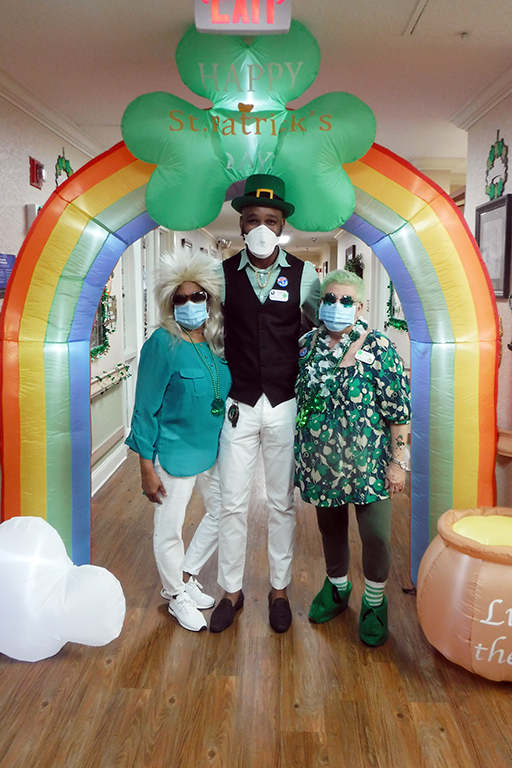 Life Care Center of Altamonte Springs, Florida, celebrated St. Patrick's Day with traditional Irish food – potatoes, corned beef and cabbage. Residents enjoyed an Irish-themed happy hour with accessories, costumes, snacks and green smoothies while listening to Irish music. The therapy department hosted arts and crafts sessions, and the leadership team and residents from each unit paraded down the halls to judge the winners of the best-decorated unit. C Wing won first place, while second place went to D Wing.
Life Care Center of Citrus County in Lecanto, Florida, invited residents to toss gold coins into a large green blow-up mug to make a wish before entering the dining room for the St. Patrick's Day party. At the party, there was Irish music, trivia and a sing-along. Residents received necklaces and headpieces and partook of green refreshments.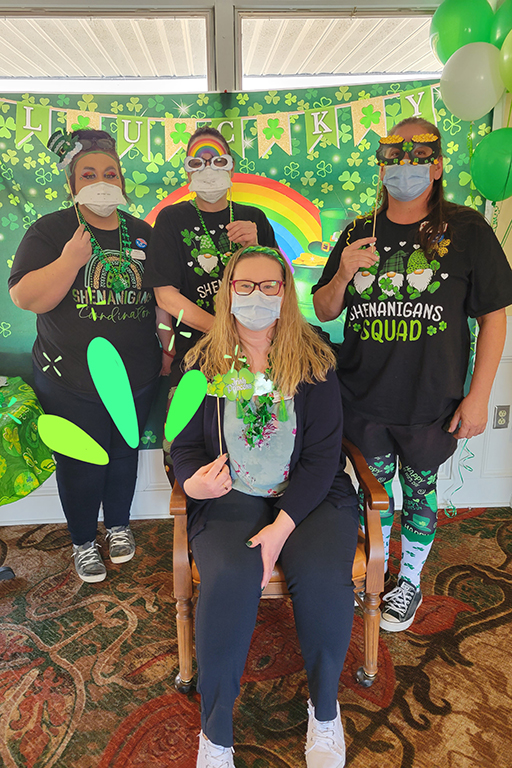 The St. Patrick's Day celebration at Life Care Center of Medina, Ohio, consisted of entertainment by Brenda Boulton, ooey-gooey shamrock crispy rice treats, a photo booth for associates and shamrock shakes for everyone. Wendy Packard, activity assistant, led an Irish exercise class, and associates passed out necklaces, bracelets, stress balls and other goodies.
Residents at Life Care Center of Seneca, Kansas, found green and gold coins all around the building. Residents who found a green coin could pick out a prize, and those who found a rarer gold coin could pick out an even more unique gift. Associates who found a coin with an "S" for "staff" could take their pick of candy. In the afternoon, homemade green milkshakes satisfied the sweet tooth of residents and associates alike.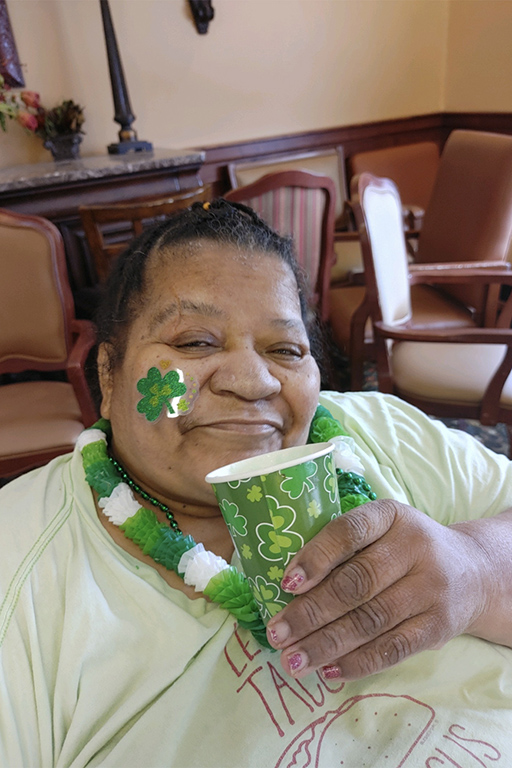 St. Patrick's Day at Life Care Center of Cape Girardeau, Missouri, started off with Irish music over the PA system. Residents also made a pot of gold craft and received green leis, beads and St. Patrick's Day stickers. The St. Patty's party included music, plenty of cupcakes and cookies and green leprechaun punch.
At Life Care Center of Burlington, Kansas, residents enjoyed a special buffet-style lunch with pinwheels, chicken nuggets, sweet potato tater tots, fresh cantaloupe and honeydew, "ants on a log" (celery with peanut butter and raisins on top), a green gelatin cake, fried shrimp, cucumber, broccoli and party punch. After lunch, residents enjoyed games.
Life Care Center of Attleboro, Massachusetts, also hosted a party. Residents sang songs, decorated shamrock cookies, drank green "beer" and watched a live stream of a local St. Patrick's Day parade.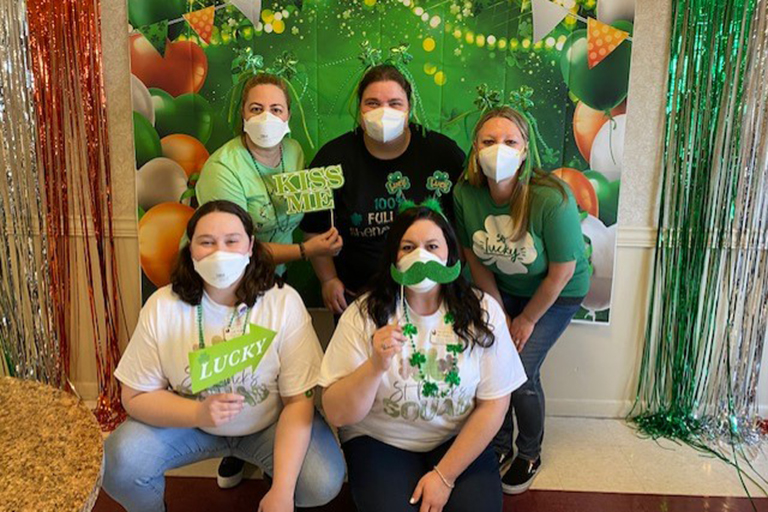 Rivergate Health Care Center in Riverview, Michigan, treated residents and associate to a similar party, complete with green drinks, treats, music from a DJ, dancing and a photo booth!
Westside Village Health Center in Indianapolis celebrated with snacks and a St. Patrick's Day raffle but went far beyond Ireland with a performance/demonstration called Zimbabwe: Marimba and More. "It was very interesting and new for the residents," said Vickie Farley, activity director. "They danced the whole time."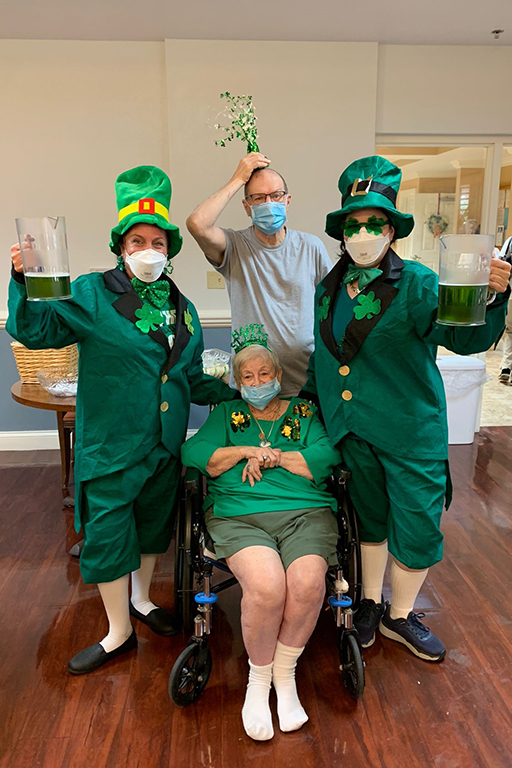 Life Care Center of Punta Gorda, Florida, had a full week of shenanigans with green "beer," shepherd's pie, green cookies and cake. But the highlight was certainly the music! Piper Dave, 87, shared live bagpipe music, and students from the local Sarasota School of Dance performed Irish dancing for the residents.
And at Life Care Center of Paradise Valley, Arizona, residents participated in an exercise called "I am lucky because…" There were three columns – "I am," "I have" and "I can." Residents took turns filling in the blanks in each category, with responses such as being lucky because they have good friends or being lucky because they are strong. "By the time we filled out the entire board, we all felt pretty lucky," said AJ Torres, activity director. Residents also enjoyed a St. Patrick's Day happy hour with bubbly mocktails and holiday bingo with coins and dollar bills as prizes.
At Life Care, we are lucky because we are such a diverse group. We are lucky because we have such amazing associates. And we are lucky because we serve such wonderful residents!