Heidi Pino, Life Care Public Relations
Pumpkins, costumes and parties galore – this was how Life Care facilities around the country celebrated Halloween this year! Here are some of the highlights from the festivities.
Life Care Center of Morgan County in Wartburg, Tennessee, kicked off their Halloween festivities with a chili cookoff and dessert cook-off. A panel of residents judged the associate entries. First place for the chili went to Becky Davis, activity director, and first place for the dessert went to Wilma Moss, activities assistant, for her delicious peanut butter pie. After the food, of course, came the costumes, also judged by a panel of residents. First place went to Amanda Lemons, activity assistant, dressed as Cleopatra, and second place went to Ashley Johnson, speech therapist, dressed as Little Red Riding Hood. The day ended with a party for residents with all kinds of Halloween treats and goodies.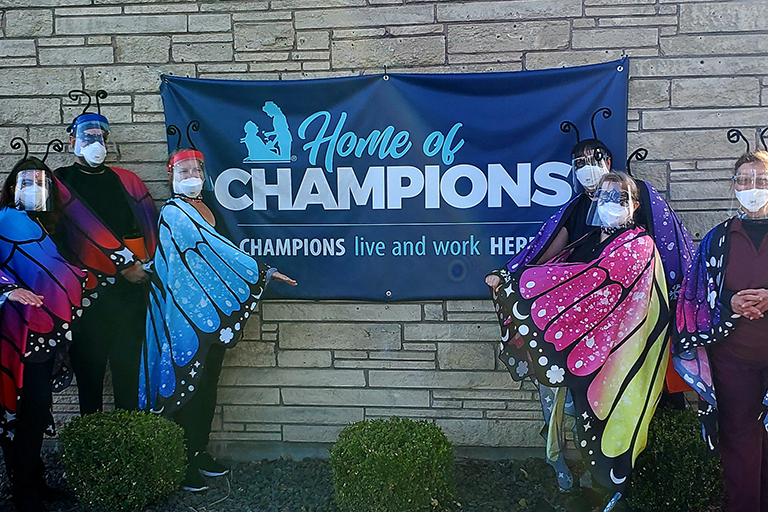 Life Care Center of Boise, Idaho, did a reverse trick-or-treating event for residents. Each department dressed up according to a different theme (Scooby-Doo, butterflies, "Frozen," pirates and more). Residents could then get candy.
Rivergate Health Care Center in Riverview, Michigan, had two events for residents. On Oct. 27, the facility hosted a trunk-or-treat. Residents helped associates pass out candy to local children, and then the residents got to get candy for themselves. On Oct. 29, residents had even more fun with a bingo Halloween party with prizes of candy, money and other special rewards. The activity staff dressed up as Snow White and the three dwarfs, and there was a surprise visit from Sully from "Monsters, Inc."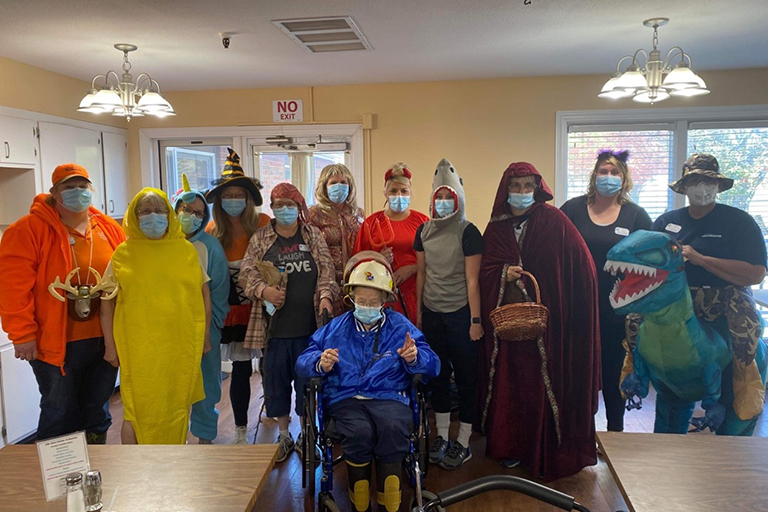 At Life Care Center of Seneca, Kansas, Lesa Duryea, executive director, made soup, sandwiches and desserts. Associates took part in a costume contest judged by the residents. First place went to Connie Winkler, business office manager, dressed as a disco lady. Second place was a tie between Lesa Duryea as a dinosaur and Tracie Wilson as a deer hunter.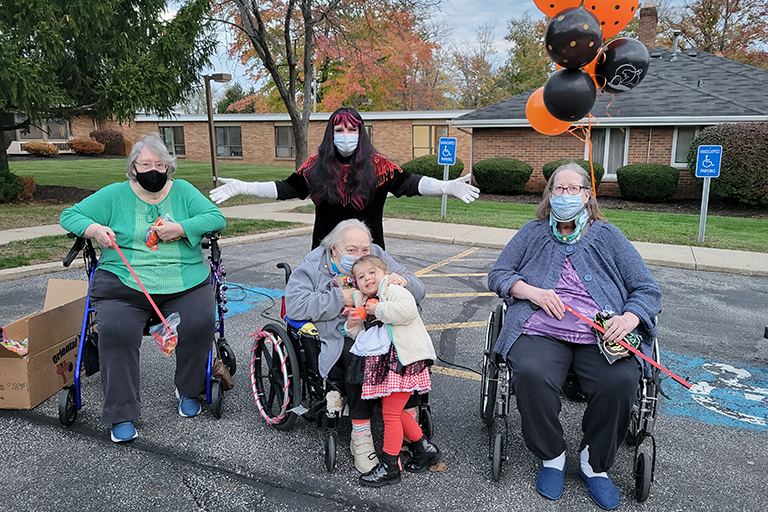 Life Care Center of Medina, Ohio, had a trunk-or-treat for the community and had a huge Halloween party for the residents with live music, food and a pumpkin-decorating contest.
Life Care Center of Hendersonville, North Carolina, had a Halloween party with spooky music and spiderweb desserts. "This is so much fun to be able to get together and celebrate and wear out-of-the-ordinary clothes," said resident Lucy Ashbrook. There was even a parade where everyone could show off their costumes.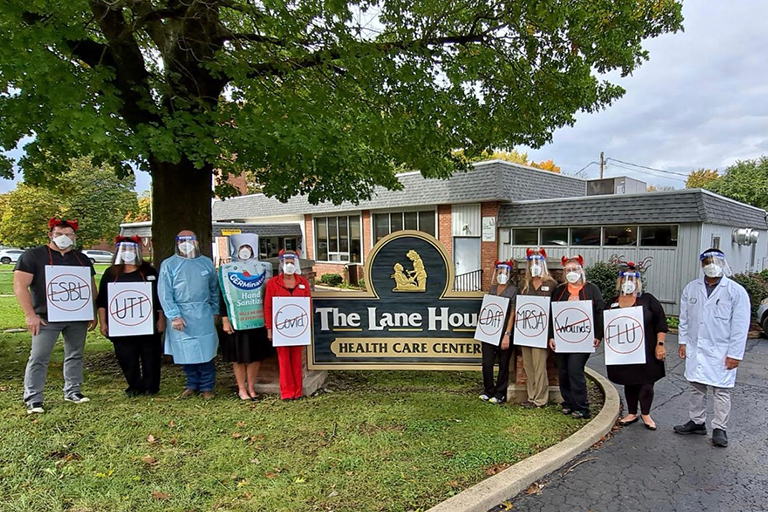 At The Lane House in Crawfordsville, Indiana, associates put a "health-y" spin on their costumes. Gloria McGowen, executive director, found a hand sanitizer costume and came up with the idea to coordinate staff costumes with different types of illnesses that the facility tries to prevent. The result was both hilarious and a good infection control reminder!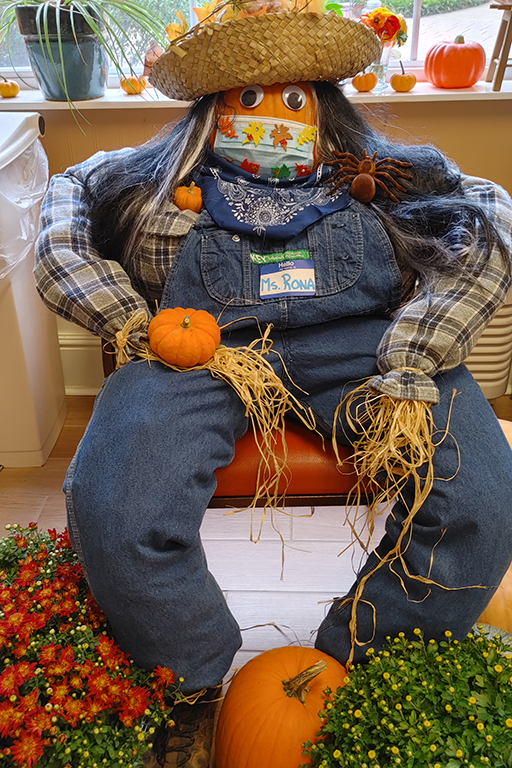 Associates at Life Care Center of Cape Girardeau, Missouri, not only decorated the facility but also their department doors. Throughout October, residents enjoyed special Halloween movie showings with popcorn and soda, as well as crafts such as pumpkin painting, door hangings, creepy bats and a scarecrow. Associates dressed up for Halloween and paraded through the building.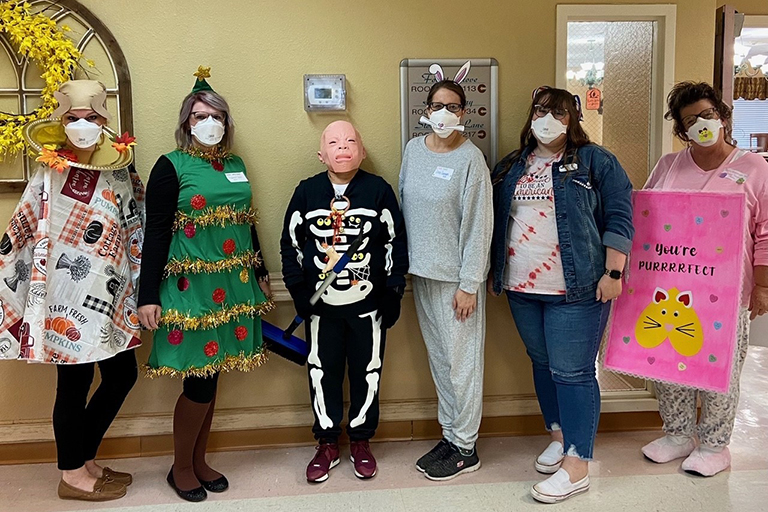 Life Care Center of Bruceton-Hollow Rock in Bruceton, Tennessee, had a costume contest and dressed up as different holidays (including, of course, Halloween!). Snacks at the party included "blood punch," "spider eggs," "deviled eyes" and "slime dip." How spooky!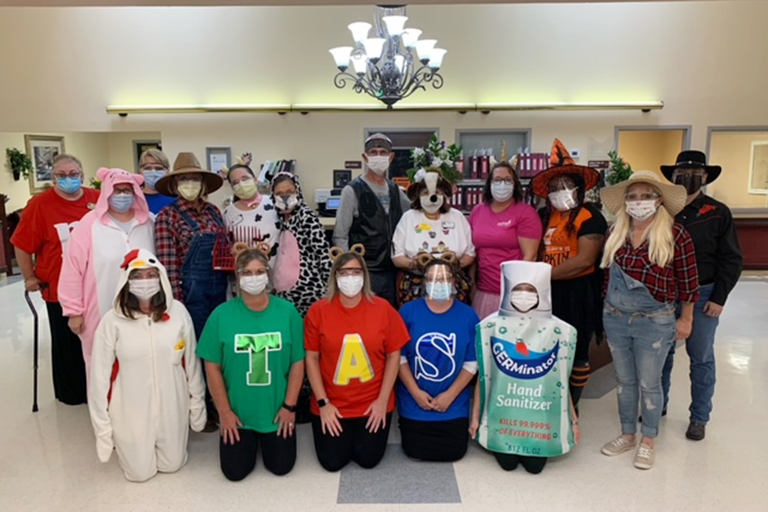 Lynchburg Nursing Center in Lynchburg, Tennessee, also had a Halloween party with staff dressing up and doing a parade.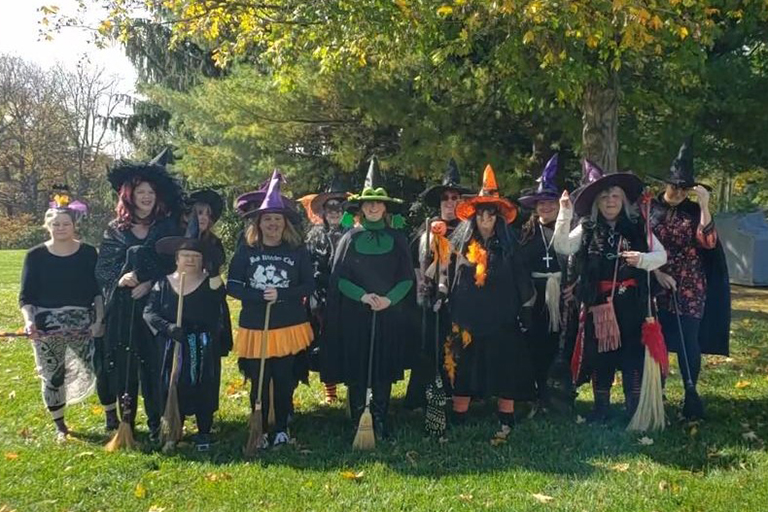 At Hickory House Nursing Home in Honey Brook, Pennsylvania, about a dozen associates got together a special routine to perform for the residents. Now known as the Witches of Hickory House, they dressed up as witches with hats, brooms and all the getup and did a playful German witch dance on the facility's courtyard. The residents thought it was so much fun! A video of the dance is up on the facility's Facebook page.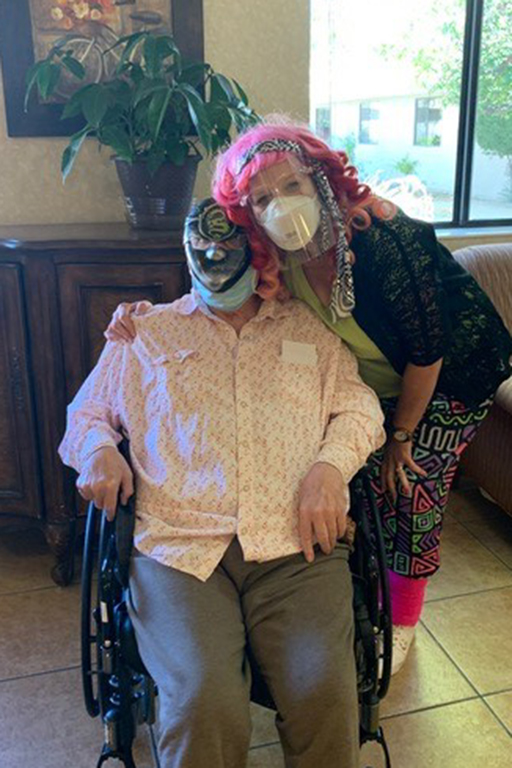 Associates at Life Care Center of Sierra Vista, Arizona, also coordinated efforts. Associates dressed up and got candy, while the residents voted on the best costumes by department. The nursing department was buzzing with their cute idea: the director of nursing dressed as a beekeeper, and the nursing staff were dressed up as bees. Of course, they won the contest and the pizza party prize.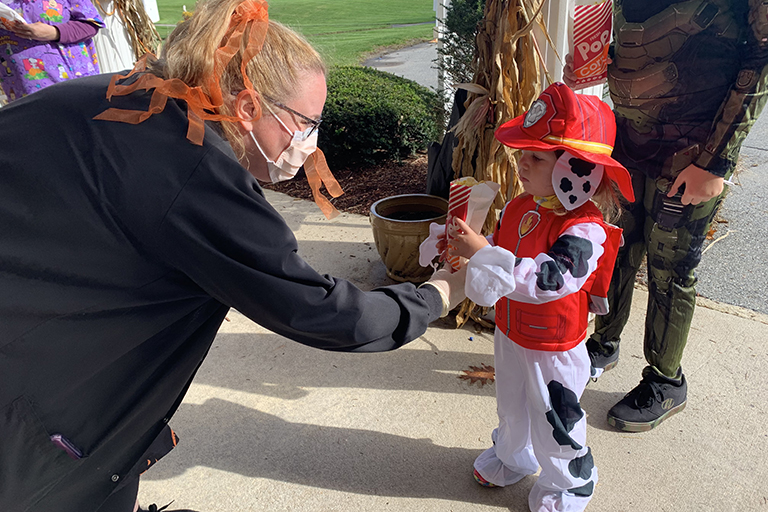 Life Care Center of Nashoba Valley in Littleton, Massachusetts, held a Halloween Hootenanny for the residents and also joined in the town's trunk-or-treat event. Lots of community children came trick-or-treating outside the center, and the residents loved seeing them stop by!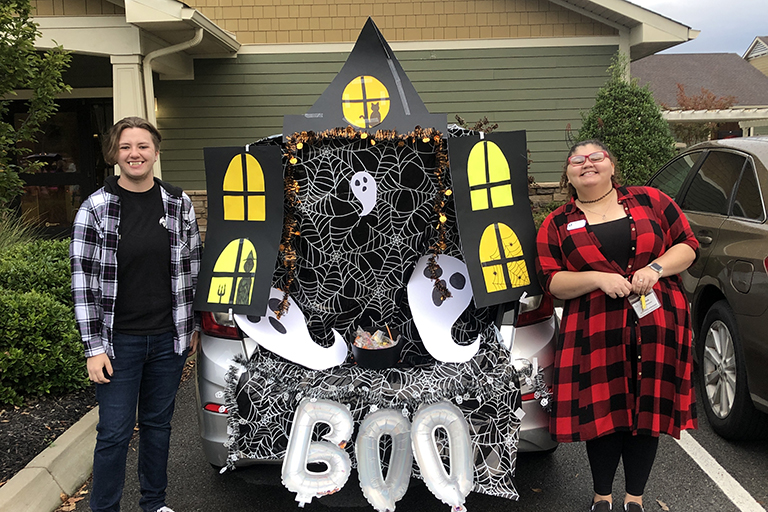 Life Care Center of Blount County in Louisville, Tennessee, hosted a trunk or treat with 15 cars decorated with different themes. About 70 kids and families came out and got some treats in their fun costumes.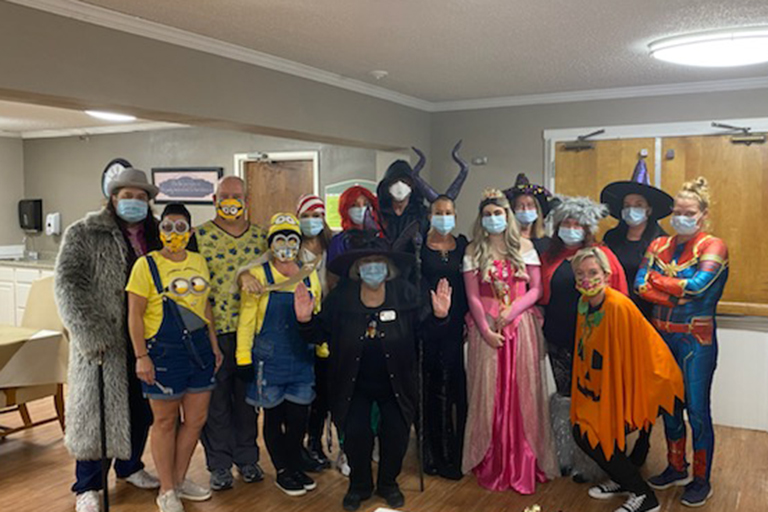 And another trunk-or-treat was held at The Woodlands in Muncie, Indiana. Although it was rainy and cold the day of the event (Oct. 28), the facility made the event as inviting as possible with hot chocolate and doughnuts on the front porch, and many children and parents from the community came out in spite of the weather.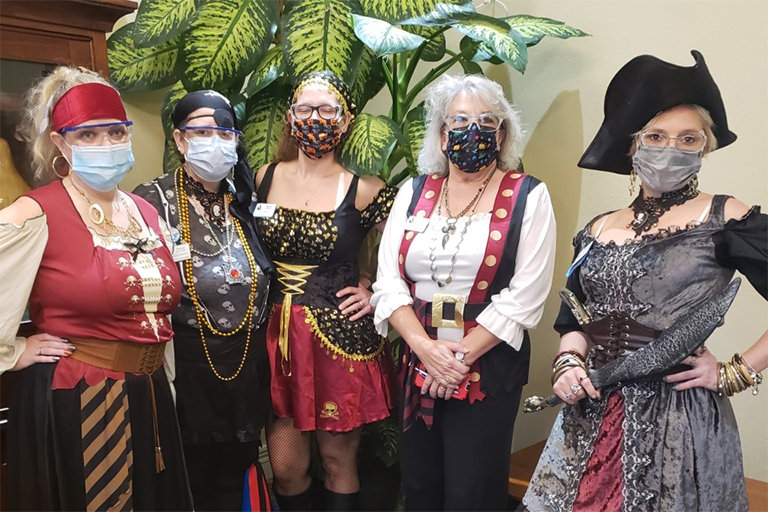 Life Care Center of Coos Bay, Oregon, had a week-long Halloween celebration that included a daily dress-up theme. Residents and associates also enjoyed a chocolate fountain, a pumpkin-decorating contest and a costume contest with prizes.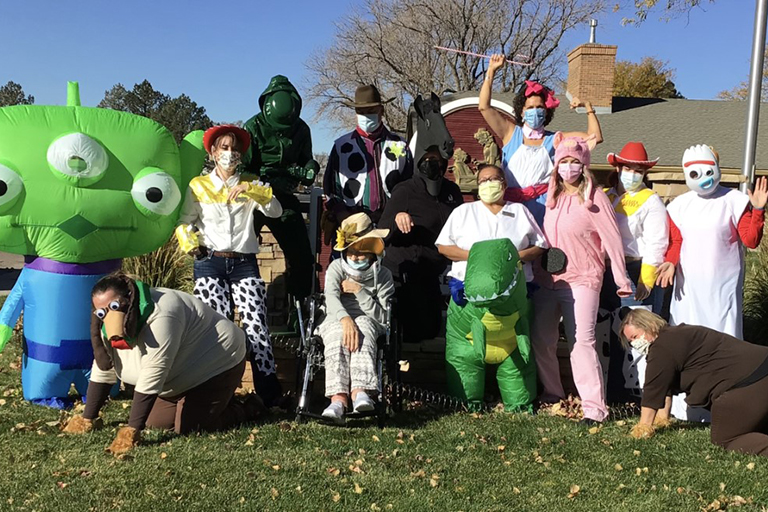 Valley View Villa in Fort Morgan, Colorado, had two days of celebration. One day was "Toy Story" Day with associates dressed up as characters from the Disney franchise. They also had a parade for the residents.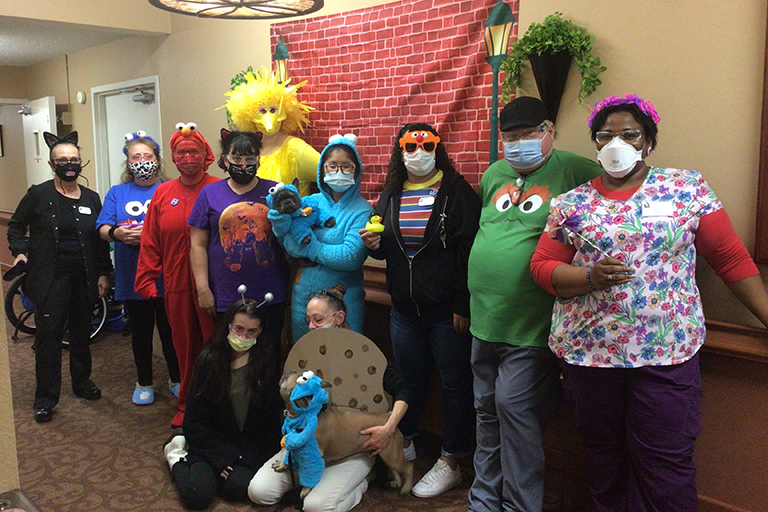 Also inspired by children's characters was the team at Life Care Center of Port Townsend, Washington. Associates dressed up as characters from "Sesame Street," including Big Bird, Elmo, Oscar the Grouch and several Cookie Monsters! A local church group walked around the facility waving at the residents and wishing them a happy Halloween.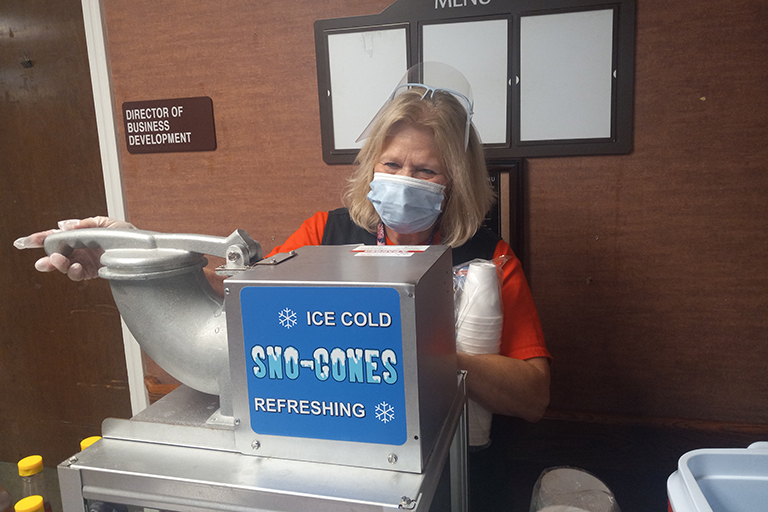 At Parkview Nursing and Rehabilitation Center in Paducah, Kentucky, Halloween took on a carnival theme. Games included apple picking and spinning a prize wheel. There was great carnival food, too, including nachos, barbecue plates and snow cones, as well as baked goods for sale in the "general store."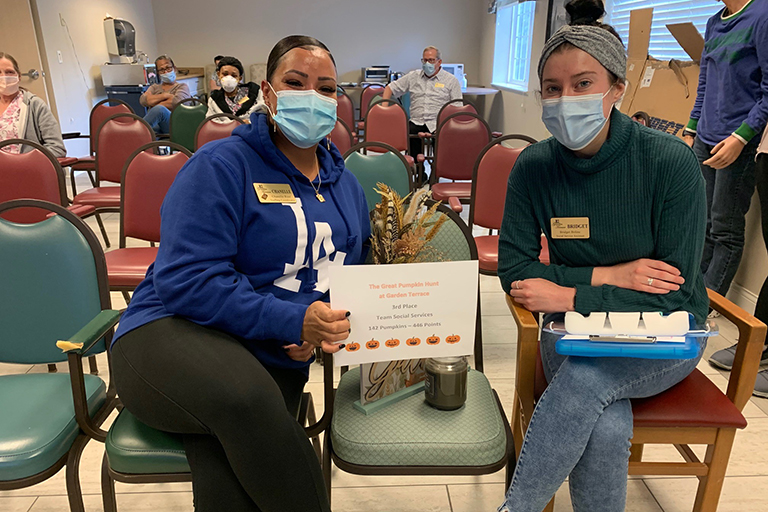 And at Garden Terrace Healthcare Center of Federal Way, Washington, Casper the Friendly Ghost stopped by on Halloween. However, the fun didn't end then! During the following week, little pumpkins were hidden around the facility for staff to find. It was the Great Pumpkin Hunt! The contest was not announced until staff started noticing the pumpkins around the building. Once they caught on, they were all in! Teams began to form, and everyone stayed busy looking high and low for pumpkins. The person or team that collected the most pumpkins won a prize at the end of the week. The hunt even included a golden pumpkin that was especially hard to find and worth extra points. "This week-long activity brought so much fun and enjoyment to the staff," said Megan Larson, executive director. "Therapy staff were even having residents help them look as they were walking around the facility, and the residents got a kick out of it!"