Heidi Pino, Life Care Public Relations
As autumn leaves fell and turkeys baked in homes throughout America, residents and associates in Life Care's facilities held their own Thanksgiving festivities – both traditional and unique. Here are some of the ways they celebrated this holiday of thankfulness.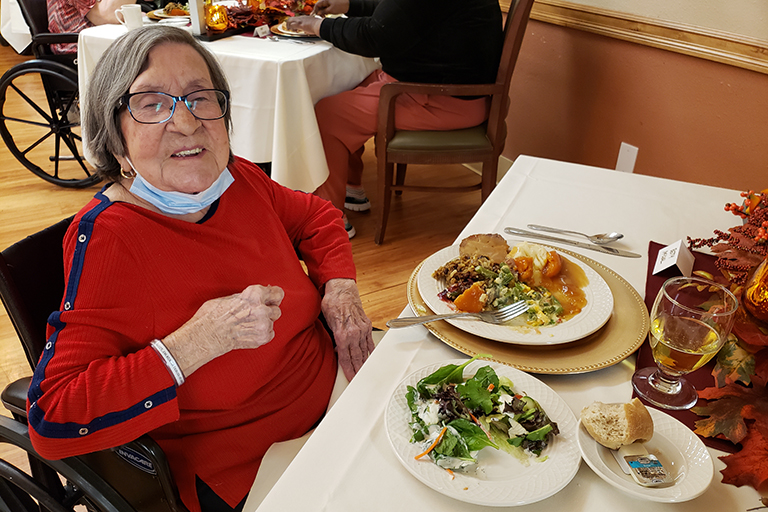 Life Care Center of Kirkland, Washington, held a special dinner for residents with music provided by pianist Diane Perlman. Management served the evening meal to the residents in the dining room, which was decorated with leaves and pumpkins and tables set with fine linen and gold chargers. For residents who could not attend the meal, volunteers served sparkling Martinelli cider off a beverage cart from room to room. On the in-house television channel, residents enjoyed a special Andre Rieu DVD, "Home for the Holidays."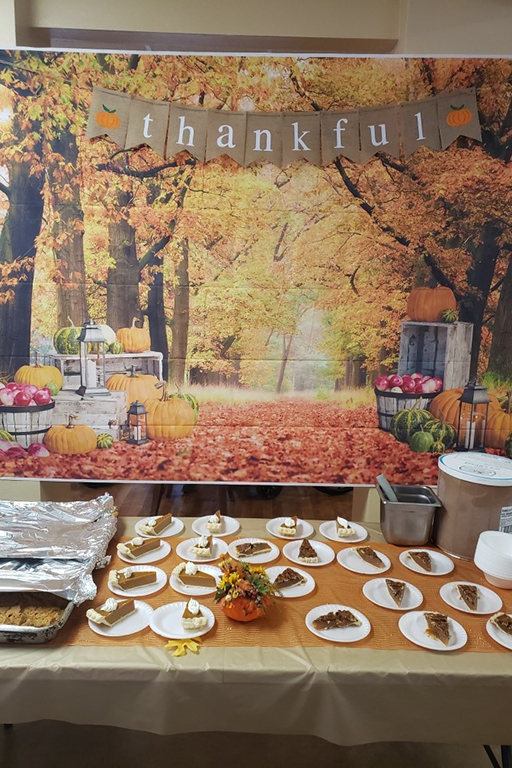 Life Care Center of Rochester, Indiana, took photos of residents to send to families and also had a Thanksgiving dinner for the residents. The dining room was decorated beautifully for the fall, and the meal was served with holiday punch and a dessert bar.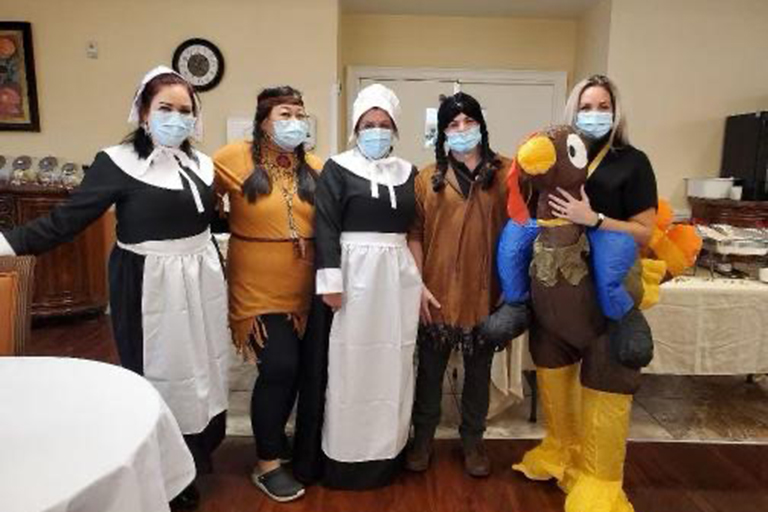 Associates at Life Care Center of Punta Gorda, Florida, dressed up and served a beautiful traditional Thanksgiving meal to the residents. Residents were happy to be served by pilgrims, Native Americans and an inflatable turkey! The festivities also included live music from Melody Lane and photo opportunities against a gorgeous backdrop provided by Trilogy Home Health.
Life Care Center of Port St. Lucie, Florida, used the Thanksgiving holiday as an opportunity to be a blessing to the community. The facility hosted a food drive and gathered 20 bags of groceries, as well as gift cards for turkeys and hams, to help provide Thanksgiving meals to families in need in the area. Rena Pellerin, admissions director, dropped the donations off at the church that was collecting the goods. "Believe it or not, they were short 22 bags to fill the requests they had," said Rena. "So along came our 20 bags just in time. It was a great feeling to know that Life Care staff and friends helped in this project."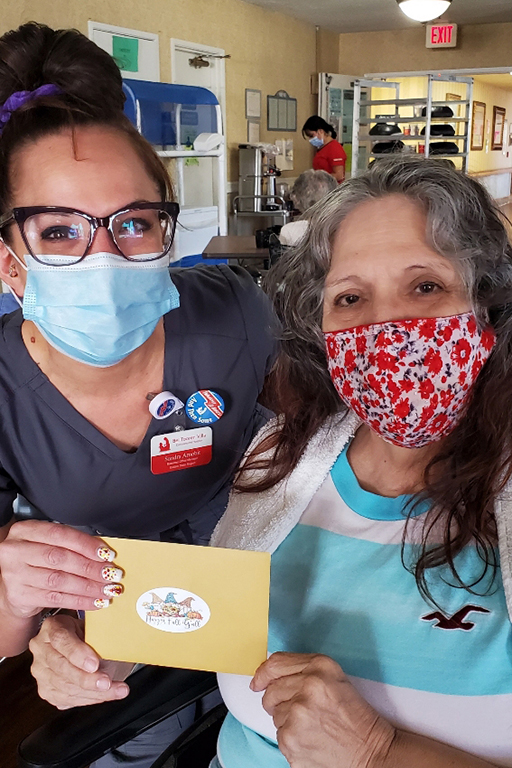 Residents at Bel Tooren Villa Convalescent Hospital in Bellflower, California, had a special treat by way of mail! Matthew Diocson, a local high school student, chose to send holiday cards to the residents as part of his honors volunteer program. The residents loved getting the colorful cards from a young person who was thinking about them!
At Life Care Center of Hilton Head, South Carolina, residents and associates gathered together to watch the Macy's Thanksgiving Day Parade and discussed the history of the event. Then all the residents enjoyed Thanksgiving lunch in the dining room, followed by a game in which residents guessed how many M&Ms were in a mason jar and how many gummy bears were in a jar. Whoever guessed closest to the actual number won a prize. They also guessed how much a pumpkin weighed, with the winner also receiving a prize.
Life Care Center of Cape Girardeau, Missouri, held its annual Family Thanksgiving Dinner with all of the trimmings. The facility and tables were all decorated, and families enjoyed piano music over their meal. Leading up to the holiday, residents took part in a lot of Thanksgiving-related activities, including crafts and baking.
Evergreen House Health Center in East Providence, Rhode Island, hosted its annual Turkey Trot event before Thanksgiving. The festivities included a delicious hors d'oeuvres buffet and fun holiday drawings. Associates could even wear their holiday pajamas! For Thanksgiving, residents were serenaded by local entertainer Bud Pistachio, who sang songs like Elvis' hit, "The Wonder of You."
Leading up to Thanksgiving, residents at Life Care Center of Federal Way, Washington, had a Peppermint Mocha/Mocha Day and a Baked Cookie Day. On the actual holiday, associates gave the residents individual mini-pies with "thankful for you" stickers and tied with a ribbon and fork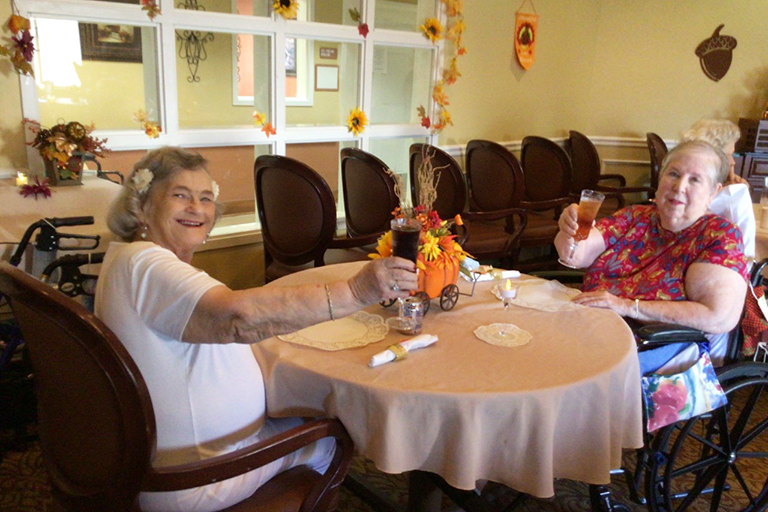 And at Life Care Center of Orange Park, Florida, residents were treated to an elegant candlelit meal. The dining room was beautifully decorated, and soft saxophone music played in the background. The dietary department, however, was the real star of the show! They served spectacular turkey and ham dinners with all the delicious sides and plenty of pie for dessert. As resident Anne Slasor prayed for the meal, "We are thankful, grateful and blessed."
May all our residents, associates and families be blessed this holiday season!