Heidi Pino, Life Care Public Relations
This year, residents at Life Care Center of Punta Gorda, Florida, are enjoying a little extra time with a favorite pastime – gardening.
"Our residents voiced a desire to grow their own vegetables and herbs – a pizza garden," shared Victoria Naekel, activity director.
Victoria decided to do fundraising to help purchase some raised garden beds to make it easy for residents to garden from a wheelchair or standing up. Through the support of community partners such as home health agencies, the facility held several fundraisers, including walking taco bars and tailgate parties for the staff.
In the meantime, Sacred Heart Catholic Church contacted Victoria with some money left over from Christmas after donating gifts for the residents. One of the parishioners asked what the residents needed, and Victoria shared that they wanted some raised garden beds.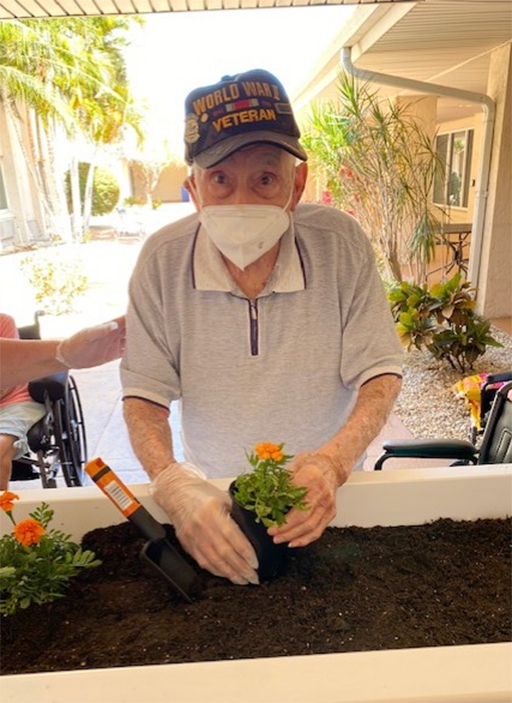 Later in January, the church delivered two raised garden beds to Life Care Center of Punta Gorda with a label that said it was a Christmas gift from the church members. The facility purchased two plaques for the garden beds, saying "A Christmas Gift from the Parishioners of Sacred Heart Church 2020."
"The residents were thrilled, and we purchased the soil needed, the herbs and vegetables," said Victoria. "The residents planted marigolds to keep the bugs away. In between, they planted tomatoes, peppers, rosemary, basil and parsley."
Over the Easter holiday, the residents enjoyed doing the planting.
Mariano Simeola, the president of the Resident Council, is in charge of watering the gardens. Others who want to weed and help care for the plants are welcome to take part daily.
Mariano shared, "This is just incredible! Now we can garnish our own pizzas."
"This gift clearly brightens up the courtyard and the residents' faces!" said Victoria. "The herbs will be used for sensory stimulation with our dementia population, while other residents get to enjoy their hobbies, such as gardening and reminiscing."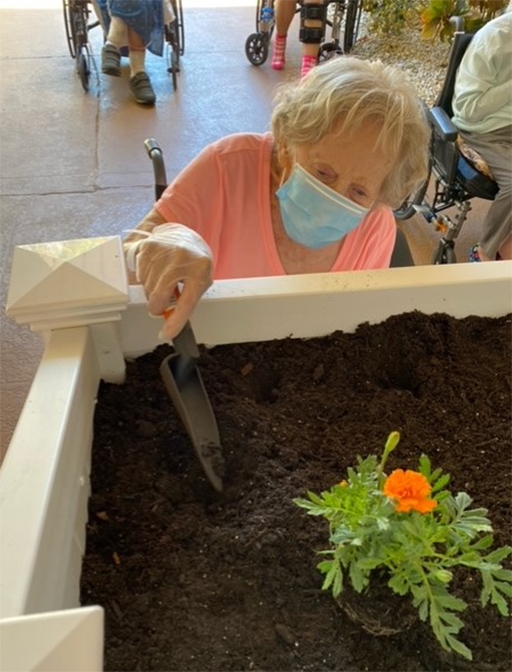 And, eventually, pizza!