Heidi Pino, Life Care Public Relations
Feb. 7 – 11 is Pride in Food Services Week, and we are so thankful for the countless dietary managers, dieticians, cooks, dietary aides and other associates who feed our residents around the country. You are essential to our residents' and patients' success, and we applaud all you do to prepare and serve nutritious and tasty meals!
Meet some of our amazing food services associates around the country!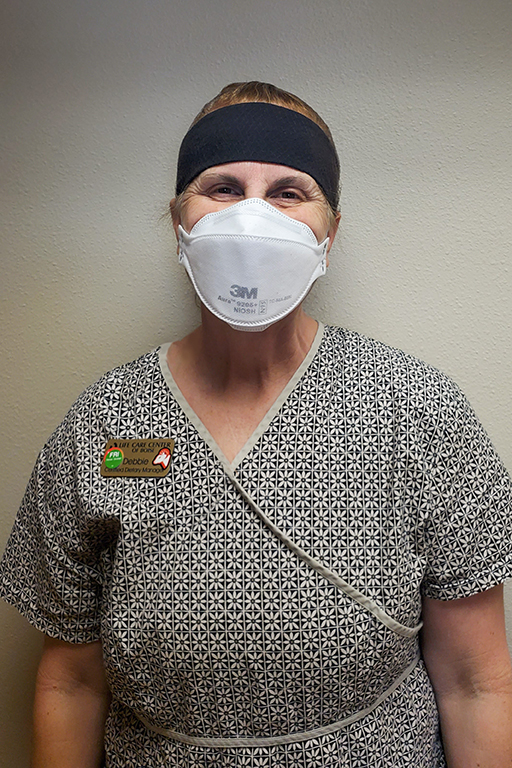 Debbie Bergner – dietary manager at Life Care Center of Boise, Idaho
Debbie has been at Life Care Center of Boise for just over two years and has more than 25 years of experience in food services.
"I like making people happy with the food I serve," she shared. "This is usually the last choice they can personally make toward the end of life, and if I can get a smile from a person just by providing a piece of bacon, for example, it makes it worthwhile to me."
Debbie's teammates praised her for her reorganization of the kitchen and making the meal process more efficient for not only the kitchen staff but also the staff helping deliver the food and assisting the residents. She is known as a positive role model and goes out of her way to check in on other associates. Her servant leadership has her doing the less-glorious kitchen tasks alongside her team members, and her sense of humor has helped lift residents' and associates' spirits during the pandemic.
When asked what her favorite meal is to cook for the residents, she answered: "My favorite meal is the one that the recipient enjoys the most."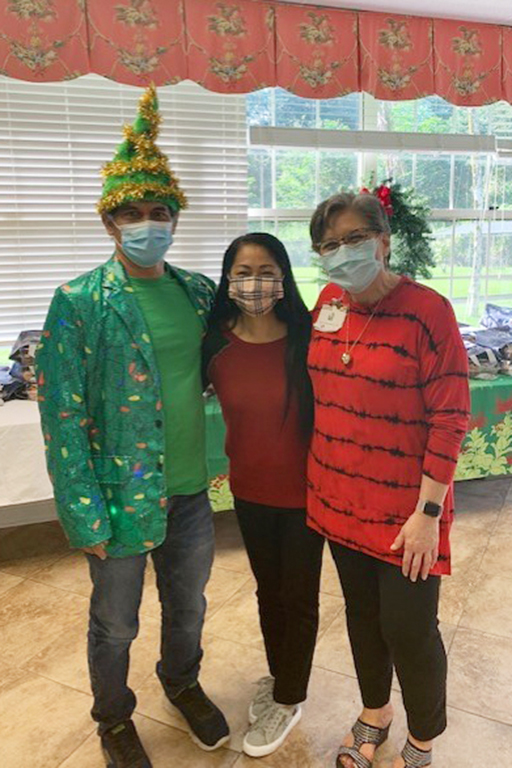 Brunson Young – food service director at Hale Anuenue Restorative Care Center in Hilo, Hawaii
Brunson started his career in food service in 1985 when he joined the United States Air Force. He served in the military for 28 years, starting as a cook and expanding to serving in hospitality, fitness, field exchange and other tasks. He had the privilege of meeting every president from Ronald Reagan to Barack Obama. Discharging from the Air Force, he provided food service for the Mauna Kea Observatories and then worked for the local Veterans Affairs facility before joining the Hale Anuenue team in November 2019.
"I like the people aspect of our services, particularly for special events," Brunson shared. "I enjoy the special celebrations and creating food that makes people happy. I really like working with the residents."
Brunson is known as an excellent cook and baker and has supported his team by taking on additional roles as needed, including dishwasher and transport tech. He has brought treats for the staff for not only holidays but also COVID testing events and vaccination clinics.
"Believe it or not, there is a wide range of challenges a food service director can experience while living on an island," said Gail Kahookele, executive director at Hale Anuenue. "Brunson continues with strength, focus, determination and a 'never say die' attitude!"
Brunson's favorite meal to prepare is bibimbap, a Korean bento meal.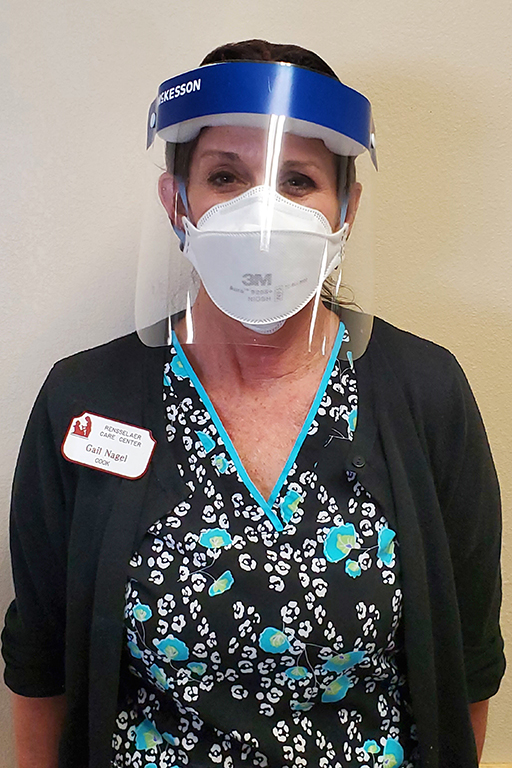 Gail Nagle – cook at Rensselaer Care Center in Rensselaer, Indiana
Gail has been a cook at Rensselaer Care Center for almost 38 years!
When she was asked what has kept her there so long, she answered, "I love to cook. I love the residents, and I like the people I work with."
"Residents will stop by the kitchen every day she works just to tell her how fantastic her food is," said Amy Zell, executive director at the facility. "Gail makes homemade recipes that everyone enjoys. When she makes a soup, everyone (staff and residents) will flock to the kitchen and ask for it because they know how wonderful it will be."
Gail's favorite meals to prepare are the residents' favorites – spaghetti, as well as biscuits and gravy.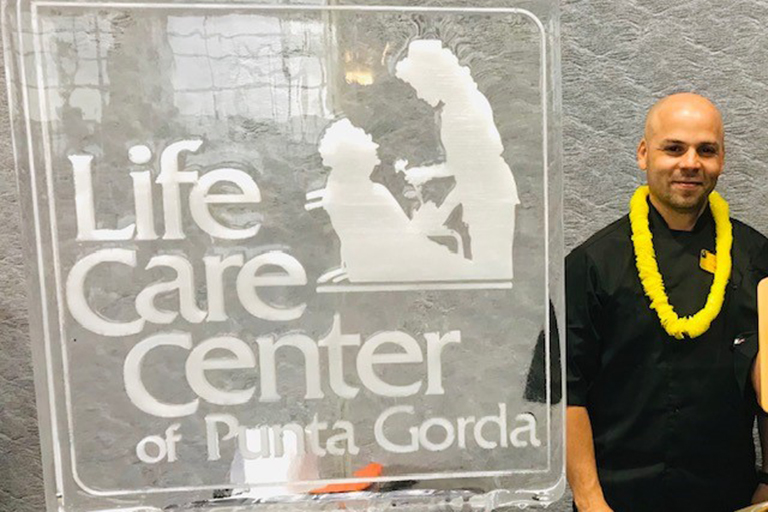 Frank Quinones, dietary manager at Life Care Center of Punta Gorda, Florida
Frank has 10 years of experience in food services, including serving in a hospital setting and another skilled nursing facility before coming to Life Care Center of Punta Gorda about four and a half years ago.
"You make these people happy, and that's what's is about," Frank shared.
Elizabeth Brust, executive director, said, "Frank loves a celebration, so he oftentimes sets a theme and cooks for all of the employees, whether it's a breakfast for night shift, luncheon for day and evening or maybe an impromptu cookout because he simply doesn't want to waste any extra food in the freezer. The world of COVID has been burdensome on skilled nursing facilities in more ways than one, yet Frank's creative ability to provide for not only his residents but the staff has helped uplift our morale and build camaraderie among the entire team."
Frank's favorite thing to prepare for the residents?
"Whatever they prefer is what I prefer," he said.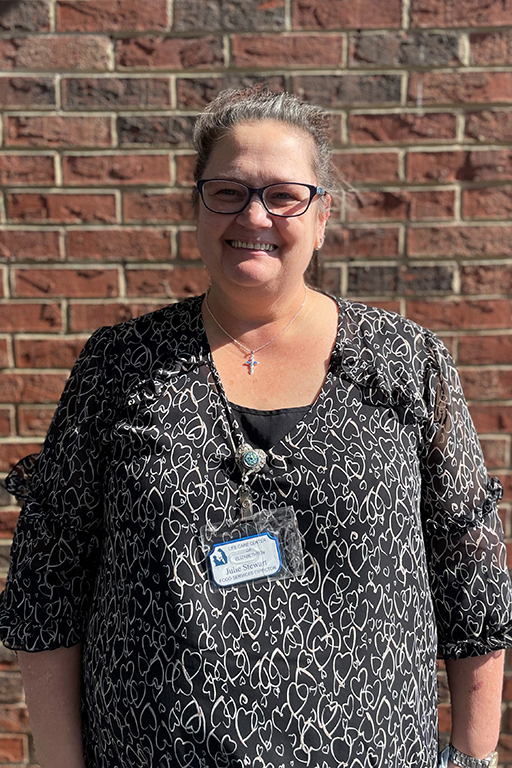 Julie Stewart – dietary manager at Life Care Center of Elizabethton, Tennessee
Julie joined the team at Life Care Center of Elizabethton five months ago, bringing 35 years of experience in food services, including hospitals and other nursing homes.
"I've always done some kind of food service," Julie said. "To me, there's nothing better than to see somebody eating a meal and enjoying it, putting a smile on their face."
During warm months, Julie picks fresh produce from local farmer stands, and during the holidays, residents and associates alike appreciated her elaborate holiday meals. And like many other dietary leaders, she's not afraid to work alongside her line staff to get the job done.
"Julie is a true servant leader," said Brandy Grindstaff, executive director. "She goes above and beyond daily for her residents."
Julie's favorite meals to cook for residents are old-fashioned comfort foods like macaroni and cheese, soups and chicken and dumplings.