Heidi Pino, Life Care Public Relations
National Skilled Nursing Care Week 2022 ran from May 8-14, and Life Care facilities around the country found many ways to engage their residents and associates in fun activities. After all, the week was developed by the American Health Care Association to celebrate those who live and work in skilled nursing facilities.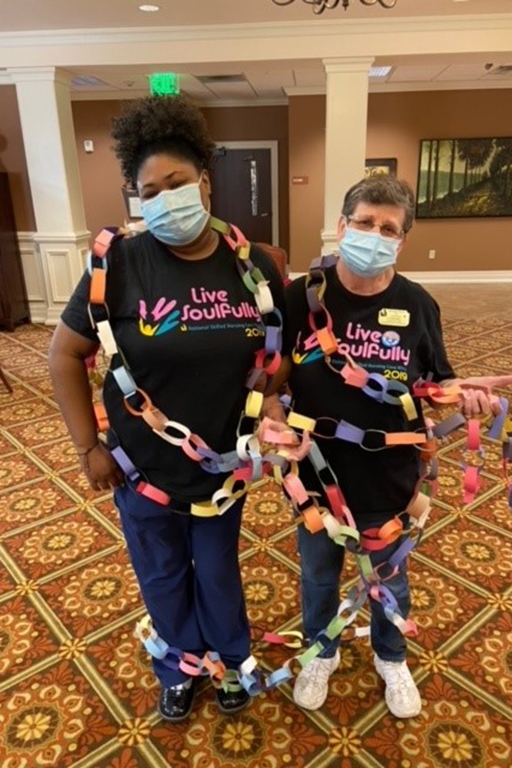 This year, AHCA's national theme was "Creating and Nurturing Connections," and although not every Life Care building followed the national theme, one that took it very seriously was Life Care Center of Ooltewah, Tennessee. Associates put together a very long paper chain… long enough to go around the whole inside of the building! You can view their video of the chain here: [insert link]. Throughout the week, the facility also had theme days, including Twin Day.
Here are how some of our other facilities around the country celebrated this year (alphabetical by state).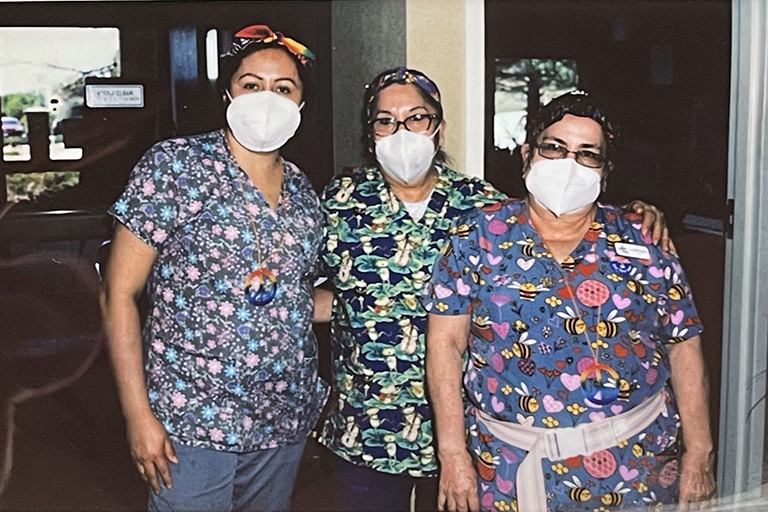 Garden Terrace at Aurora, Colorado, did a Spirit Week for the books! Monday was Manic Monday/Crazy Hair Day with a coffee bar set up for the staff, followed by Tie-Dye Tuesday with pizza. Sports Day was Wednesday with snow cones. Throwback Thursday/Decades Day featured a party with fresh-baked cookies, and on Friday, the facility held a catered Hawaiian barbecue for associates.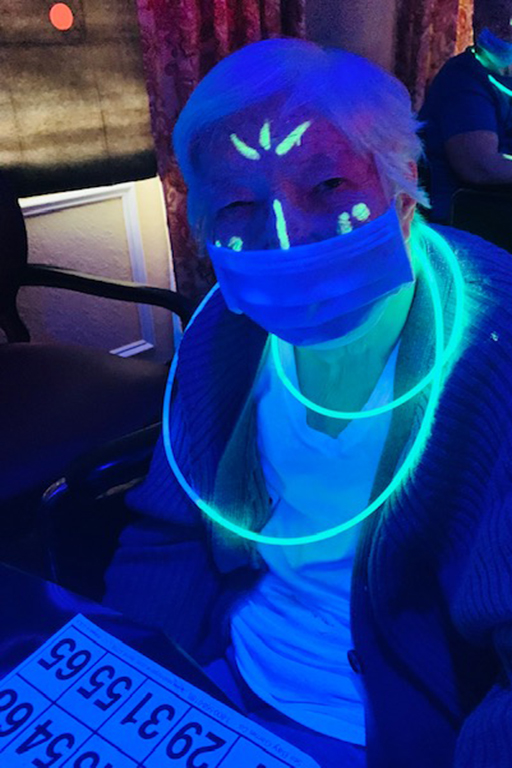 Life Care Center of Orange Park, Florida, kicked off the week with Athlete vs. Mathlete Monday, involving a tailgate party, wheelchair racing, an egg-and-spoon race and a game show. Hattastic Tuesday included a hat fashion show in which associates showed off some very creative headgear, from tables with lamps to a hat made from cereal boxes. Western Wednesday included cornhole, a baked potato bar and ice cream sundaes. Far-Out '70s Day had everyone glowing… literally! At lunchtime, associates enjoyed a disco dance party with dimmed lights and glow paint, and in the afternoon, residents played glow bingo and had fun with glowing necklaces, bracelets and makeup. The week came to a close with Jamaican Me Crazy Beach Day, complete with a beach ball volleyball tournament, steel drum music and authentic Jamaican cuisine like jerk chicken, rice and beans and plantains.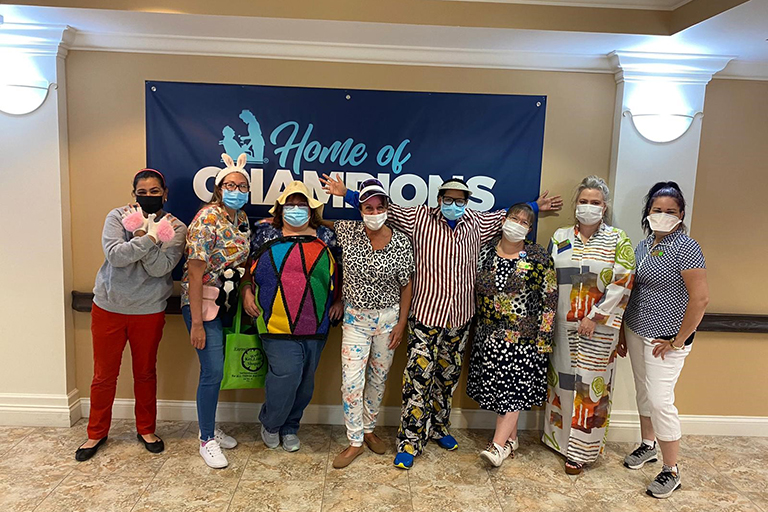 Life Care Center of Punta Gorda, Florida, kicked off their week of celebrations on Derby Day (May 7). The spectators (residents) wore fancy floppy hats while the staff served virgin mint juleps and raced on hobby horses while wearing derby hats. After a Mother's Day brunch on Sunday, the week's activities included a Goodwill Hunting Day. Associates chose a co-worker and shopped for them separately at Goodwill. The co-worker had to wear the outfit purchased especially for them – to much laughter! The facility also received visits from miniature horses, alpacas and a 7-day-old goat, and residents and staff enjoyed riding on a flamingo float and a zebra float.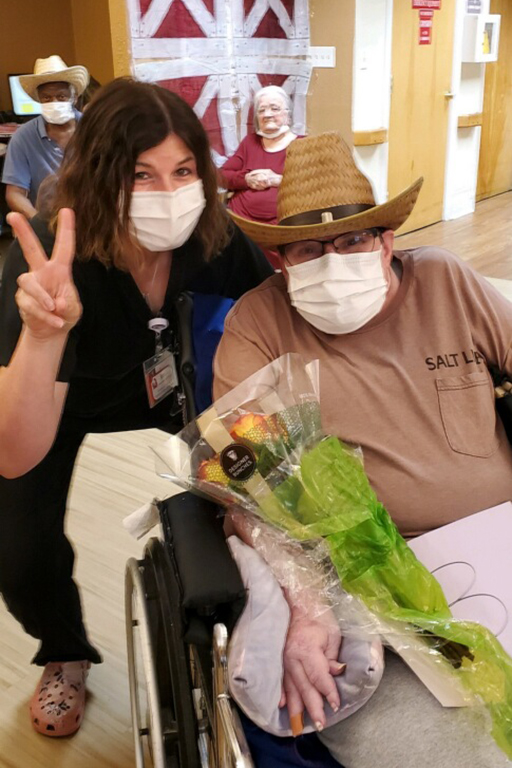 Camellia Gardens of Life Care in Thomasville, Georgia, kicked off National Skilled Nursing Care Week with Western Day and had its own version of the Kentucky Derby with department heads, teamed with residents to race their way to the finish line. The winners of the races received flowers. Later in the week, residents enjoyed their own professional art class. Each received a canvas and art supplies and enjoyed expressing their creativity.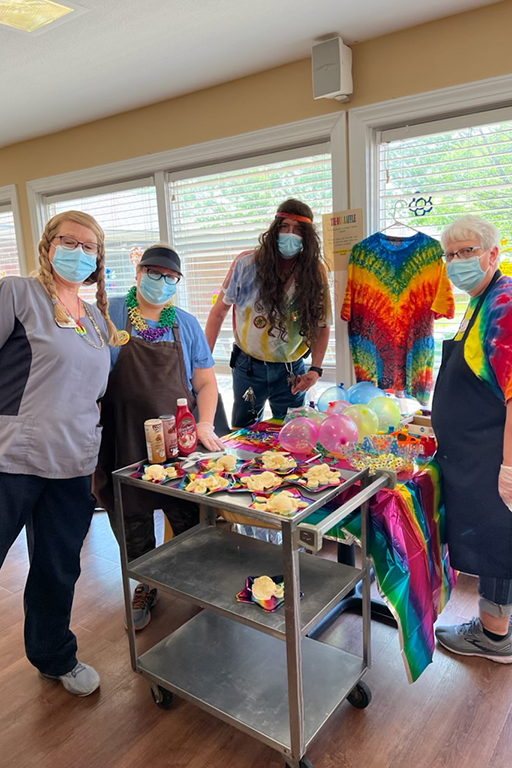 Life Care Center of Seneca, Kansas, celebrated with a plethora of fun and surprises! Department heads teamed up, chose a day and ran with it, coming up with unique themes like Tropical Paradise, Masquerade, Hip Hippie Hooray and Freaky Friday! Activities included inflatable snow rides, hula hoops, mango jousting, table tennis, mask decorating and a giant game of Hungry Hungry Hippos!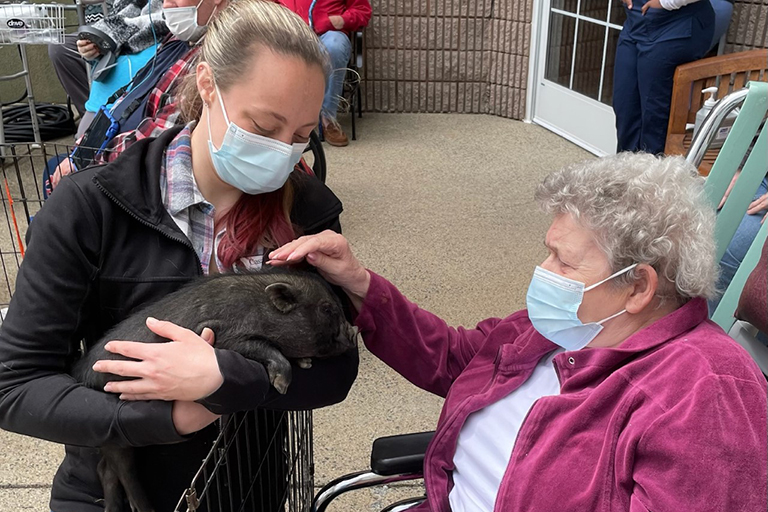 Animals made NSNCW fun at Life Care Center of the North Shore in Lynn, Massachusetts. Barn Baby Day was a real hit with visiting piglets and baby goats!
Life Care Center of Raynham, Massachusetts also welcomed baby animals from a traveling petting zoo, including bunnies, goats and kittens. The residents loved holding them and petting them. The facility's Tropical Day was very popular, as well.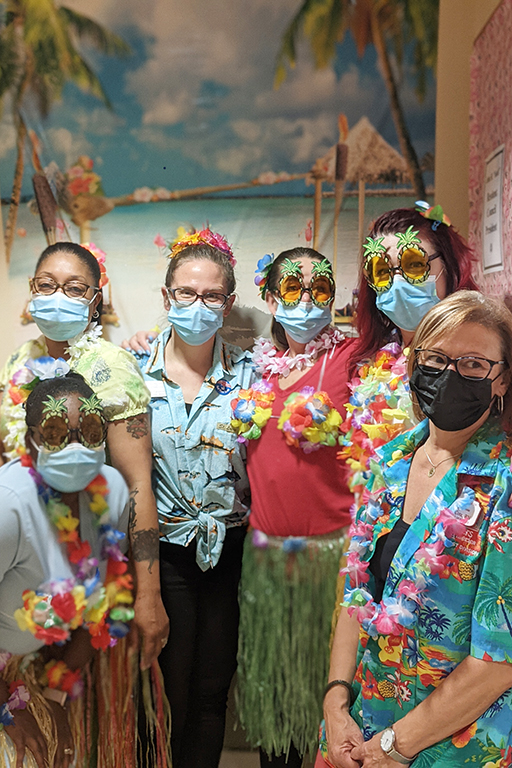 At Life Care Center of Stoneham, Massachusetts, residents and associates dressed up each day. On Sunday, residents enjoyed a Mother's Day tea and a musical performance by the Kids Joy choir. Monday, the facility had a pajama party complete with a pillow fight. Tuesday was Country Western Day with cowboy attire and a sack race. Wednesday was Mexican Day with tacos, virgin margaritas and a piñata. On Thursday, they went Hawaiian-style with a barbecue, limbo dance, hula hoops and bingo over the intercom.
Life Care Center of Wilbraham, Massachusetts, kicked off the week on Monday with a game of staff bingo. On Wednesday, there was a trivia contest, and on Friday, residents and associates enjoyed a rolling ice cream cart. Throughout the week, associates participated in prize drawings and a "guess the number of gumballs" contest.
Life Care Center of Cape Girardeau, Missouri, kicked off the week with a Mother's Day party. Monday was Patriotic Day, and Tuesday was Mexican Fiesta Day with a taco bar and nachos for residents and associates. Residents also received Mexican headbands and took a whack or two at a couple of candy-filled piñatas. Wednesday was Western Day, and on Thursday, residents and associates dressed to support either the St. Louis Cardinals baseball team or the St. Louis Blues hockey team. Friday ended the week with Camouflage Day.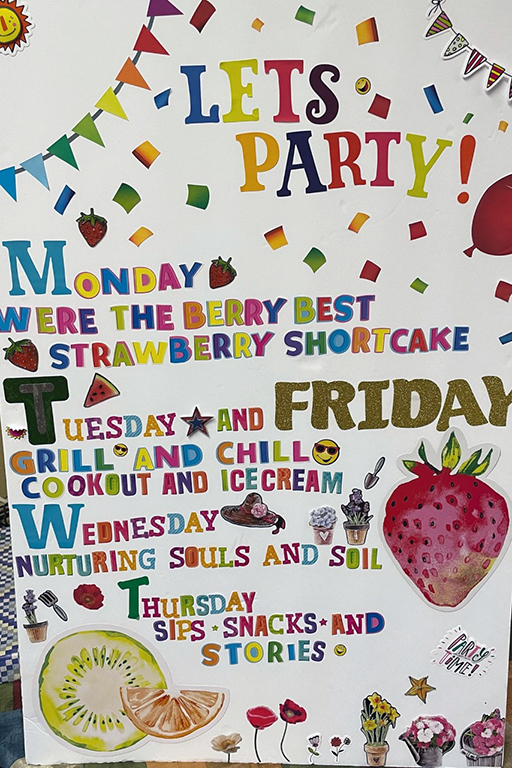 Life Care Center of Banner Elk, North Carolina, held door prize drawings throughout the week for associates with small items such as body wash, glass food storage containers, car wash buckets, hand soap and candles. Monday was We are the Berry Best Shortcake Day! Lynn Kilpatrick, executive director, brought in three gallons of farm-fresh strawberries from South Carolina, and residents and associates enjoyed the fresh berries with pound cake, dessert cups and whipped cream. Tuesday and Friday were both cookout days to treat associates working different shifts, and in addition to hamburgers and hot dogs, associates, residents and family members enjoyed ice cream sundaes with loads of toppings. Wednesday, residents gifted small plants in planters to an associate of their choice. On Thursday, a local hospice representative brought homemade pound cake, strawberries, homemade whipped cream and coffee cake for residents and associates.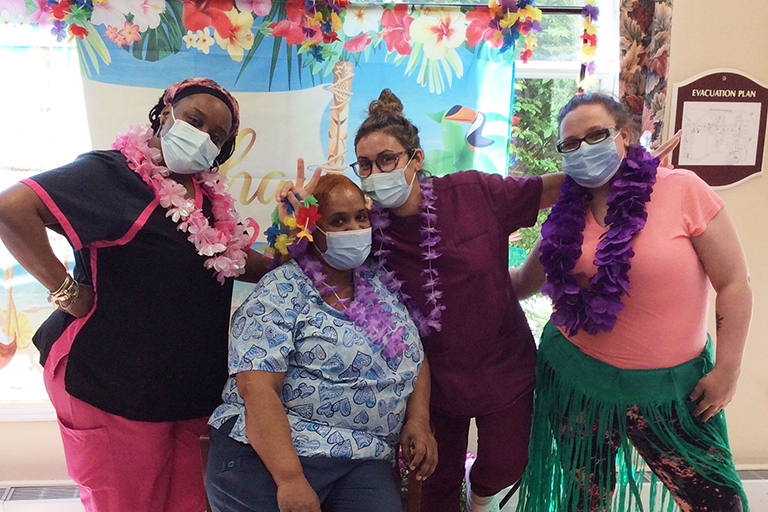 On Mother's Day, associates at Life Care Center of Westlake, Ohio, handed out live flowers and "flower bombs" to all the staff who are mothers. On Monday, the facility held a luau party and ice cream sundae bar. Associates and residents received leis and enjoyed music and a limbo contest. On Tuesday, residents and associates enjoyed a salad bar, a temporary tattoo parlor and karaoke. Wednesday featured a Tour of Italy pasta bar and an afternoon of casino games. Activities staff donned green visors and assisted with games such as blackjack and roulette. There were even mocktails and bar snacks! Thursday brought tacos and a "Karaoke Across Route 66," and TGI Friday came with a baked potato bar for everyone.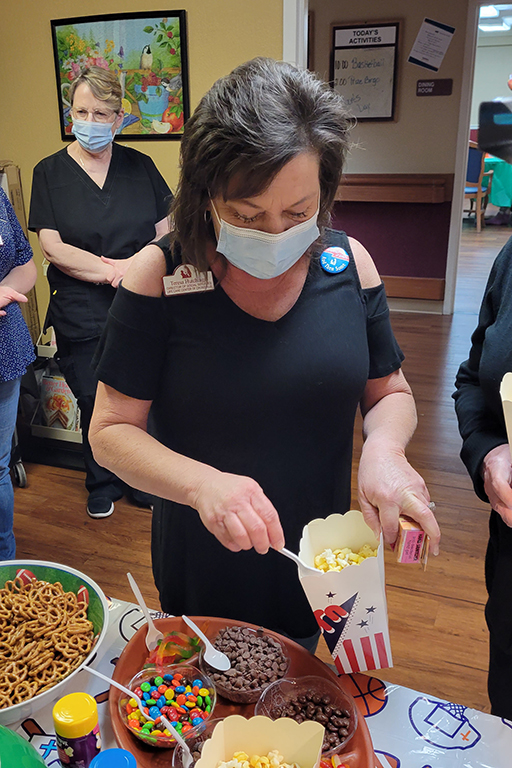 Life Care Center of Crossville, Tennessee, kicked off the week on Monday with Sports Day, which included a popcorn bar complete with an array of sweets to mix in. Tuesday and Wednesday were both luau-themed days, with "crabwiches," Hawaiian pulled pork sliders, "seaweed" dip and a kiddie pool filled with cold sodas. The local ICEE truck stopped by, too, so residents could enjoy a sweet, cold treat. The week closed out on Thursday and Friday with pajama days. Associates could choose from a variety of cereals, and there was also a variety of games and an ice cream buffet.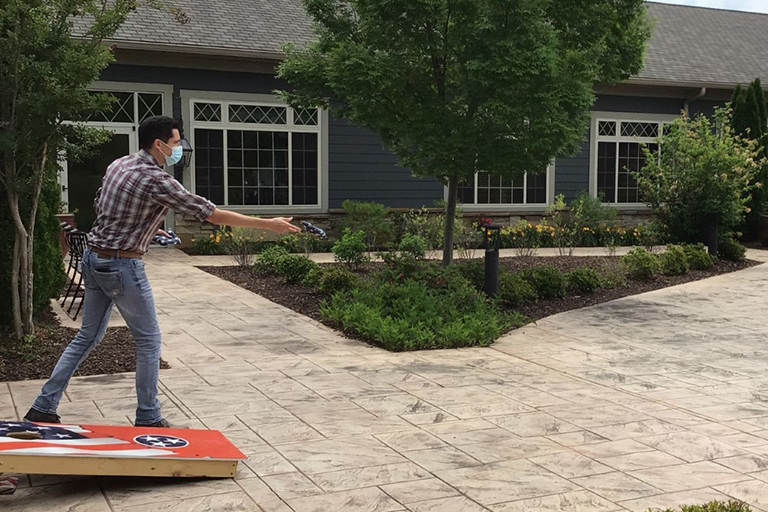 Life Care Center of East Ridge, Tennessee, had special dress-up days throughout the week. On Western/Cowboy Day, the facility also hosted a cookout for associates, with Robert Hubbartt, regional vice president, serving as grill master. He also joined staff for a friendly game of cornhole!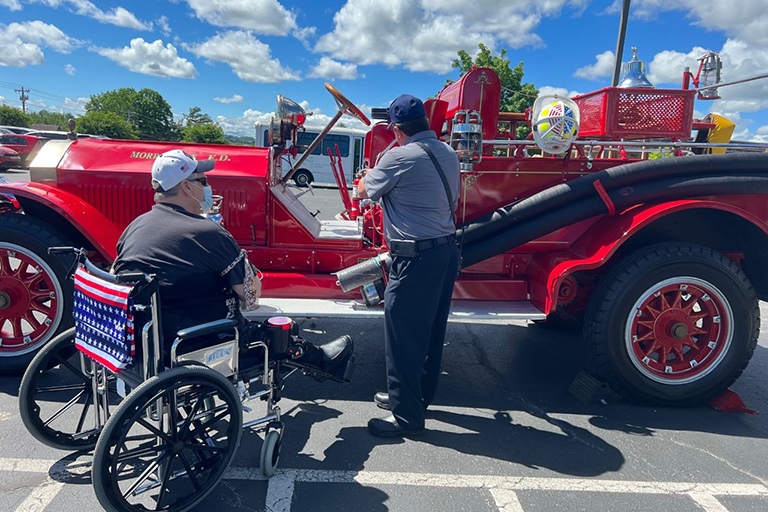 At Life Care Center of Morristown, Tennessee, residents enjoyed planting flowers in newly donated raised flower beds. The residents loved being out in the sunshine and getting a little dirty to add beauty to the facility. On Friday, the facility held a cookout for healthcare partners and first responders. Some even brought out Morristown's first fire truck for the residents to look at!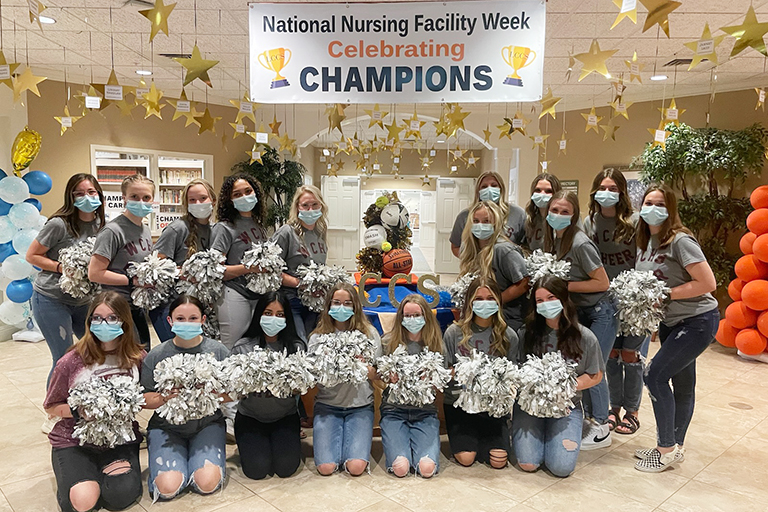 Life Care Center of Sparta, Tennessee, provided shaved ice for associates, and residents enjoyed a visit from the White County High School cheerleaders!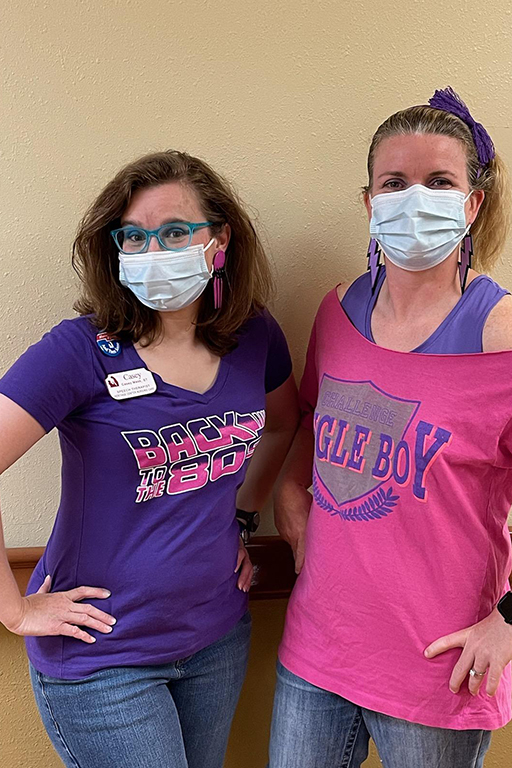 At The Heritage Center in Morristown, Tennessee, Monday kicked the week off with a nod to the 1950s. Associates dressed in their best '50s style, and the residents enjoyed bingo in the morning. Residents and associates enjoyed banana splits in the afternoon. Tuesday was Fiesta Day, with many associates sporting sombreros and/or mustaches. After a nacho lunch, a one-man band entertained the residents that afternoon. On Wednesday, residents and associates were asked to wear their favorite color, and a variety of homemade cobblers were served with ice cream during the afternoon. Thursday was '80s Day – big hair and all! After lunch, a live DJ provided music and karaoke, and residents and associates could pick out a temporary tattoo. Friday was the big finale with a patriotic theme. Scott Hunt, executive director, had smoked pork, turkey and bologna all night and treated residents and associates to a cookout with sides provided by the dietary department and snow cones provided by a local business.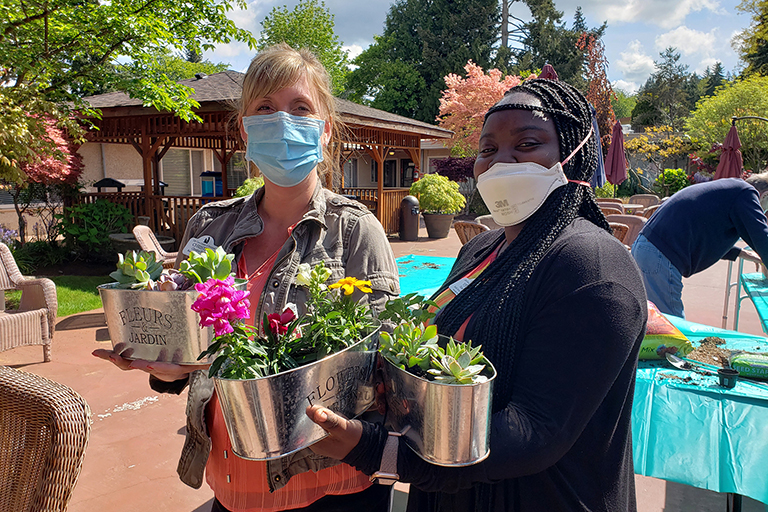 Life Care Center of Kirkland, Washington, offered grab-and-go crafts each day, including decorating baseball hats for Connecting with Games Day, clay pot bird feeders for Connect with Pets Day, decoupage picture frames for Connecting with Movies Day and decorating kazoos for Connecting with Music Day. Associates loved assembling their own mini-gardens with flowers and succulents. There were also giveaways and games, and three musical groups provided live music on the facility's walkway.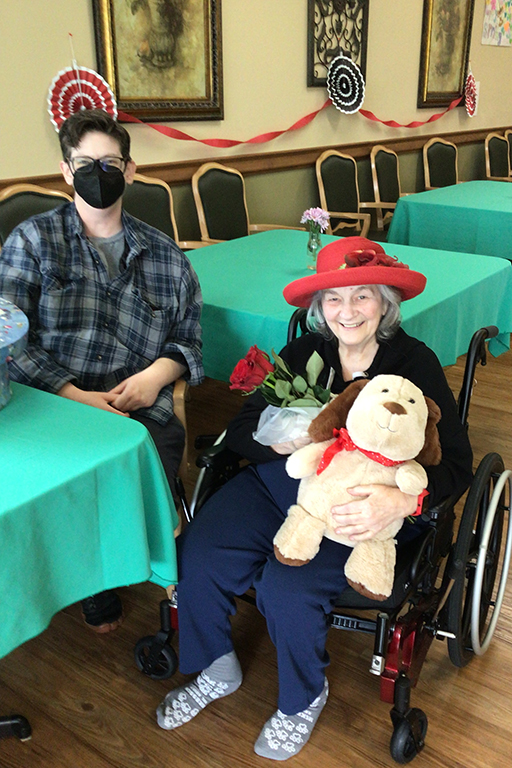 Life Care Center of Port Townsend, Washington, began NSNCW with a festive pie picnic. On Tuesday, residents painted sand dollars while listening to classic poems about nature and sea life. The highlight of the week was on Wednesday with the facility's annual Run for the Roses Horse Derby board game. This year's theme was staff pets. Associates posted cute photos of staff pets and assigned each one to a horse. The resident who had the winning horse won roses and a large stuffed animal, and the winning pets won treats. Associates served root beer floats for associates and residents as they "rooted" for their favorite pet to win.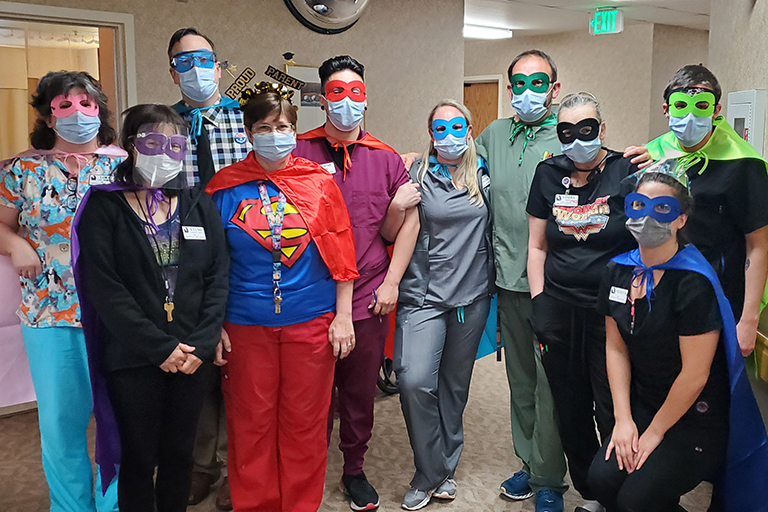 Marysville Care Center in Marysville, Washington, started off the week with Twin Day on Monday and root beer floats. Tuesday was Superhero Day, and many associates put on their eye masks and capes for the day while enjoying a taco bar lunch. Wednesday was Disco Fever Day, and residents and associates alike got Starbucks coffee! On Thursday, Employee Recognition was the theme with a ceremony honoring years of service, in addition to a hallway game in which associates tried to identify each other's baby photos. Friday closed out the week with '80s Dress-up Day, a barbecue lunch for residents and associates and a cornhole tournament.