Heidi Pino, Life Care Public Relations
Life Care's receptionists do so much more than answer phones. They are the face of the facility to visitors. They interact with fellow associates, residents, family members and vendors alike!
Today, National Receptionists Day, we honor the receptionists across the country who serve our company and facilities with grace, humor and kindness. Meet a few of Life Care's exemplary receptionist Champions of Care.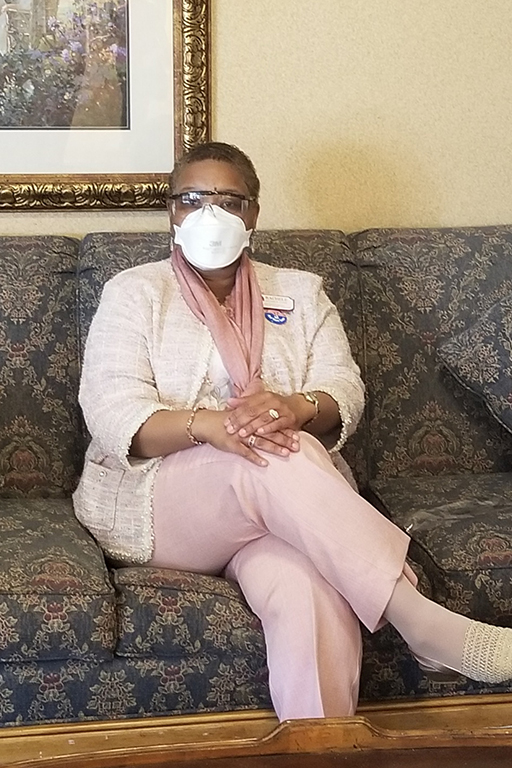 Rachele Cobb – Parkview Care Center in Evansville, Indiana
Rachele joined Parkview Care Center 27 years ago, starting in the kitchen as a dishwasher. Her mother worked at the facility at the time. Rachele grew in her career, becoming a dietary aide, then a cook, a certified nursing assistant and finally, about two years ago, the receptionist.
"I love it," Rachele shared about her job. "I get to meet different people and get to know the residents and their families. I've got some awesome co-workers, and I learn something new every day."
Eric Ross, executive director at Parkview Care Center, shared, "Rachele is the first face that our guests see and usually the last voice that they hear. She always has a smile and provides great customer service. She is always willing to take on tasks that are not in her normal day-to-day job. She is willing to go the extra mile to help us be successful."
When asked what she likes about her facility specifically, she added, "It's a family-oriented environment. We put in 110 percent to take care of the residents. I wouldn't want to go anywhere else."
We asked our receptionists to share what they would do for their birthday if they were a kid again.
"I would go to Disney World because I've never been," Rachele said.
Diane Bradley – Life Care Center of Littleton, Colorado
Diane joined the team at Life Care Center of Littleton almost nine years ago as a fill-in receptionist. However, she was involved with the facility long before that. Her husband had been a short-term rehab patient, and she had served as a volunteer there for five years.
The facility team eventually convinced her to become full-time.
"Diane is the heart of Life Care Center of Littleton," said Sara Dent, executive director. "The love she has for her job and residents radiates from her every day. She makes a point of knowing everyone's name, both staff and residents, and can even do so with everyone having to wear masks!"
"My job is to welcome people and encourage them," Diane shared. "I see it as important because I represent the whole building, and I help people feel comfortable. I work hard, but the fun part is building the relationships. I love my patients."
Diane appreciates the teamwork within her facility between departments, how each respects the other.
When asked what she would do for a birthday party, Diane, who is originally from New Zealand, shared that in her native country, people mostly play games. But, for an American-style party, "I would want to go with my friends to the zoo. It's just a fun environment."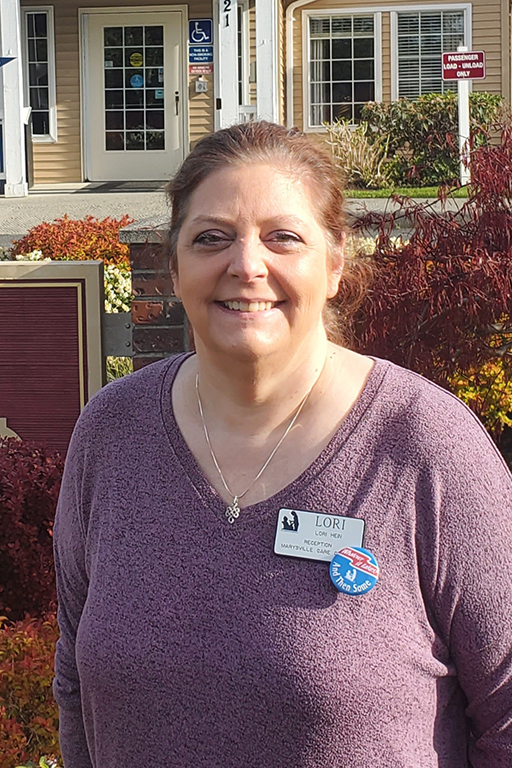 Lori Hein – Marysville Care Center in Marysville, Washington
Lori has been a member of the team at Marysville for 16 years, with most of that time as the receptionist, although she started as a weekend laundry and housekeeping assistant.
"I was looking for a job that was close to home, and I saw an ad in the paper and liked the logo," Lori shared. "I came in, and the staff was friendly and welcoming."
Lori stays busy, not only with reception duties but also with managing the residents' trust accounts and assisting in accounts payable.
"Lori always has a great personality and attitude," said Joe Lilienthal, interim executive director at the facility. "She greets everyone with her friendly nature."
"The residents are my heart," said Lori. "I love being helpful. I love going above and beyond."
When she was asked what she would choose for a kid-style birthday party, Lori said, "I just want my family there. Purple's my color, so decorations in purple, and flowers – Gerber daisies are my favorite."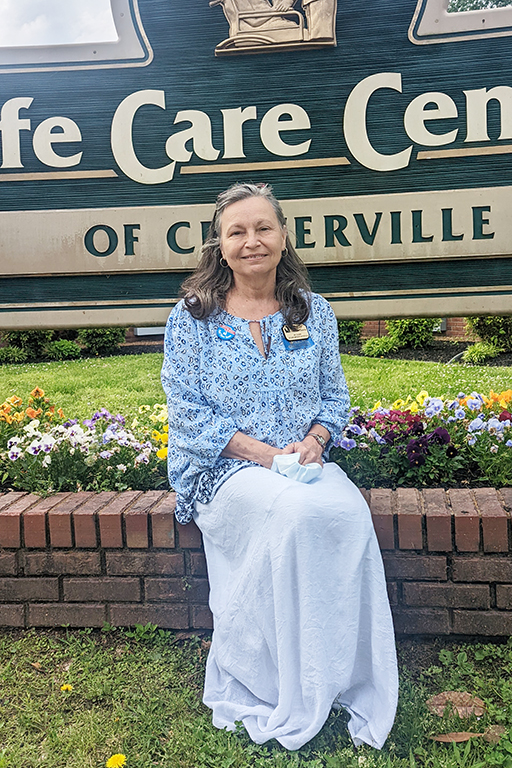 Cindy Jacobson – Life Care Center of Centerville, Tennessee
Cindy Jacobson has been the receptionist at Life Care Center of Centerville for a year and a half, after starting at the facility in December 2019 as an activity assistant. She had previously been a personal administrative assistant for many years, but when her husband transferred jobs from Memphis, Tennessee, to Nashville, she was ready to try something different.
"I just fell in love with it here," Cindy shared. "It's not just a job – you get to go in and help people. I love my co-workers and the residents – they're like family."
Not just anyone can be a receptionist. Cindy emphasized the importance of customer service.
"You've got to make everyone feel comfortable," she said.
Beverly Wall, executive director at the facility, thanked Cindy for going above and beyond her job.
"On Mother's Day last year, Cindy made pearl rings for all our female residents," Beverly said. "The residents absolutely loved them! She makes and sells jewelry in her spare time."
Cindy's choice of birthday party would be go-kart racing.
"My husband and I have been involved with racing for a long time," she said. "We travel to NASCAR races sometimes."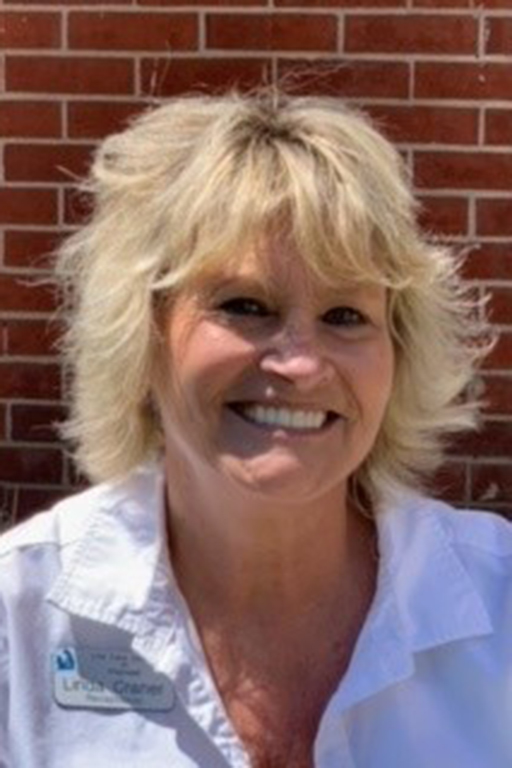 Linda Craner – Life Care Center of Plainwell, Michigan
Linda has worked at Life Care Center of Plainwell for more than nine years, starting as a part-time receptionist and then becoming a concierge before stepping into the full-time receptionist role three years ago.
Linda sees her job as based in customer service, assisting the other associates at the facility.
"I just try to do all the little stuff for our staff," Linda said. "I feel like, 'I'll make you successful behind the scenes so you can get to be the person.'"
Linda's grandson once told her he thought her job was boring, but she answered that it was anything but!
She joked about her job: "I get to dress up and wear cute clothes and play office – who wouldn't want to do that?"
Linda appreciates the fact that her facility has a lot of long-time associates who serve from their heart.
Linda's choice of party theme?
"A pool theme – I'm all about the hot weather and the water!"
Charisse Lloyd, executive director, shared, "Linda is a ray of sunshine on every cold morning we have here in Michigan. I love her honesty and attention to detail with every task she completes. She is the heartbeat of Life Care Center of Plainwell, and I really appreciate all that she does!"