Heidi Pino, Life Care Public Relations
May 12 is the conclusion of Nurses Week 2022, and we are so pleased to honor our incredible nurses. At the beginning of Nurses Week, we introduced four of our outstanding directors of nursing, and now we would like you to meet four more.
The ladies we have honored are only a few of the hundreds of dedicated nurses who make up our Life Care family. To all who serve with the title and heart of a nurse, we say THANK YOU!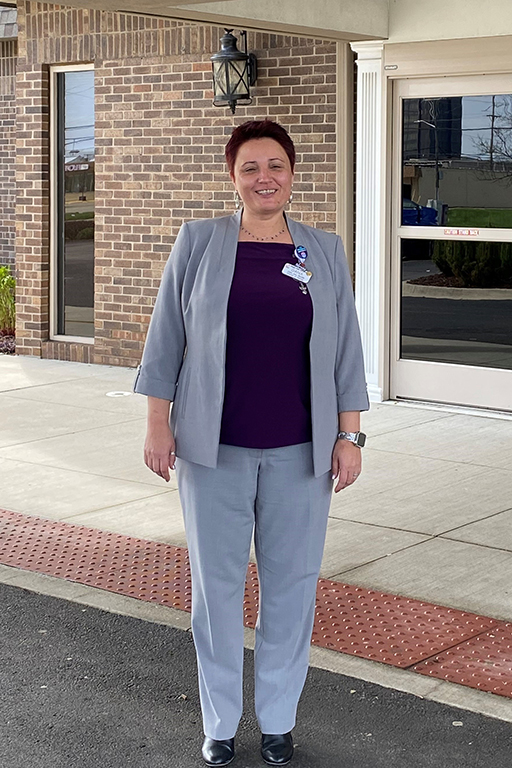 Oana Jecu – Rivergate Health Care Center in Riverview, Michigan
Oana has been a nurse for seven years and a DON for two years. She has been at Rivergate for the last six and a half years.
Her journey to nursing began when she was deciding on a career after being a stay-at-home mom. She saw a commercial on TV about nursing and decided to give it a try.
"It was the best decision of my life," Oana said.
What does she enjoy about her career?
"It's very satisfying to see my residents happy and taken care of," she said. "I also like being able to support them emotionally."
Oana enjoys being at Rivergate Health Care Center in particular.
"I like the culture and the fact Life Care is always willing to promote from within," Oana said. "They're willing to give someone the opportunity to be successful. It's because of Michelle Peeper, my executive director, and her guidance, that I am where I am now."
Michelle, for her part, bragged on Oana: "What makes Oana an amazing DON is her clinical knowledge and ability to provide direction to her associates day or night."
Oana's advice to those considering a career in nursing is, "Go for it! It's going to be hard. It's going to be a lot of work, but the satisfaction you get far surpasses the work."
Oana's pop culture go-to is Star Wars.
"Everybody here knows I'm a geek," Oana said. "The original six Star Wars films are so good. Yoda is my favorite because he's so wise."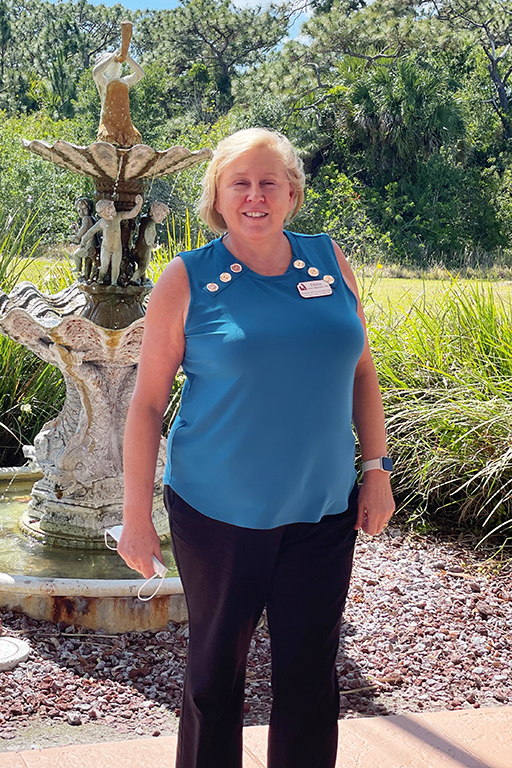 Dawn Bennett – Life Care Center of Palm Bay, Florida
Dawn has been a nurse since 1986 and a director of nursing for 12 years. She has spent the last four years at Life Care Center of Palm Bay.
She was inspired to pursue nursing when her grandmother became sick.
"I was going to be a teacher or a police officer, but I changed my mind and went into nursing," Dawn said.
Dawn, who is originally from the United Kingdom, has worked in multiple nursing settings: the UK prison service, forensic nursing, hospital and orthopedic, in addition to skilled nursing facilities. She came to the United States in 2005.
"I like that the residents become family," Dawn said of her job. "I love seeing the residents smile, and I think Life Care is a great company that puts back into its buildings. I feel like they listen to us and are very supportive."
In her time at Life Care Center of Palm Bay, Dawn has experienced hurricanes, unusual clinical events, the COVID pandemic and more. Through it all, she has helped the facility achieve a five-star rating from the Centers for Medicare and Medicaid Services and one of the lowest return-to-hospital rates in Life Care's Southeast Division.
"Dawn was destined to have a career in post-acute care, and it's evident by her outcomes and passion toward our patients and residents," said Will Tarbet, executive director.
Dawn's advice to new nurses is: "You've got to put yourself in it. It's not a Monday to Friday, 9 to 5 job."
Dawn just finished watching "Ozark" and shared that her favorite character on the show is Ruth.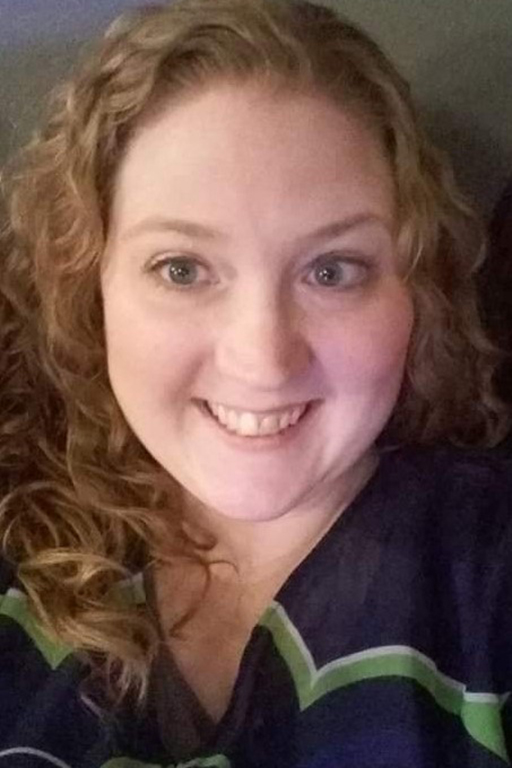 Morgan Young – Life Care Center of Skagit Valley in Sedro Woolley, Washington
Morgan has been a nurse for five years and was hired at Life Care Center of Skagit Valley right out of nursing school. Her mother was a nurse and inspired her career choice.
"I've always aspired to be a nurse," Morgan shared. "It's all about the residents and really feeling like you make a difference. I love the skilled nursing and long-term care setting because you get more time with the residents than in a hospital setting. There's more of an opportunity to be a part of their lives."
Kyle Oathes, administrator in training at the facility, shared, "Each and every day, Morgan dedicates herself to ensuring that our team has the tools and abilities to provide every resident with the best possible experience during their stay with us. There is never a time when Morgan is too busy to assist a team member or share in a conversation with a resident."
Morgan has also led the building during its time in between administrators. She has assisted other areas of facility operations as well, including admissions, wound rounds and the infection preventionist.
"We have a great group of team members who all share the same goals," Morgan added about what she likes about her facility family. "It's hard work, but it's the most rewarding work I've ever done."
Morgan enjoys watching medical dramas like "Grey's Anatomy" and shared that she somewhat identifies with character Cristina Yang.
"Cristina is good at what she does and works hard at her craft, but you get to see her soft side too," Morgan explained.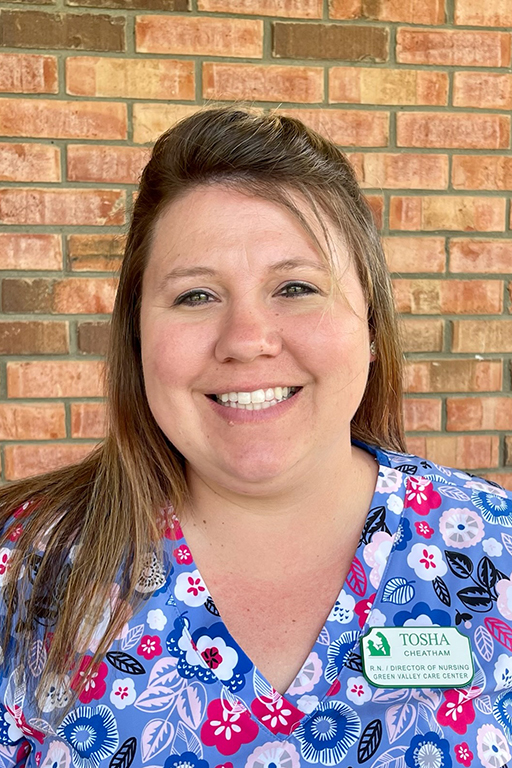 Tosha Cheatham – Green Valley Care Center in New Albany, Indiana
Tosha has been a registered nurse for two years and was a licensed practical nurse for five years prior to that. She has been a DON for a year and a half and has worked at Green Valley for two years.
"I always wanted to be a nurse – it has always been a passion of mine to help the elderly," Tosha shared.
Although she spent a short time as a pediatric home health nurse, Tosha came back to her first love – skilled nursing facilities.
"If I can go into a resident's room and put a smile on their face, it just melts my heart," she shared. "Nursing is definitely worth the effort."
Heather Keesee, regional director of clinical services, said of Tosha: "Every now and then you run across someone who you just know was born to be a DON, and that was exactly my first impression of her. She is always open to learning and never afraid to admit she doesn't know something or to ask questions."
Under Tosha's leadership, Green Valley has had great annual health surveys. It takes a team, however, which Tosha is quick to point out.
"We have a great team here – we all work well together," she said.
Like Morgan Young, Tosha is a "Grey's Anatomy" fan and has watched the series multiple times. Her favorite character, though, is Meredith Grey.
"She takes charge and is always willing to learn," Tosha said.
Thank you to all our incredible nurses throughout Life Care, for all you put into your care for our patients and each other. We hope you have felt valued and loved this Nurses Week!