Introducing the Whatever It Takes Champions Award Winners for 2022!
Each annual winner was chosen from the quarterly Whatever It Takes Champions during 2022. Congratulations to each of these outstanding Champions of Care for the amazing job they have done in caring for our residents, residents' families and fellow associates!
Rosemarie Rosalia, Activities Assistant at Life Care Center of Reno
She has been at her facility for 8 years and is committed to caring for her residents, doing all she can to make sure they feel their best. But her care does not stop with the residents. Recently, one of her fellow associates was diagnosed with cancer and needed extra help with covering medical expenses. When the facility organized a fundraiser to help the associate with medical costs, Rosemarie stepped up and made 200 eggrolls and lumpia and heaps of delicious pancit. All of her food sold out within 20 minutes! Thanks, Rosemarie, for doing all you can to serve our residents and our associates.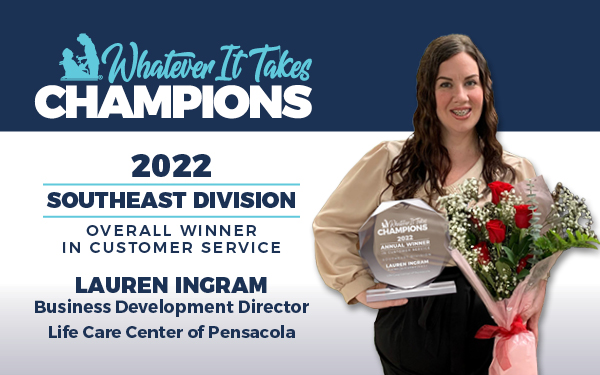 Lauren Ingram, Business Development Director at Life Care Center of Pensacola
Lauren initially earned her Whatever it Takes recognition when she answered a call about a woman who needed medical care and a place to stay. Lauren went to the hotel where the woman was staying and decided that she needed to be admitted to her facility. After a period of short-term care, the woman then entered assisted living.
Throughout the process, Lauren helped this woman organize her finances and escape an abusive situation. She even helped the woman find furniture for her new assisted living apartment!
"I couldn't let her move into the assisted living facility without things to make her room nice," Lauren said. "And Ms. Saint had no one else to help her."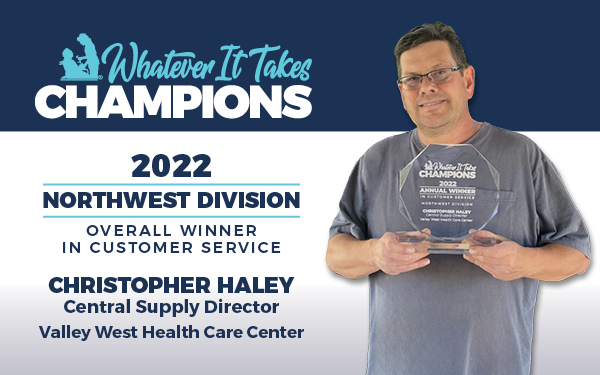 Christopher Haley, Central Supply Manager at Valley West Health Care Center
Christopher used his auto-mechanic skills to spare one of our residents a great deal of worry. This resident's car had broken down at the facility, and the resident faced towing and repair expenses. When Christopher heard about their predicament, he immediately went out to the stalled car and got to work. The next day, the car was as good as new, and the resident was relieved and overjoyed. It's clear that Christopher knows the importance of doing Whatever It Takes to help others in need.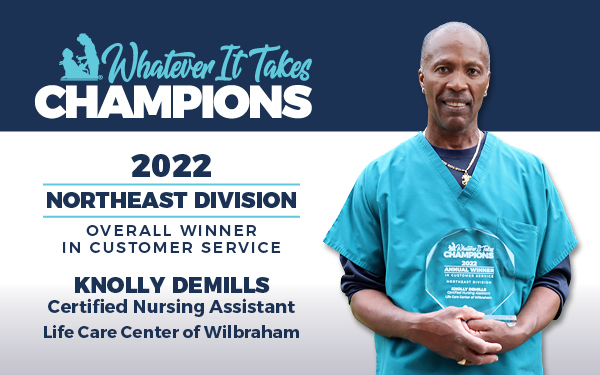 Knolly Demills, Certified Nursing Assistant at Life Care Center of Wilbraham
Knolly made a lasting impression on a family member of one of our residents. Here what they had to say about Knolly and his passion for service and care:
"Knolly is a truly compassionate CNA. He deeply cares about all of the residents and staff alike. When Knolly has any free time, you can find him walking residents around the facility and engaging them in conversation. He provides care in a very gentle and compassionate way. Knolly has lots of patience with the residents, he's kind and understanding and firm when he needs to be. We are very fortunate to have him."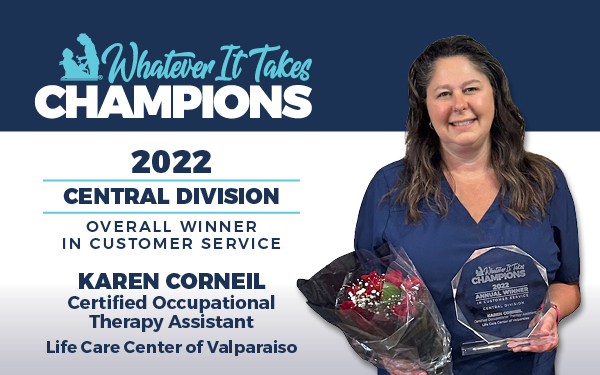 Karen Corneil, Certified Occupational Therapy Assistant at Life Care Center of Valparaiso
Because of Karen's kindness and dedication, one patient was able to celebrate a big milestone with her family. This patient's nephew was about to turn one, and a big celebration had been planned. Because of the patients clinical condition, she not expect to be able to attend the party.
When Karen heard about this, she contacted the resident's sister and arranged for transportation and a temporary ramp to be built at the house where the party was going to occur. Karen even purchased a piggy bank for the patient to give to her nephew!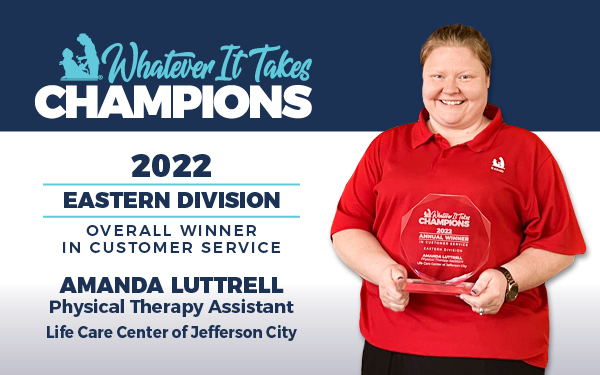 Amanda Luttrell, Physical Therapy Assistant at Life Care Center of Jefferson City
Amanda is known at the facility for her hard work, thoughtfulness and compassion. Last Christmas, Amanda bought Christmas presents for all her residents and even thought to include their grandkids. She asked each resident what their grandkids had told Santa they wanted that year and bought them all presents accordingly. Amanda has been called "big-hearted" and "wonderful" but her residents, patients and colleagues.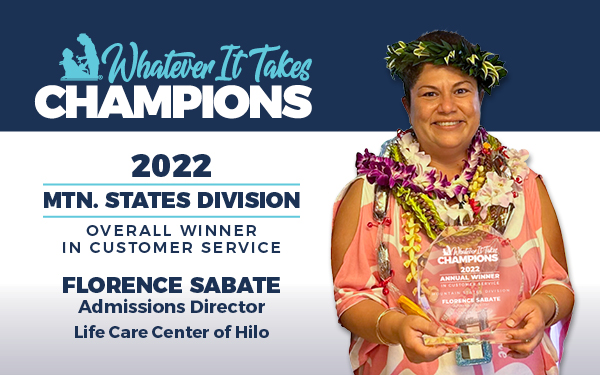 Florence Sabate, Outpatient Coordinator at Life Care Center of Hilo
Florence offers assistance and support whenever and wherever it is needed. And she often surprises her colleagues, patients and residents with her abundance of kindness and generosity. During the holidays in 2022, Florence delivered home-cooked holiday meals to several of the facility's outpatients, who did not have anyone to spend the holidays with.