Heidi Pino, Life Care Public Relations
On Nov. 11, 2021, Life Care centers around the nation honored Veterans Day with an array of ways to say "thank you" to the men and women who served their country.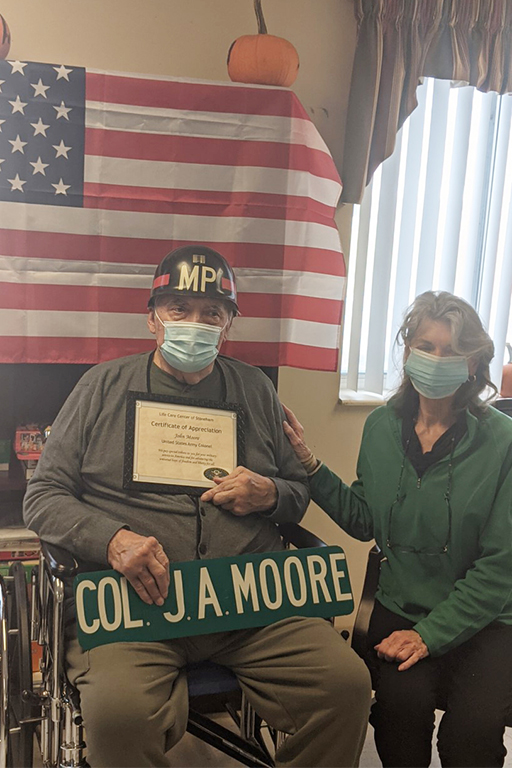 Life Care Center of Stoneham, Massachusetts, invited family members of veteran residents to join their loved ones for a special Veterans Day dinner of roast beef, seasoned asparagus, mashed potatoes and garlic rolls with strawberry cheesecake. Veterans were presented a certificate of appreciation for their military service, followed by a live patriotic concert.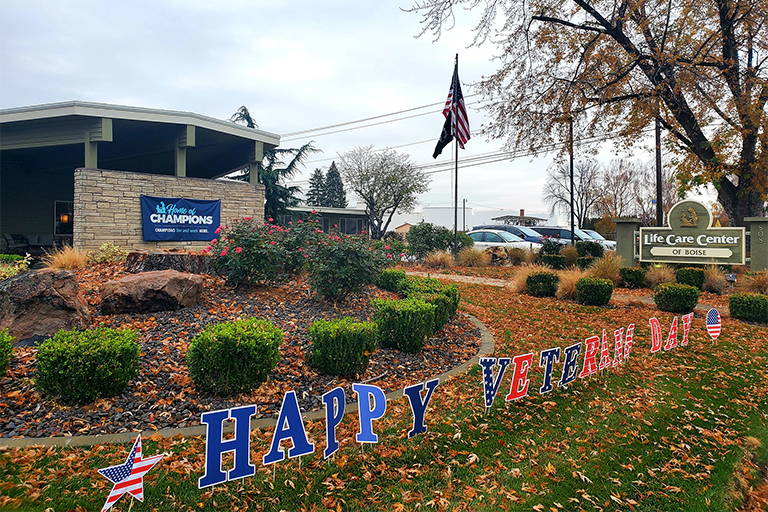 Life Care Center of Boise, Idaho, is well represented by veterans. Almost 25 percent of the residents at the facility have served in the military, and eight associates have also served. Many more residents and associates have military ties as well. On Veterans Day, the facility had a drive-by parade from members of the community. A MIA/POW flag flew for the day, and residents could visit an honor table set up at the facility. Associates held a special luncheon for the veterans and recognized each one.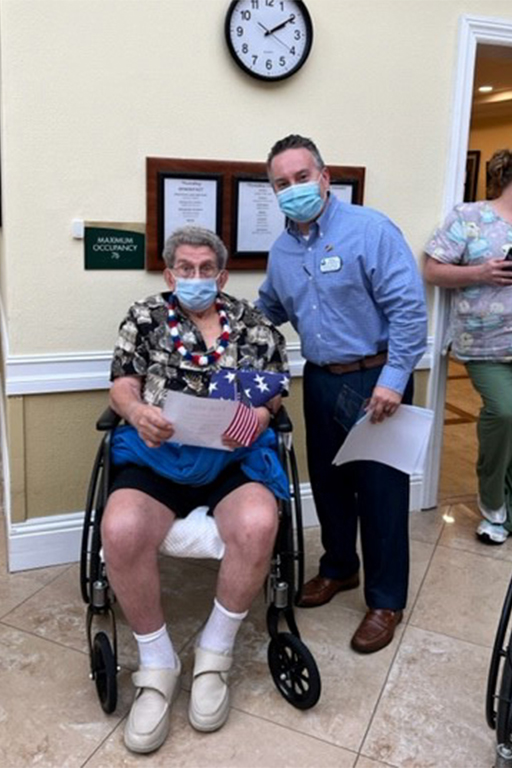 The Gardens Court in Palm Beach Gardens, Florida, presented veterans with a letter of appreciation, a flag pin and a small American flag. Army, Navy, Air Force, Marines and National Guard were all covered, and some family members attended the ceremony.
At Life Care Center at Inverrary in Lauderhill, Florida, veterans received a certificate recognizing their service and enjoyed special entertainment and dessert. The big surprise, though, was a live video from Julie Pasterski, activity director, who was on vacation in Hawaii that day. Julie is from a military family, and she couldn't let the day pass without sharing her appreciation for her veteran residents. She let them know that she was going to visit Pearl Harbor and Punchbowl Crater, the location of the National Memorial Cemetery of the Pacific, to place a flag in their honor.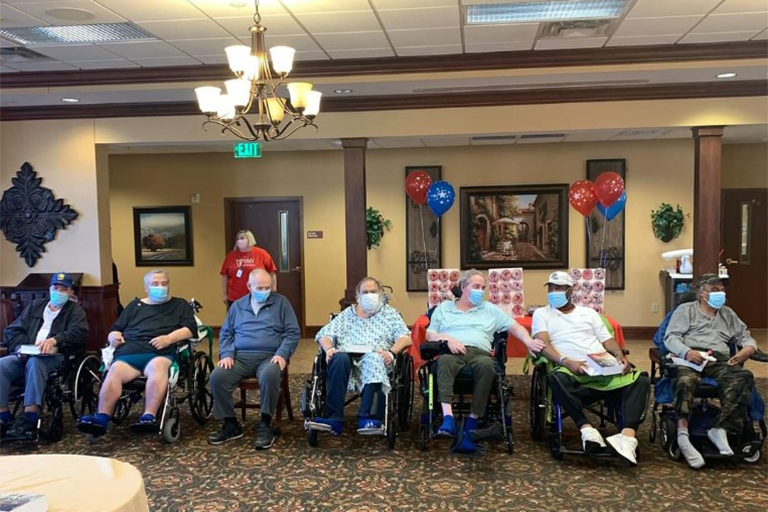 Life Care Center of Cape Girardeau, Missouri, honored its veterans with the help of Elara Caring Hospice. After singing "The Star-Spangled Banner," each veteran was recognized by name, branch, rank and years of service. Each was presented with a beautiful, large-print Bible and a framed certificate and pinned with an American flag. Several family members attended, and the facility served blue doughnuts and cupcakes.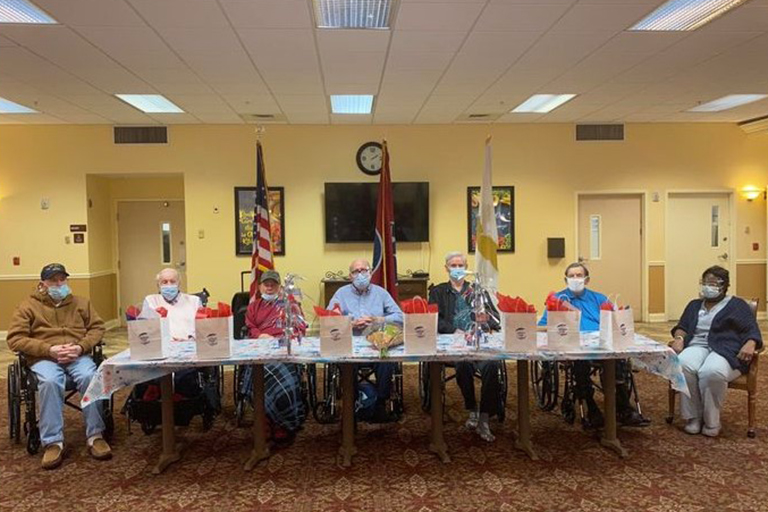 Life Care Center of Columbia, Tennessee, held a program to recognize its eight veteran residents and veteran associate. The activities department had help from the Columbia Rotary Club, whose members sent hats and handwritten cards.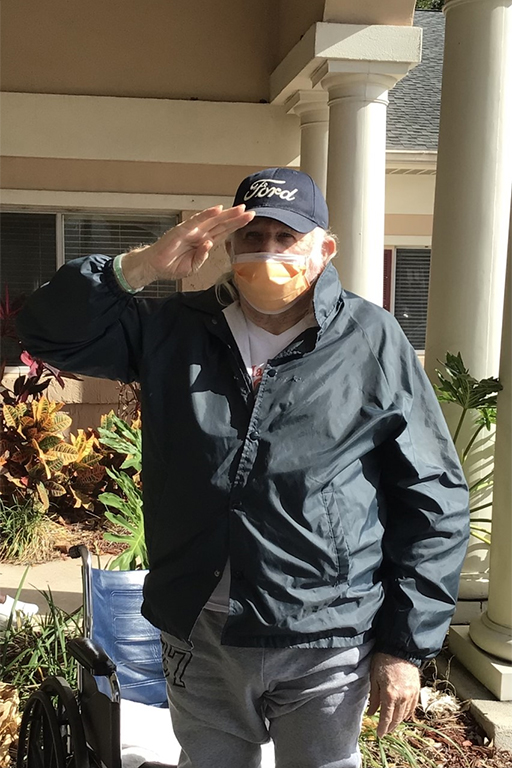 Life Care Center of Orange Park, Florida, held a veterans salute outside. A speaker from the local VFW chapter did a presentation and expressed his gratitude for the facility's veterans' service. "You could see the great pride in their eyes as each of them received their certificate and were pinned," said Robin Dake, activity director. Darin Toney, executive director and a veteran, also spoke. The ceremony closed out with the national anthem, and residents enjoyed a Veterans Day luncheon with hamburgers, hot dogs and homemade dessert.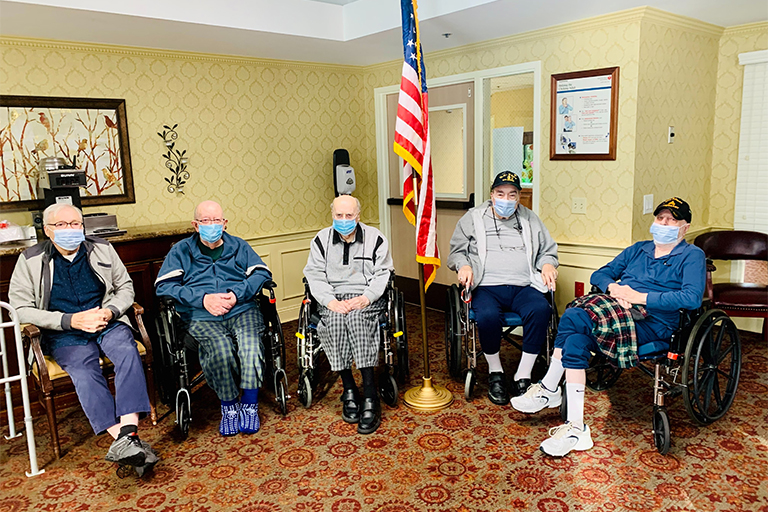 Life Care Center of Attleboro, Massachusetts, honored its five resident veterans with a special ceremony that included readings, patriotic music, the Pledge of Allegiance, cake and stories of these servicemen's time in the military. Together, they represented 46 years of service to the United States!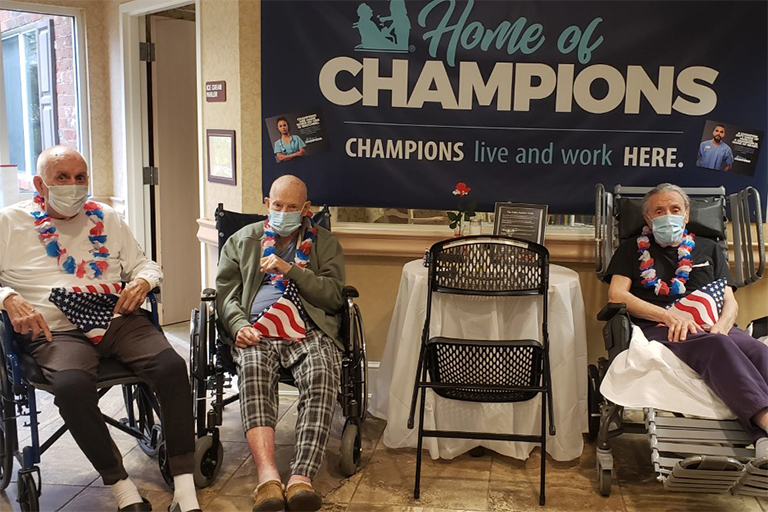 Life Care Center of Hendersonville, North Carolina, had a steak-and-potato meal for Veterans Day, and directors personally handed out the trays at lunchtime. The facility had a veterans table set up in the front, and veterans came and took photos.
Payson Care Center in Payson, Arizona, honored its veterans by displaying current veteran residents on the bulletin board. The activities department played the themes of the U.S. Armed Forces in the hallways and handed out flyers with a history of Veterans Day, as well as American flags and patriotic coloring sheets. Residents could watch war movies in the activities room, and associates showed their spirit by wearing red, white and blue. Veteran residents and associates also received certificates of appreciation for their service.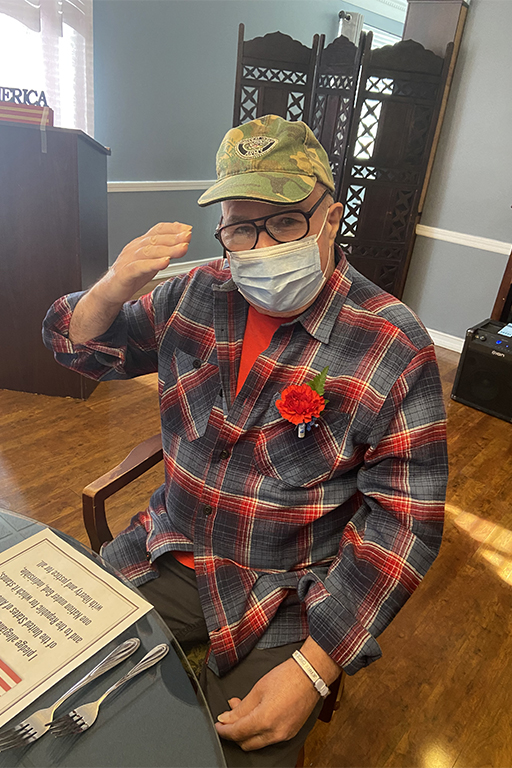 Veterans living at Evergreen House Health Center in East Providence, Rhode Island, enjoyed a special meal with patriotic décor and live entertainment. Each veteran received a red carnation boutonniere and a commemorative hardcover book about Rhode Island.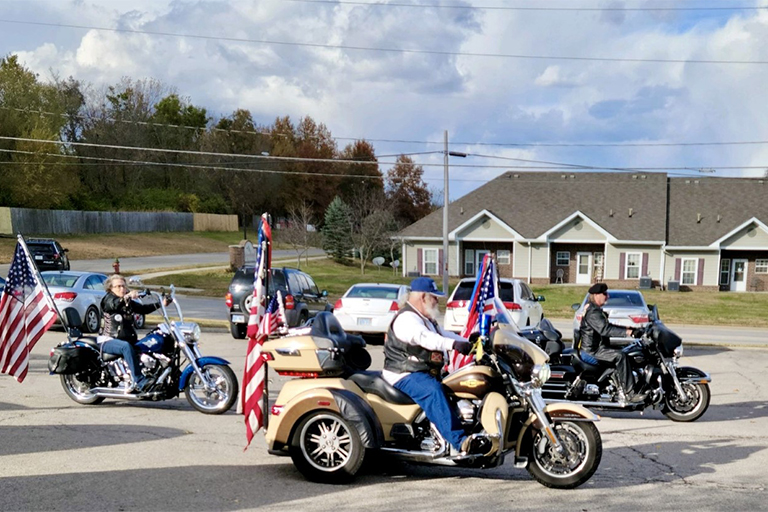 And at Life Care Center of Osawatomie, Kansas, residents and associates enjoyed a drive-by parade from the Legion Riders from the American Legion. The motorcycles roared through, celebrating service in the military.
Thank you to all our veterans for your service, and to everyone who helped make this Veterans Day a special occasion for our men and women who have served!