Heidi Pino, Life Care Public Relations
There's a lot to keeping a nursing and rehab center going, from the clinical to the business side of things. In honor of Administrative Professionals Day, April 27, we'd like to introduce you to some of our amazing administrative professionals who make caring for our residents possible!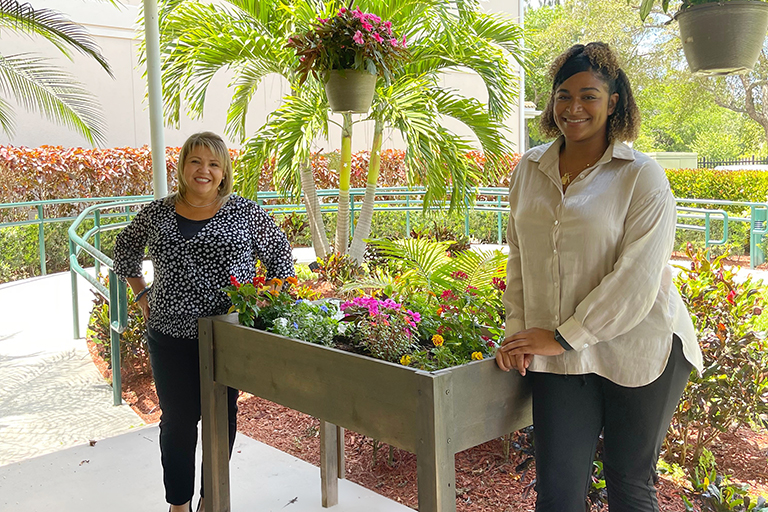 Wendy Garcia, business office manager, and Analee Rajkumar, assistant BOM at Life Care Center at Inverrary in Lauderhill, Florida
Wendy and Analee both joined the facility team in 2020. Wendy started there in March and recruited Analee to join her.
"I was looking for a company that empowers and challenges its employees to be the best professionals they can be," Wendy shared. "The company had a great reputation for leadership in which I could be honored to grow my career."
Wendy has 22 years of experience as a business office manager and was an assistant business office manager for two years prior to that.
"Wendy is arguably one of the most knowledgeable, self-driven and funny people I have had the pleasure of working with," said Cody Brayton, executive director at the facility. "To succeed in this role, you have to display incredible amounts of empathy, understanding and emotional intelligence, all of which Wendy possesses."
Wendy thrives on the challenge of working with numbers and loves being part of a collaborative team.
"I am glad to have a forward-thinking and supportive boss and a company that realizes that its employees are its greatest asset," Wendy said.
Analee has been an ABOM since 2016.
"The business office keeps me on my toes and always learning," Analee said. "I have never been with a company so helpful and eager to help you grow into your role. I love being able to interact with family members going through a confusing and sometimes frustrating time, being able to put a smile on their faces."
Analee also enjoys celebrating events with the residents.
About Analee, Cody added, "Analee brings a breath of fresh air to the office and is always string to make the day a positive one. She works magic when it comes to interacting with residents, their loved ones and fellow associates. She possesses a certain charisma that is impossible to describe. When you walk in and see Analee, you know you are going to get factual information, be talked to in a professional manner and leave with a smile on your face."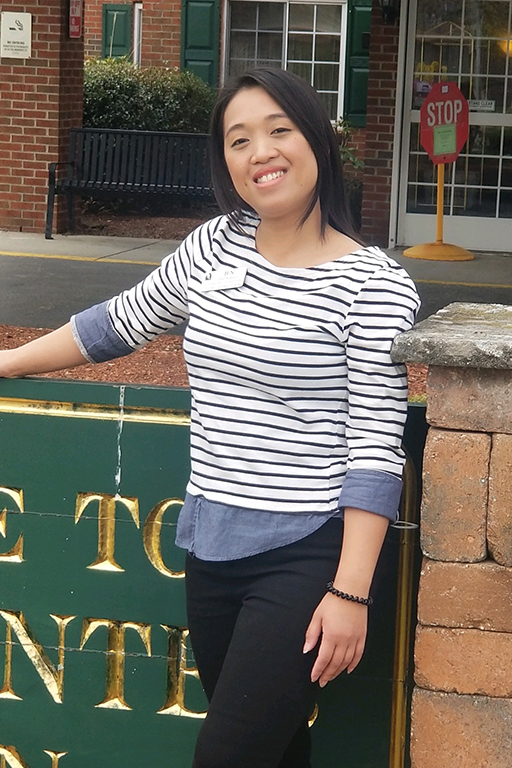 Marjen "Jen" Donald, administrative assistant at Life Care Center of Auburn, Massachusetts
Jen started at the facility in 2015. She applied for a kitchen job because she had dietary experience but actually started in housekeeping. When she became pregnant, she worked lighter duties in different departments, such as laundry and activities, as well as receptionist. That role led to her current position.
"I have never worked in a place where I have felt so connected," Jen shared. "The people are amazing – the staff that I work with and the residents. It feels like home. It makes me happy working in a place where I can get to know the residents and their families."
With her cross training in multiple departments, Jen has been known to help out throughout the facility.
"Jen is one of the most upbeat, friendly, kind and encouraging people in the building," said Catherine Fontaine, executive director.
"That's always been my goal – if I can just make someone smile for the day," Jen said.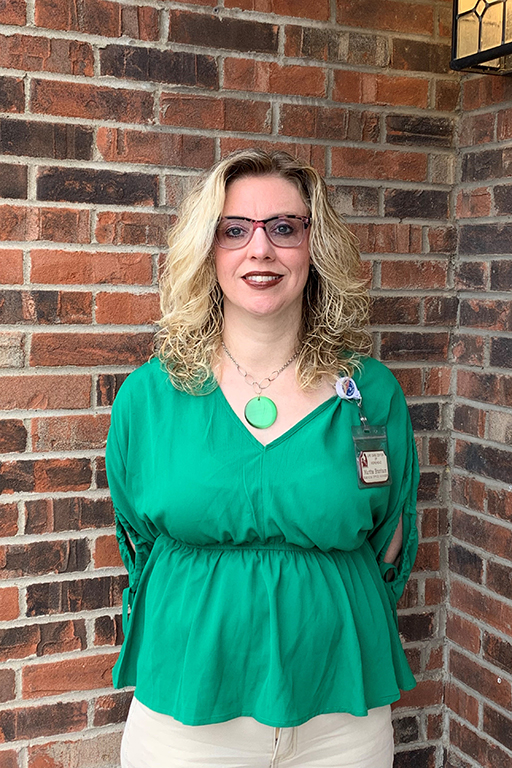 Martha Branham, business office manager at Life Care Center of Morehead, Kentucky
Martha has served her facility for 25 and a half years. She started out as the receptionist, drawn to the facility because her mother was the dietary manager at the time. She then learned accounts receivable and accounts payable and became the BOM in 2000.
"I like working accounts receivable and watching the numbers," Martha shared. "You get attached to the residents as well. I really like the people I work with and the residents."
Bill Hurst, executive director, shared, "Martha makes everyone feel welcomed. She is always willing to help others and acknowledges others for what they do for the residents. I can always count on her."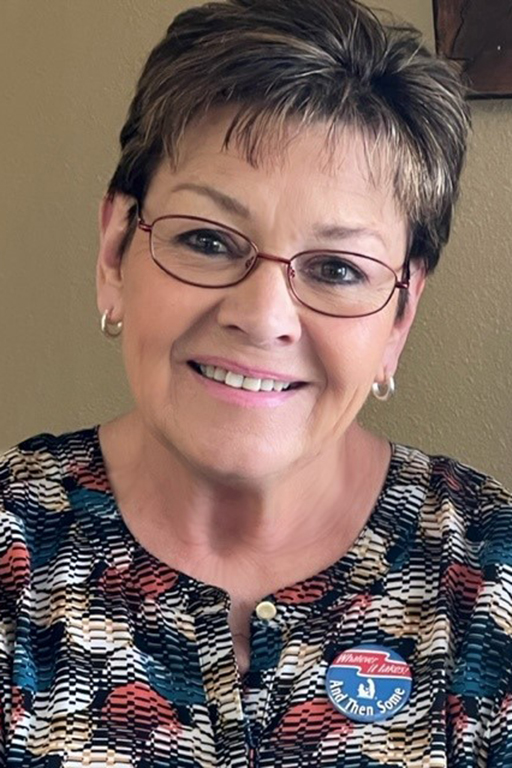 Robyn Maynard, Mountain States Division executive secretary
Robyn started her career with Life Care at Life Care Center of Aurora, Colorado, and worked there for a year before being recruited to the division office. She has been with the company for 27 years.
"Robyn is personable, patient and I am yet to see her in a bad mood," said John Moreno, vice president of Life Care's Pikes Peak Region. "She is always helpful whenever I need something and will stop what she is doing to assist. She is a good communicator and a great resource of information. She truly cares about others, and her caring is evident in the way she interacts with others and the way she leaves small gifts during special occasions."
Robyn described her job as "chaotic but very rewarding. I love being able to help people."
She added, "Life Care is an awesome company to work for. I'm extremely loyal and just can't see working anywhere else."
Rita Smithson, business office manager at Northwood Hills Care Center in Humansville, Missouri
Rita joined the Northwood Hills team in June 2017. She had 10 years of experience in senior care and was drawn to the friendliness of the facility after interacting with staff through the local chamber of commerce. She started at Northwood Hills in accounts payable/payroll and became the BOM in May 2018 at the encouragement of her regional team.
"I enjoy everything," Rita said about her job. "I love the challenge, the residents and the employees – just doing whatever I can to make a difference."
Frank Reed, executive director, shared, "Rita is bright, inquisitive and diligent in her daily work. Her passion extends well beyond the office; she carries her strengths and encouragement throughout the building by interacting with staff and residents. She has great relationships with families and the community, and she communicates in a positive and structured way. Keeping the families informed of their financials takes a little bit of the stress and burden off them."
Rita is known throughout the building as a good listener and walks the halls frequently to check on the residents. She has even helped serve trays in the dining room. She is working toward her administrator's license.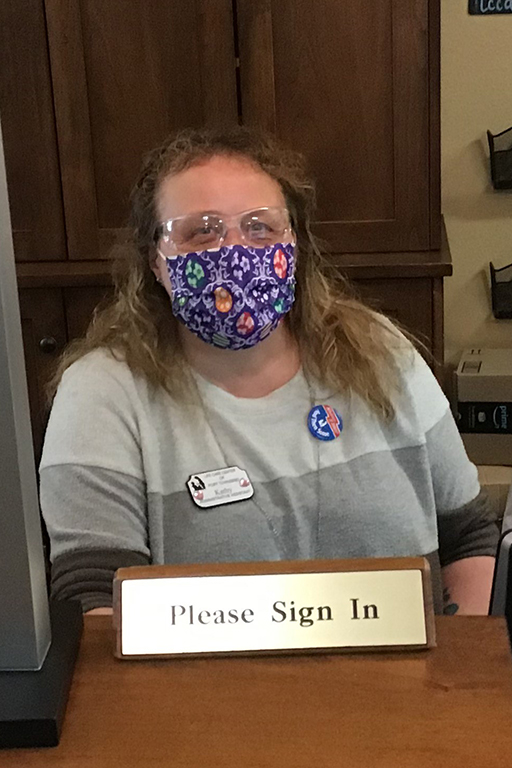 Kathy Juarez, administrative assistant at Life Care Center of Port Townsend, Washington
Kathy has served at her building for eight years and started out as a certified nursing assistant. When she developed back issues, she took on different roles within the facility, including weekend receptionist before settling into her current position.
"Kathy is always amazing with our residents!" said Angela Cerna, executive director. "They will sit with her at the front desk and assist her with administrative tasks, all of which she does with a smile."
With her CNA background, Kathy has also been willing to help the residents as a CNA, even in the middle of the night.
"I love the people," Kathy said. "I love working with everybody up here in the office, and I get to learn a lot of different things."
Thank you to all of Life Care's administrative professionals for all you do for our residents and our teams! We couldn't function without you!