Heidi Pino, Life Care Public Relations
The AlterG® Anti-Gravity Treadmill™ has been in use for years at both Heritage Healthcare, a skilled nursing and rehab center in West Lafayette, Indiana, and at Purdue University in the same town. Originally designed by NASA, the machine looks like a regular treadmill, but with a bubble-like enclosure that the user zips up to create a depressurized space that can relieve up to 80 percent of a person's weight.
At Heritage Healthcare, the AlterG is used as a tool for helping seniors on their journey to recovery from injury or illness, allowing them to practice their gait and improve their endurance in a fall-free environment without putting as much weight or strain on their joints. At Purdue, the equipment is used as a tool for athletes – especially for runners – to stay conditioned even after injuries.
The two AlterGs at Purdue are almost constantly in use. So, when a physical therapy student who was job shadowing at Heritage Healthcare asked if she could use the facility's machine to condition as a swimmer, she unknowingly opened the door for something bigger. Soon, other students came to use the AlterG there when patients weren't using it.
In 2019, Michael Holmes from Purdue's Department of Health and Kinesiology, was looking for a research opportunity for himself and Mike Belbis to earn their PhDs. Working with Dr. Daniel Hirai at the university, they approached Keith Screen, director of rehab at Heritage Healthcare, about the possibility of using the facility's AlterG for a study.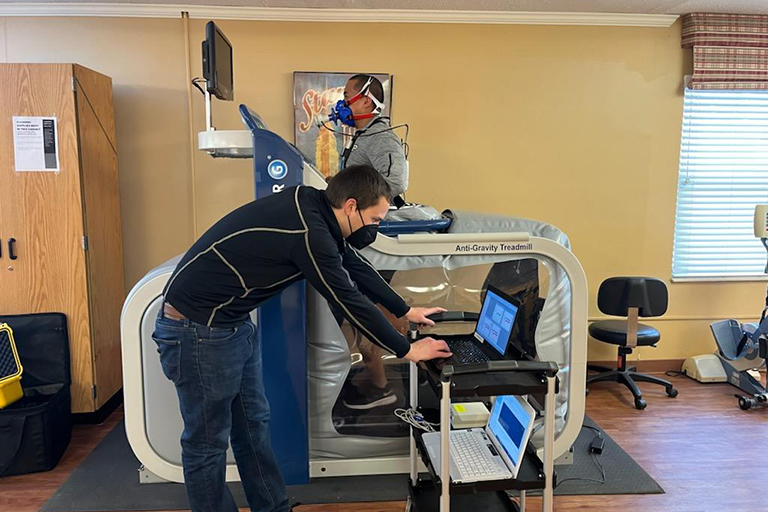 After acquiring the necessary permissions, the four gentlemen designed a study on the AlterG to see how its use affected a user's oxygen usage and metabolism.
"Is it easier on the heart and lungs?" Keith asked. "Does it create less need for oxygen in the leg muscles?"
And then, just as the project was set to begin… COVID came to America.
"As COVID hit, we had to change the game a lot," Keith explained.
New safety protocols had to be observed, and live testing didn't begin until late August 2021. Keith had to screen all the participants, who also had to be vaccinated and tested for COVID. A few times, a student who was on the schedule exhibited symptoms of illness, and the running was canceled that day.
When things went as planned, the student ran on the AlterG at full weight-bearing first. Then, after a rest, he or she ran with various un-weighting settings to see what difference it made on the body. The university provided a variety of equipment to measure these effects.
"The students were great," Keith said. "When they weren't out of breath, they enjoyed the AlterG. They all had fun."
The last study run at Heritage Healthcare took place in December 2021. Now, the authors are analyzing the data results and writing up the results. They hope to publish in a peer-reviewed physiology journal soon.
"Our collaboration with Keith and the team at Heritage has been nothing short of phenomenal," said the other three study authors in a joint statement. "None of us could have predicted when we were starting this project in late 2019 that a pandemic was around the corner. Thankfully, Keith has worked closely with us every step of the way. Successful completion of this project would not have been possible without constant communication and working together to maintain the health and safety of everyone involved. The effort that Keith and his team put in to continue working with us through these challenging times was above and beyond anything we could have expected."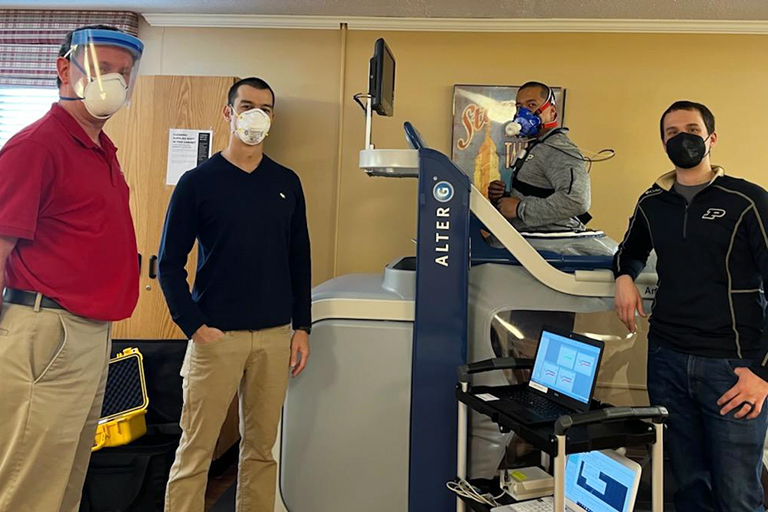 Although all the details of the results are not complete, Keith shared that some of the results were what the study leaders expected, while other results were something of a surprise.
One not unexpected thing the team learned quickly was that even at what is considered full weight-bearing, the AlterG provides a small amount of un-weighting due to the bubble environment and the slight pull on the shorts that the user wears.
"Even when AlterG says you're at 100-percent weight bearing, you're really not," Keith said.
What the researchers didn't expect to find was that metabolically the benefits were greatest at a certain "sweet spot" in unweighting.
"Our ultimate research goal is to help people improve their physical capacity and quality of life," said Dr. Daniel Hirai. "The research done in collaboration with Heritage Healthcare seeks to better understand how devices such as the AlterG treadmill impact the human body to be effectively and broadly used in rehabilitation. We are really excited about the results from this study, which can have important implications for the development of new therapeutic strategies."
For Keith, the experience (despite the extra work caused by the pandemic) was also a positive one.
"Hopefully, down the line, it will help us better take care of people," he said.
And that is what rehab is all about.