Nursing homes across the country are coming to grips with a new normal as a result of the coronavirus pandemic.
Many things that were once taken for granted are now terribly missed and longed for. Things like communal dining in the dining rooms, attending Men's Coffee Club each morning or celebrating holidays with a formal party. Like many, the staff at Valley View Villa in Fort Morgan, Colorado, are coping with the change, but they are determined to not let milestones be forgotten. As a result, they continue to coordinate celebrations even if they may look a little bit different from those in the past.
On April 10, 2020, Valley View Villa helped to celebrate a resident's 105th birthday. Recreation staff was the driver behind the plan and helped to make sure Maria Rodriguez felt like a queen for the day. They scheduled a time to curl her hair, apply her makeup and even helped her pick out a beautiful birthday dress to wear.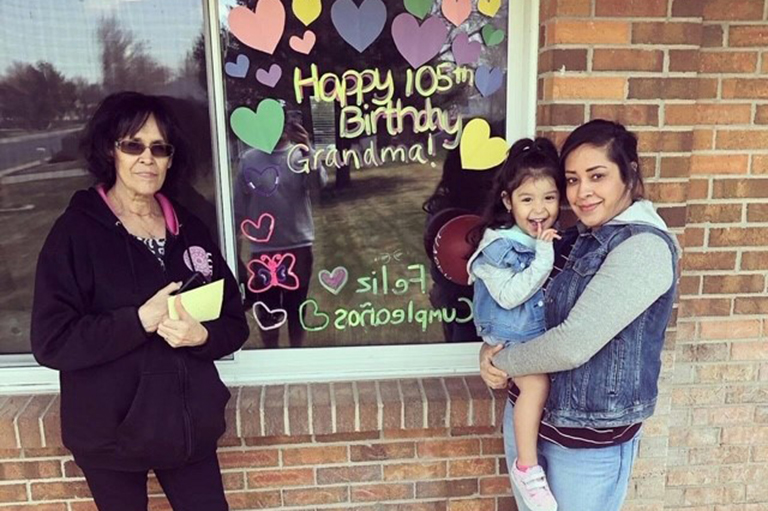 While Maria was busy getting primped, other staff members helped to decorate the resident's room complete with uplifting messages written on her window. The big surprise, however, was when Maria's entire extended family showed up outside of her bedroom window with a music speaker in hand, playing some of the resident's favorite songs, waving hello, blowing kisses and sharing birthday wishes the best way they knew how.
Furthermore, the other residents lined up down the hall in their doorways to join in singing "Happy Birthday" and even shared in eating a piece of birthday cake.
"There was so much love and support, and yet there was so much missing," shared Taylor Umholtz, registered dietician. "Not a hug, not a kiss on the cheek or any other type of physical touch that we all long for as human beings."
Although staff and residents alike long for the day when residents' families are able to enter through the front doors and wrap their arms around their loved ones again, they understand the importance of this time of focus on social distancing.
In the meantime, staff members like those at Valley View Villa will continue to work around the clock for their residents, making sure they feel taken cared for, loved, and celebrated no matter the (at least 6 feet) distance between people.
"Praying all of this ends soon, so our residents can hold their families close once again," Taylor added.