Heidi Pino, Life Care Public Relations
Physical rehabilitation for centenarians?
Magdalena Justiniano, 107, recently proved that age is no barrier to using therapy to recover quality of life after an illness. A resident at The Bridge at Orlando assisted living, she came next door to Life Care Center of Orlando, Florida, for rehabilitation after an infection and compression fracture in her spine.
Magdalena started out at the rehab center very weak and needing moderate assistance with activities of daily living – self-care skills such as bathing, dressing and grooming – as well as with mobility, such as walking, standing and bed mobility. The team of physical, occupational and speech therapists worked with her toward her goals six days a week, demonstrating her determination to get back to her apartment.
Therapists used neuromuscular reeducation to help prime her muscles and tissues for smoother motions, and they practiced walking and ADLs until she regained most of her independence.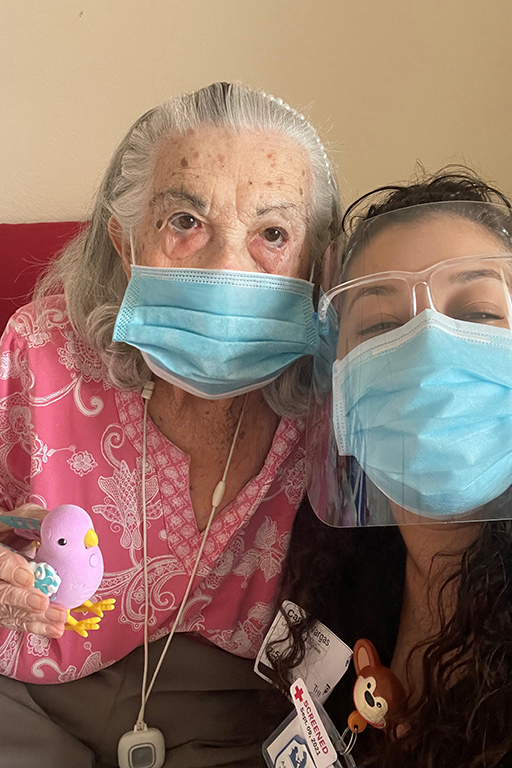 "The therapists knew that I love birds, so every day, they would always bring me to the aviary to keep me motivated," Magdalena shared. "And when I finally was able to come home, they bought me a stuffed toy of a bird. It reminds me daily to never give up."
Carina Vargas, assistant director of rehab and an occupational therapy assistant, said, "It was such a joy to care for Magdalena. She was physically debilitated by her recent hospitalization. Because of her age, we were worried that she would not recover. She really wanted to go back to The Bridge because that is her home. We worked very hard with her, and I'm glad we helped her achieve her goals!"
Magdalena returned home on Oct. 1, walking up to 200 feet at a time with a four-wheeled walker and with modified independence in her self-care and functional mobility.
"I had a great experience at Life Care," said Magdalena. "The therapists were always kind, and they always made me feel better after every treatment. I'm glad they were patient with me and helped me return to my home at The Bridge."
Magdalena is even continuing rehabilitation at Life Care as an outpatient to improve her progress.