Heidi Pino, Life Care Public Relations
Recently, Ann Ratliff, who started her career with Life Care as activity director at Life Care Center of Jefferson City, Tennessee, in 1993, retired.
Ann had served as activity director at Life Care Center of Morristown, Tennessee, since 2007.
"Ann has touched thousands of lives, dedicating almost 28 years of service to residents and making them smile and laugh," said Brian Horvath, executive director at Life Care Center of Morristown. "She created wonderful and unique events, parties, parades, programs and activities for our residents."
Ann shared that she was working in a hospital when her daughter, who was attending the local Carson-Newman University at the time, started volunteering at Life Care Center of Jefferson City. When the activity director position suddenly opened, her daughter brought it up with her.
"She said, 'Mom, I think you'd be great at it,'" Ann remembered. "I took her advice. It was my first experience in a nursing home, and it turned out to be exactly what I wanted."
Ann looks back on her career with Life Care as having a good mix of fun and challenge. For example, she got her chauffer license so she could drive the facility bus, which she and her team helped to raise money to purchase.
"We really wore that bus out," she laughed.
"My job was a growing experience," Ann added. "Every day you came to work, you learned something new."
But what really kept Ann with Life Care all these years was the people – both her co-workers and the residents.
"I liked that I could make friends with the residents and they could depend on me," Ann said. "I got to be a part of their life."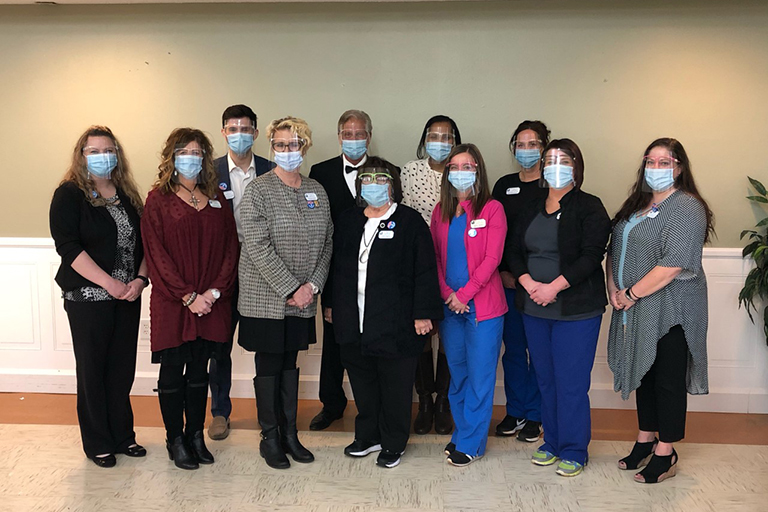 Stacie Stein, activities assistant at Life Care Center of Morristown, shared some of the activities that really made Ann shine. For example, Ann would organize a senior prom each year and go out of her way to make sure residents had formal attire for the special event.
In addition, "She fought very hard for several years on getting an ice cream parlor," Stacie shared. "This is what every resident looks forward to every day at 2 p.m. It's been a real blessing to work with Ann. She was such a great boss to work for. We were like sisters, and I'm really going to miss her."
One resident shared, "Ann was like family to me. She always made sure I had my peanut butter crackers and Sprite every day. She would even bring some real pretty shirts. I really miss Ann, and I hope she knows how much I love her."
On Ann's last day at the end of February, all the department heads got together and held a reception in her honor.
Ann plans to enjoy her time with her daughter, son-in-law and grandson. She's looking forward to playing the piano, reading, cooking and sewing.