Heidi Pino, Life Care Public Relations
Betty Cagat spent more than 30 years as a certified nursing assistant at Life Care Center of Hilo, Hawaii, touching many lives.
Betty retired on July 14, 2021. The facility team showered her with leis and did a grand "team aloha" for her, something that the team does when a resident completes their rehabilitation stay and returns home. Everyone who can goes to the lanai (porch) and cheers.
Betty got involved at Life Care Center of Hilo after a friend recommended the facility.
"It seemed like a good place to work, and it is close by," she shared. "It was my first time to work in senior care. My first day, I was so scared."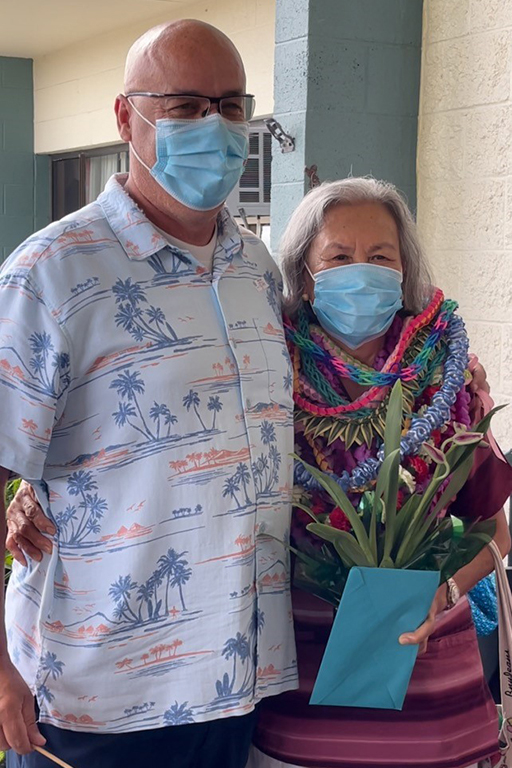 After a few weeks, though, things got easier, and it ended up being a three-decades career!
"I really enjoyed working with my patients – singing with them, dancing with them – and some of the family members have been so nice to me," Betty said. "I recommend working here."
In fact, several of Betty's family members have chosen to work at Life Care Center of Hilo, too. Her husband, Jeffer Cagat, has worked in housekeeping and laundry for 23 years. Her sister-in-law, Acela Pacris, has been a housekeeper there for eight years. And her daughter, Jebe Pacris, did her physical therapist assistant internship at the facility.
In retirement, Betty hopes to travel. But she keeps her facility family in her heart.
"I miss my patients, my friends, my co-workers," she said. "They are just like my family."
"We all shed tears of joy for Betty," said Mark Mann, executive director. "She inspires each of us and will be greatly missed by residents and staff. She represents everything you could ever want in a caregiver: a heart of gold and a relentless passion to serve and love others."