Earline and Edward Wilmeth had a different kind of celebration for their 65th wedding anniversary, but it was no less special.
Earline is a resident at The Heritage Center in Morristown, Tennessee. Due to the visitation restrictions to protect against COVID-19, the couple was unable to have personal contact for the Aug. 13 occasion, but they found a way to safely be together.
The couple's daughter-in-law, Kathy Wilmeth, is the business director at the facility.
"Kathy talked to me about a week before the anniversary to try to figure out some kind of plan for them to be able to celebrate while not being able to allow in any visitors," shared Victoria Bowen, activity director. "The day of, Kathy set up tables on both sides of the doors. The family brought beautiful flowers and gifts for Earline. Kathy ordered a great steak dinner, salads and brought a wonderful dessert made by Earline's granddaughter. It was a different way of celebrating with having a door separating them, but it will be an anniversary to remember."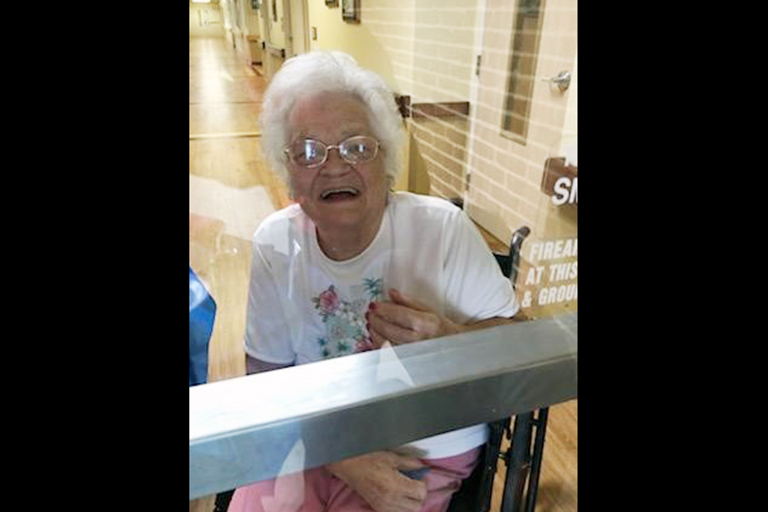 Earline and Edward met at Thankful Baptist Church in Morristown. They have two children, four grandchildren and eight great-grandchildren. Their favorite restaurant they loved to go to together was Hillbilly's Cabin in Morristown.
When Earline was asked what her favorite date night with Edward was, she said, "I loved every night with him."
Earline's advice to young couples on staying together is: "Always be each other's greatest helper and hold your love strong together. "Even through a pandemic, we are still hanging on stronger together."