Natalie Merten, physical therapist
Sedentary behavior is a risk factor for both physical and medical decline.
Our occupational therapists at Life Care Center of Wichita, Kansas, are specifically trained to identify patients at risk and to develop a program that stimulates that specific person in order to promote purposeful physical activity.
Karen Ramey has been a long-term care resident at this facility since 2018. She normally enjoys walking through the halls on her own but otherwise does not get very involved in activities. During the COVID-19 pandemic, she has been required to stay in her room. Nursing staff referred her to occupational therapy as they were noticing a decline in willingness to participate in basic activities of daily living.
Through the treatment program with OT, it was discovered that Karen really enjoyed gardening, which is known to be one of the most popular activities among older adults. Gardening is considered a low-intensity activity. It has been proven to reduce blood pressure and improve engagement to avoid sedentary behavior.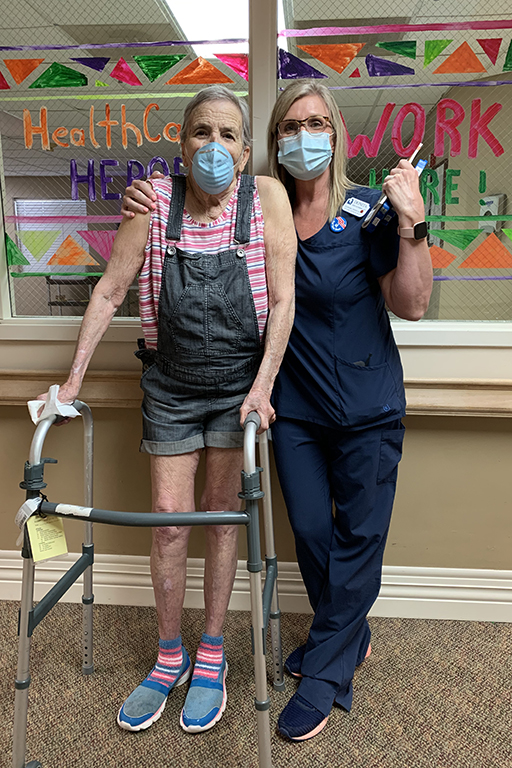 Karen and Donita Helterbrand, occupational therapist assistant, selected an area outside Karen's window as well as in the rehab courtyard. They worked on preparing the flower beds, and Donita selected bright flowers to plant. The patient progressed her motor control and balance while working in the garden.
"It helps me feel good to get dirty," said Karen. "I used to have a garden and grew a lot of vegetables. Donita is very nice and creative. The garden space is right outside my window, and I enjoy looking at the flowers growing."