Eric Reinhardt had a hip replacement surgery when the hardware in his hip started loosening, and he ended up having a stroke as a complication of the surgery.
On June 28, 2020, Eric came to Life Care Center of Jacksonville, Florida, for physical, occupational and speech therapies to help him recover as much function as possible. Upon arrival, he needed moderate assistance with bathing, dressing and standing balance, and some assistance with gait, bed mobility, transfers, sitting balance, cognition and expressive language.
Eric's goals were to be able to go back home and live independently. He especially wanted to work on his crossword puzzles again. He goes to New York each year to take part in a crossword competition.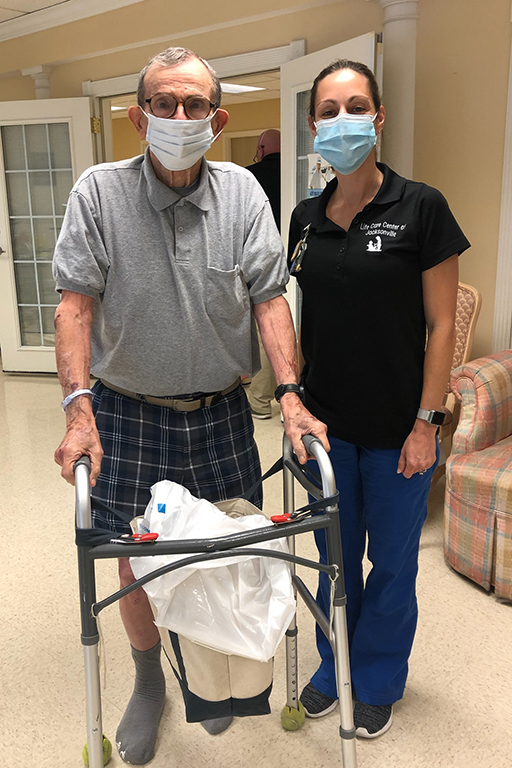 Physical therapy focused on improving his transfers, balance and walking through strengthening exercises and neuromuscular re-education. Speech therapy worked on word retrieval, memory and high-level cognitive tasks since he was to return home alone. Occupational therapy worked on regaining his independence with dressing, bathing and grooming.
Eric showed steady progress, and by the end of the month, he was able to walk with a rolling walker for 500 feet, navigating around obstacles without loss of balance. He was able to perform his transfers independently. As he regained more strength, he was able to walk up and down the hallways when he wanted to. On his last day, the speech therapist brought him his crossword puzzle, and he was able to complete it without much help.
"Everyone in this facility has been very helpful and constructive to my recovery," Eric shared. "The therapists were encouraging, and they made sure I got better every day so I could go home."
Eric did indeed go home on July 20. He is now independent in his mobility, dressing, cognition and language skills, and he is at a supervision level for bathing.