Heidi Pino, Life Care Public Relations
After a fall left her with total dependence for mobility and self-care, Frances "Diane" Stankard's goal was to get back to her husband at their assisted living facility apartment.
Life Care Center of Pensacola, Florida, was the key to reaching that goal.
The fall had left Diane with a head injury and central spinal cord compression. She was bedbound when she arrived at the skilled nursing and rehab center on June 9, 2021. She had a long way to go to recover, especially with the residual effects of a previous stroke, but she was not going to give up.
Neither were Diane's physical, occupational and speech therapists.
In physical therapy, Diane worked on her large-motor strength, balance and gait once she could stand. The facility had her use the AlterG® Anti-Gravity Treadmill™ with a zip-up enclosure that allows the participant to walk while relieving up to 80 percent of their body weight. And she used the Kinesis® One stretching equipment for strength and endurance.
Occupational therapy addressed Diane's activities of daily living, from brushing her hair and teeth to bathing, getting dressed and feeding herself. Diane used a mobile arm support as a tool to help her with upper-body activities.
Speech therapy helped Diane regain a normal swallowing ability for eating and drinking.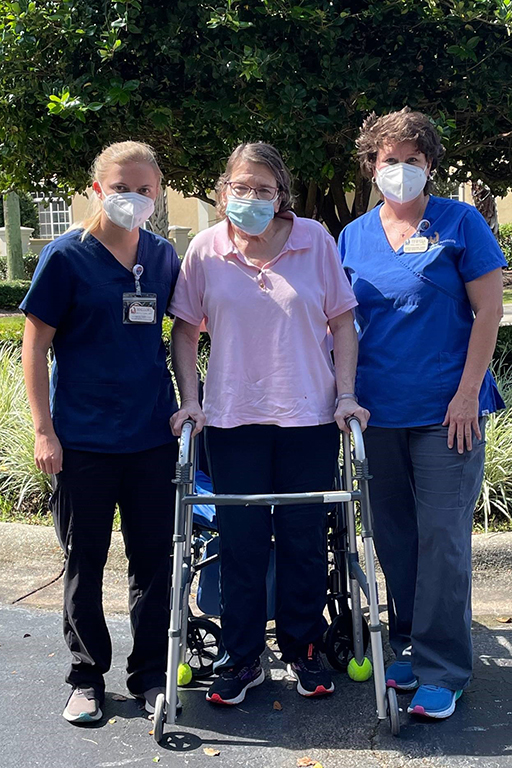 "I am able to do more for myself than before my fall," said Diane. "When I started in therapy, I wasn't sure I would ever walk again. Everyone was so wonderful to me, and I am excited to get back to the ALF with my husband."
Diane moved back into her apartment on Oct. 13. She is now independent in her sitting balance and swallowing and at a supervision level for walking, bed mobility, getting in and out of bed, standing balance and self feeding. She needs minimal assistance with grooming, bathing and dressing.
"Mrs. Stankard never saw limitations, only goals to achieve," shared Teresa Hudgins, occupational therapist.