Heidi Pino, Life Care Public Relations
Yes, even amid a pandemic, no holiday should be left uncelebrated, and that is what Life Care Center of Stoneham, Massachusetts, did to honor and celebrate its multi-nation Black associates for Black History Month.
Ngozi Amadi, activity director, and Gaetan Marcellus, director of food services, came together and put together a three-day event for all the staff.
Associates from African nations were asked by the activities department to name one or two prominent person(s) who made a positive contribution in their society. For instance, Ngozi's heritage is Nigerian, so she decided to go with author Chinua Achebe (who is perhaps best-known worldwide for his book "Things Fall Apart") and Adebayo Ogunlesi, a Nigerian-born lawyer and investment banker. Katia Paul, health information manager, and Smith Jean, a housekeeper from Haiti, chose Jean-Baptiste Point DuSable, the first settler in Chicago, and Jean-Jacques Dessalines, known as the Emperor of Haiti.
With the assistance of Tracy Bowden, certified nursing assistant, associates selected six Black pioneers from the USA: Harriet Tubman, Carter G. Woodson, Rosa Parks, Barack Obama, Thurgood Marshall and Kamala Harris. Associates made posters of these individuals and posted them in the lobby for everyone to read.
The celebration started on Monday, Feb. 22, with Nigerian cuisine: jollof rice, roasted turkey and Nigerian-style salad. Wednesday was Haitian griyo, black rice, fried plantain and pikliz, while Friday (the last day) was soul food: fried chicken, old-fashioned mac and cheese, collard greens and cornbread.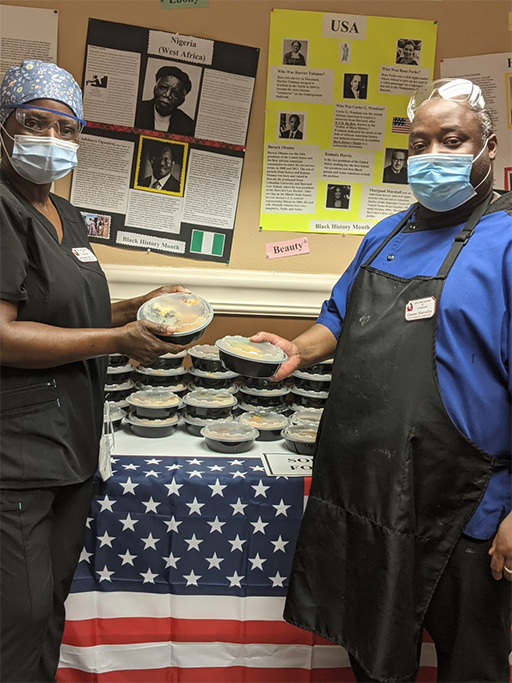 Associates were very appreciative when they came down to be served as that country's music played in the background.
Donna Keller, MDS coordinator, expressed, "I love all the food, but it was all very spicy."
Staff who were not at the facility on any of the dates asked Ngozi to save a plate for them.
"All the associates expressed that it was nice to still have fun during this pandemic while still observing all the necessary social distancing and infection control protocols," said Ngozi. "To all our LCCS associates, thank you for sharing your joy and for all you do to care for our residents."