Heidi Pino, Life Care Public Relations
March 16, 2021, is World Social Work Day, and Life Care wants to shine a spotlight on the important role that social workers play in the life of skilled nursing facilities.
Social workers learn about residents' backgrounds and their preferences to help the facility meet their needs during their stay. They listen when residents have concerns, and they make sure appropriate plans are in place for residents when they leave after their rehab stay, arranging community resources for them as needed. They serve as patient advocates, and many have gone above and beyond during the challenges of the pandemic this past year.
Today, we honor every social worker in our buildings. Here are just a few of the many outstanding social workers we are privileged to work with around the country!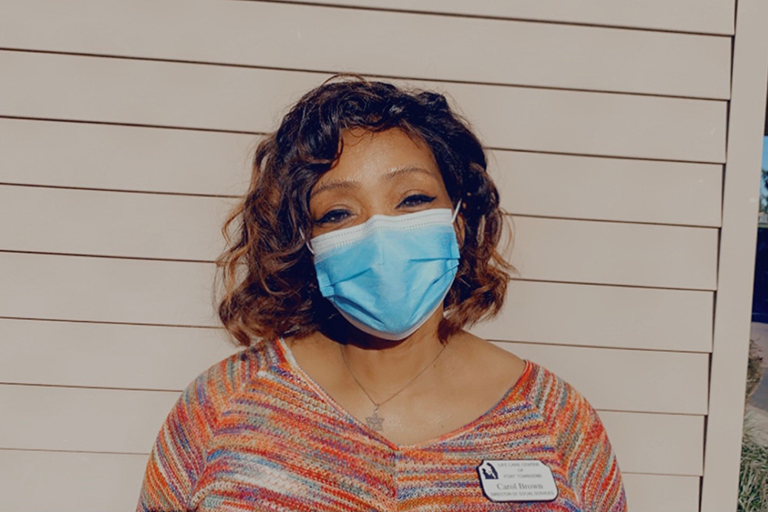 Carol Brown, social services director at Life Care Center of Port Townsend, Washington
Carol has been a social worker for seven years and has worked at Life Care Center of Port Townsend for 12 years, 11 years and then a stint elsewhere before she returned in May 2019. She started at Life Care Center of Port Townsend in payroll and then worked in other positions such as admissions and human resources.
When a surveyor took note of Carol's relationship with the residents and her passion for resident rights, she suggested that social work might be a good fit for her. She tried it out at another building and found the surveyor was right.
"Social work is all about giving back, helping the residents to achieve some quality of life," Carol shared. "I want to give them back the dignity that they may have lost in their life. I want to know that even if it's just one resident, that I've made a difference."
Reflecting on 2020, Carol said, "The residents have had a year of challenges, and they can't get that year back. My job through this has been to find solutions that will work for these residents."
Angela Cerna, executive director, shared, "Carol has come in with scrubs to help on the floor – making beds, passing trays and anything she can assist with. She has gone out of her way to do anything from getting new shoes or clothes for those who don't have things to ensuring she sits with each family member or resident who comes to stay at our facility. She came in at 7 p.m. on a Sunday when we had a sudden death (though not unexpected) that hit the family hard, just to help comfort the grieving family. She is our problem solver when we need her for behaviors or just overall social needs. She is focused on what is best for the residents."
Outside work, Carol finds joy in her 18 grandkids and in taking pictures outdoors.
Carol's advice for new social workers in long-term care is: "You can't fix everything. You can just do your best and play an important role in the residents' lives."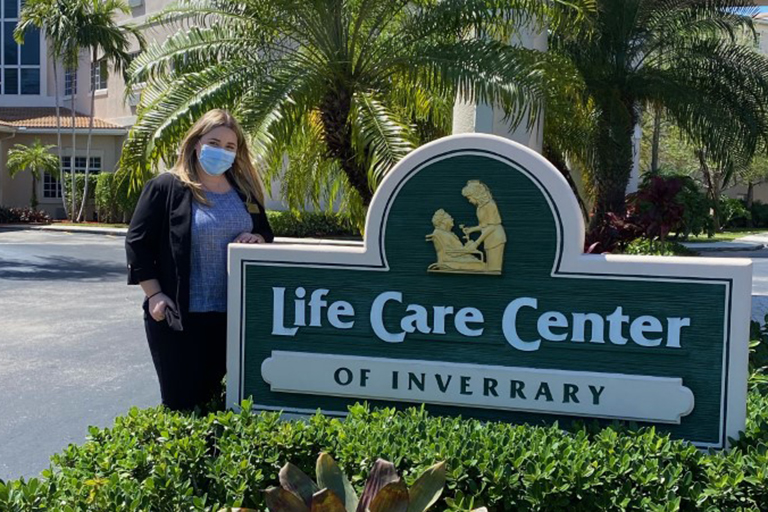 Jessica Garmizo, director of social services at Life Care Center at Inverrary in Lauderhill, Florida
Jessica has been a social worker for two years and joined Life Care Center at Inverrary in August 2020 while she completed her master's degree. According to her executive director, Cody Brayton, "Fresh out of graduate school, Jessica has hit the ground running."
"Both my parents instilled in me how important it is to give back and offer a listening ear," Jessica shared. "Social work is being an advocate for others, really making them feel listened to."
Jessica's family would often take food to local Jewish seniors on religious holidays and then stay around and visit, something Jessica truly enjoyed.
During this year's pandemic challenges, she shared, "It's been hard for both the residents and their families. I've always tried to stay positive and flexible. If a family member calls 10 times in a day, I'll always pick up the phone as if it's the first time."
Cody shared, "Though our building does not have active COVID-19 cases right now, we have had to redesign parts of the building on various occasions. Rather than backing down, Jessica has been vocal in what she thinks is best not only for the building but for the residents as well. It is a tough job convincing a patient who has been in the same room for x years to agree to switch to a different part of the building. Her charisma and charm are what allow us to proceed forward."
Outside of work Jessica finds refreshment in the fresh air, especially at the beach. And at the building, she finds a sense of fulfilment "when a resident really feels listened to and valued. My No. 1 thing is to always be there for the residents and make them feel at home."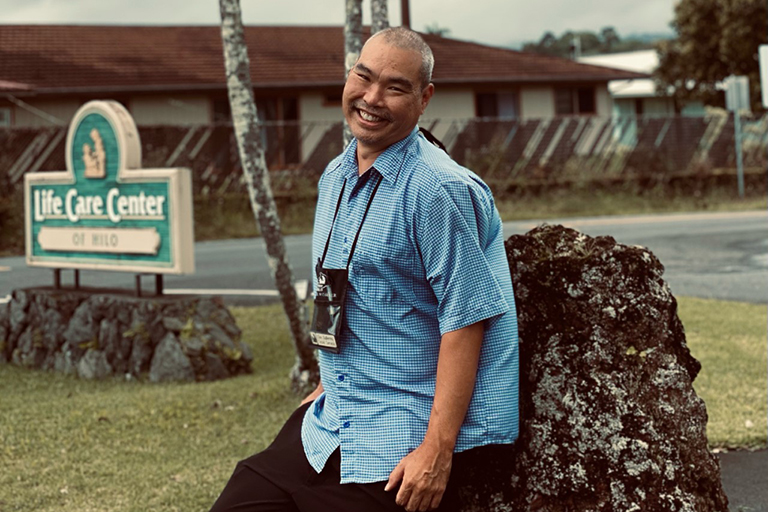 Lee Guillermo, social services director at Life Care Center of Hilo, Hawaii
Lee has worked at Life Care Center of Hilo for 24 years, starting right out of college as an intern.
"I love helping the elderly, and the staff over here are like a family," Lee said.
Growing up on Maui, Lee saw how instrumental a social worker was in the care of one of his loved ones in a local nursing home.
"I figured I wanted to help people, and I saw my family was very appreciative of what the social worker did for us," Lee said.
Lee said a lot of his job as a social worker is centered around helping rehab patients and their families prepare for discharge.
"We want to make sure they're safe at home. We do care plan meetings, and we have to be well connected with the community to know what resources are available."
In one case, Lee stepped in to personally assist a resident who was going home but didn't have any family support in Hawaii. Lee bought her two weeks' worth of groceries so she could have a good start nutritionally at home. He then paid her taxi fare to get home and gave the driver an extra tip to help bring in her groceries for her.
"It made me feel good to be able to do that," Lee said. "We checked on her later, and she was doing well. I find it rewarding when we have a successful discharge, when we can send them home safely."
Mark Mann, executive director, shared, "Lee routinely goes above and beyond to assist family members with Medicaid eligibility. He has the heart of a hero and a tireless desire to serve everyone. People are naturally attracted to him, and he serves quietly. I often learn of the things he has done through the grapevine."
When he's not working, Lee enjoys unwinding by spending time with a completely different generation and coaching Little League and Pony League baseball.
Lee's advice to new social workers is, "Take one thing at a time. If you try and learn everything all at once, you're going to get overwhelmed. Also, be positive and empathetic."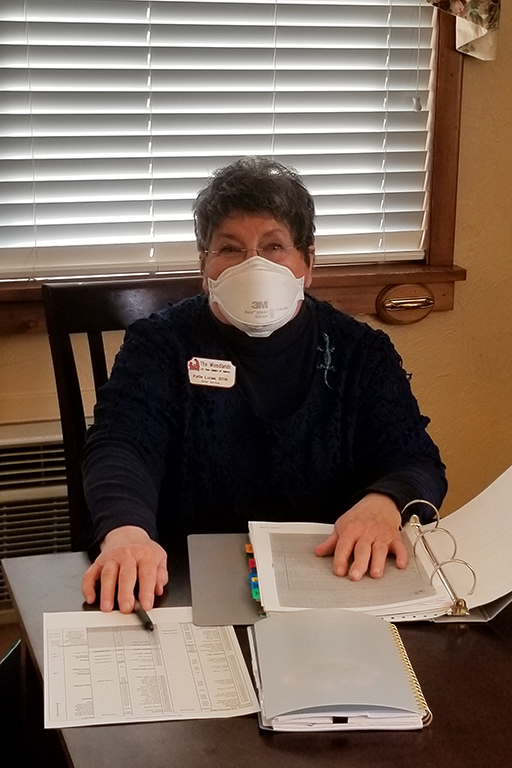 Katie Lucas, director of social services at The Woodlands in Muncie, Indiana
Katie has been working at The Woodlands for 41 years and knows her residents and community resources very well. She started out as a CNA, but she has been a social worker for more than 20 years now.
James Combs, executive director at The Woodlands, shared, "Katie has taught me many things I use every day when interacting with our residents. During the pandemic, Katie was here every day taking the same risk as the rest of us even though she was in a more vulnerable age group. She is great with our residents and does her best to be sure all their psychosocial needs are met."
"I love the hugs, the smiles, the camaraderie," Katie said about her job. "Our staff is very close and family-like."
Over the years, Katie's fondest memories are of endearing moments with residents with dementia, or residents who are just difficult to work with.
"I like the stinkers," Katie said.
When she's not at work, Katie enjoys de-stressing with a good mystery novel or playing games like Candy Crush.
For new social workers, Katie has several pieces of advice.
"Always stay flexible," she said. "Don't argue – just let them get it off their chest. Give them love. Give them hugs. Let them know you care. Make notes. Always be available to the residents and families."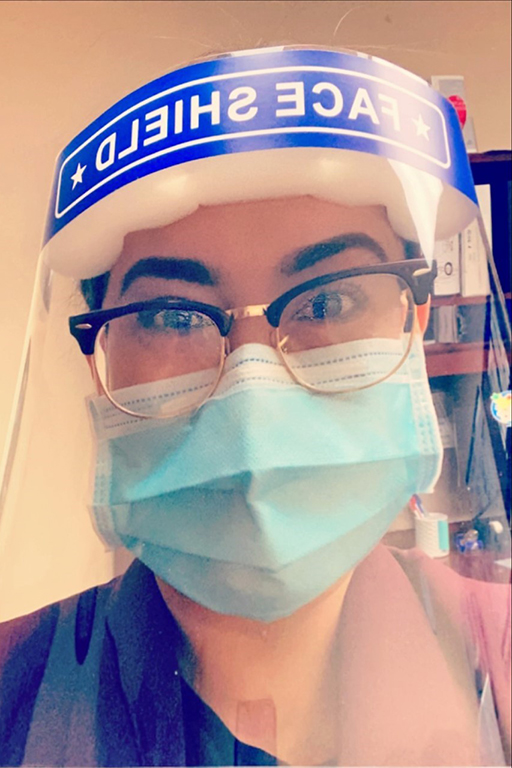 Alma Rojas, director of social services at Life Care Center of Yuma, Arizona
Alma came to Life Care Center of Yuma in August 2020 after serving for more than two years at another nursing center.
"I was always interested in applying at Life Care Center of Yuma because it gets really good reviews," Alma shared.
She was drawn to social work as a helping field.
"Helping others has always been something I've wanted to do," Alma said. "Social work is about being compassionate and providing resources, whether it's at the facility or in the community."
Stephanie Belton, executive director, said, "Alma is outcome-driven. She works closely with the family support system in order to achieve excellent results. She coordinates, reviews and chairs our behavioral psych program here at Life Care Center of Yuma. She is also a co-chair on our social isolation committee."
Alma recharges her energy by spending time outdoors with her family.
Her advice to new social services associates: "You need to know your community well and build relationships with the organizations that can be resources for your residents and families."