Julie Koerperich, Director of Rehab
Six months and three days. One hundred eighty-four days. Four thousand four hundred sixteen hours. Two hundred sixty-four thousand nine hundred sixty minutes. Fifteen million eight hundred ninety-seven thousand six hundred seconds.
The time has finally come for the Leonard family to bring their husband, father, pup-dad and grandfather back home!
Bruce Leonard was diagnosed with COVID-19 and was faced with multiple difficulties thereafter. He went to three different hospitals and was on a ventilator and feeding tube, but his family came together in the power of prayer and their faith. Since the beginning of their journey, every night at 9, his family would FaceTime with each other and say the rosary along with a few of their other favorites, including a prayer to St. Jude and Psalm 91.
Bruce was quick to say, "When I was able, I joined them, and we aren't quitting anytime soon."
Bruce was admitted to Life Care Center of Seneca, Kansas, on March 14, 2022, and hasn't looked back since. At first, he required maximum assistance of two people for all transfers, max assist for daily activities tasks and self-care, and he required assistance for self-feeding. He was on a mechanical soft diet and nectar-thick liquids to decrease his risk of choking, and he was unable to walk. He was on five liters of oxygen along with several other tubes to aid with healing.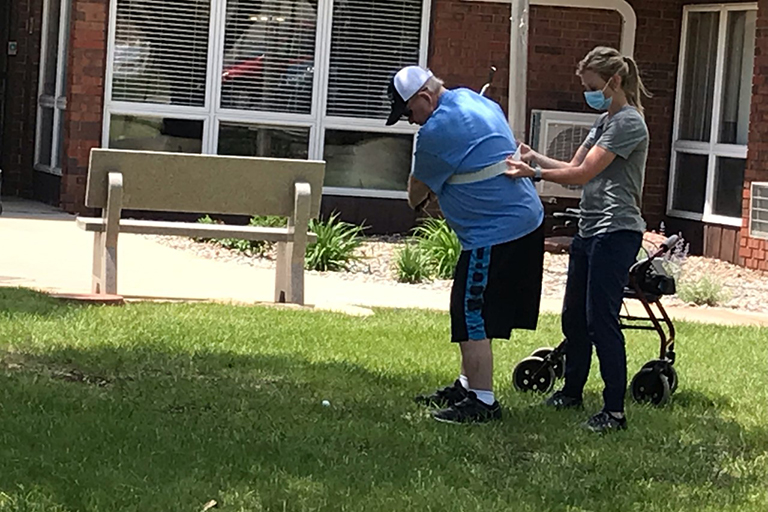 "I knew I was at the right place when therapy had me walking with a walker from my bed to the hallway door in just two days," says Bruce.
Bruce received physical and occupational therapies five times a week. In physical therapy, we worked on lower extremities strength, functional endurance, ambulation, balance activities and electrical stimulation for wound healing.
From where Bruce started when he entered our building, he has now progressed to being independent with all transfers and walking with a cane. He is able to complete high-level balance activities with high stamina and walk around outdoors with little assistance using a cane.
A few of his favorite activities prior to his illness were fishing, playing baseball and basketball and going on community outings. Therapists included some of these favorite activities into his therapy sessions.
Occupational therapists have also been working hard with Bruce to return him to his prior level of function with daily living skills, self-care and self-feeding.
Just as in PT, Bruce made huge gains with progression from maximum assistance to independence with self-feeding, from learning to use adaptive equipment for daily living skills to now completing those by himself. Bruce is also completing high-level instrumental daily living skills during therapy sessions. A few examples include simulating feeding his dogs, playing golf, folding laundry and vacuuming.
Bruce also worked hard in speech therapy four times a week. Along with his modified diet, he also received supplements through a feeding tube to ensure adequate nutrition. During meals, he used compensatory strategies, such as small bites and double swallows, to reduce his risk of aspiration while eating these soft foods. With perseverance and active participation in oral pharyngeal exercises to restore his swallow function, Bruce was upgraded to a regular diet with thin liquids. He can now enjoy all of his favorite foods and drinks!
"I told the therapist when I got here I wanted a Sonic drink and popcorn before I go home, and they did just that to get me to have what I love," Bruce shared.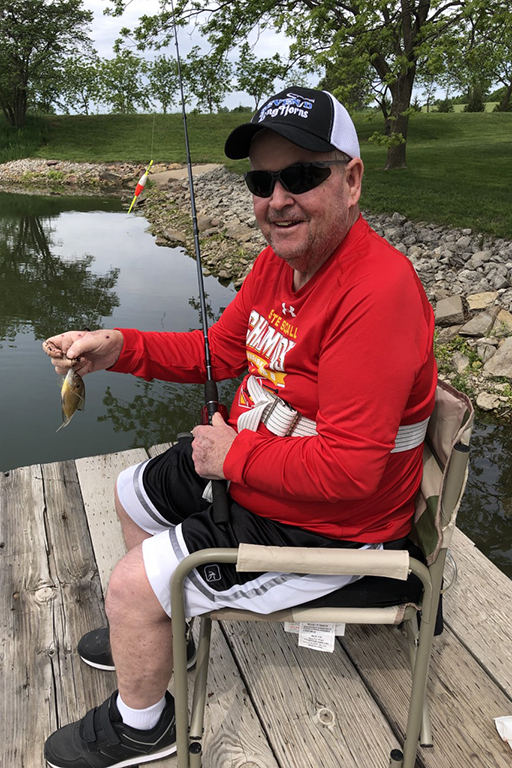 He added: "They gave me the confidence I lacked in myself. I wouldn't be here if it wasn't for my therapists. The [other] staff also deserve some credit as they helped me as well to get better."
Bruce's hard work and motivation to return home did not go unnoticed, nor did the support from his family to make sure he follows his "rules." From the famous eye roll we therapists received to thanking us multiple times a session, he never gave up.
Bruce's wife, Theresa, mentioned several times during his stay here, "God is good all the time. All the time, God is good."
Bruce, you will be missed by your Life Care family, but we all wish you the best at home!