By Natalie Merten, physical therapist
Psalm 139: "You have searched me, Lord, and you know me. You know when I sit and when I rise; you perceive my thoughts from afar."
This is just one of Frances Souders' favorite Bible verses. Frances was reflecting on verses that give her daily strength as she celebrated her 103rd birthday, the day after she was transferred out of the COVID unit.
Frances was receiving occupational and speech therapies after a change of condition with her fine motor function and problem-solving skills. When Frances developed symptoms and tested positive for COVID-19, she was transferred to the COVID unit and received all three disciplines of therapy in order to recover fully.
During her isolation, Frances would receive daily therapy from our designated COVID therapist. Frances' goals were to keep her mind and body as strong as possible.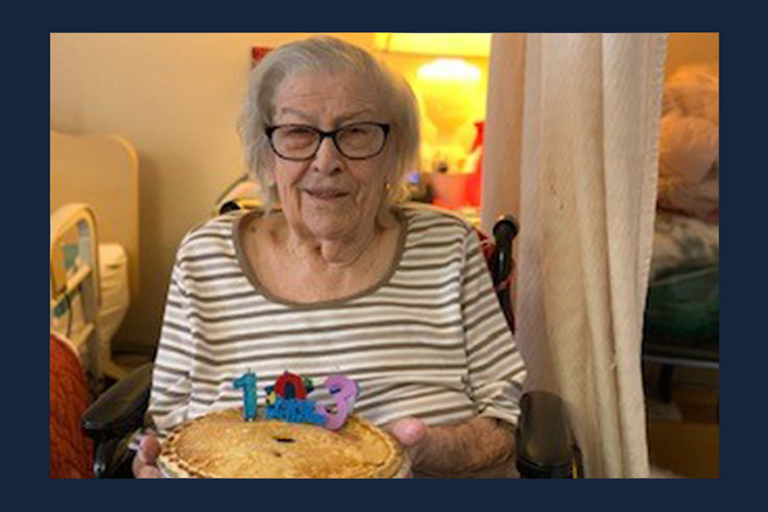 She also really wanted to celebrate her 103rd birthday with a strawberry rhubarb pie. Tonya Marchand, speech therapist, made sure this happened. Pie and ice cream were served to Frances and her roommate on her 103rd birthday.
Frances reminisced about the last 103 years and her 30 grandkids and enormous extended family. The therapy department called her family, and her granddaughter Tiffany shared that Frances has had a lasting impact on her faith. Her grandma taught her how to be a good person, do the right thing and care for others.
Frances enjoys staying in touch with her family and keeping up on what they're doing in their day-to-day lives. She loves to hear what recipes her family is trying out and has quite a sweet tooth.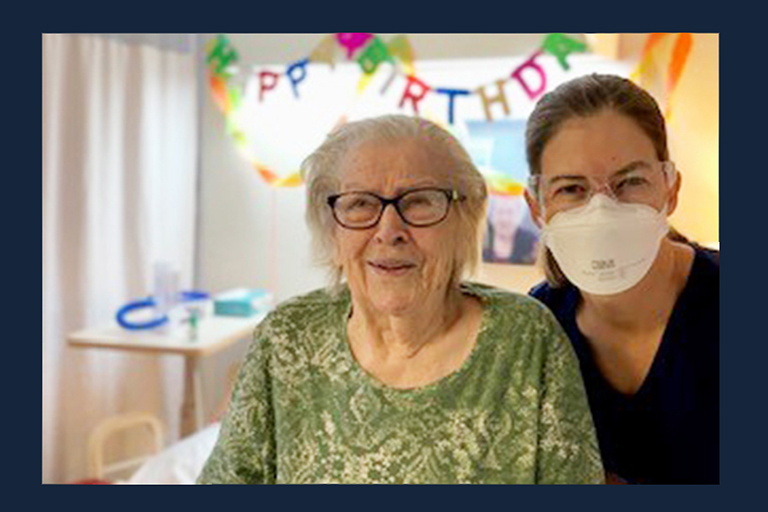 Occupational therapy associates have assisted in keeping Frances as independent as possible with her low vision. They have worked with her family to obtain a talking watch, and they make sure Frances is able to use her other low-vision equipment safely.
Frances is working hard in therapy to improve her activity tolerance, lung capacity, strength, recall, fine motor skills and balance. She is an absolute joy to work with and a blessing to those around her.