Heidi Pino, Life Care Public Relations
When Life Care Center of Winter Haven, Florida, experienced a COVID-19 outbreak in July 2021, the facility managed it well.
As residents recovered, leaders at the facility had an opportunity arise. They had a 49-bed dedicated COVID unit, as well as associates who were experienced in caring for COVID patients. And the county's COVID positivity rate, like that of much of Florida, had risen sharply. From Aug. 13-19, for example, 28% of those tested for COVID tested positive. And as in many places in the United States, hospitals were becoming overrun with COVID patients.
Leaders suggested that the facility could offer its COVID unit for use to admit COVID-positive patients for care, quarantined from the rest of the facility population.
"We asked our nursing department if we could do this, and our nurses presented with 100% confidence," shared Ashlea Evans, executive director. "They were like, 'This is what we're here for.' We've had such a positive reaction from our staff."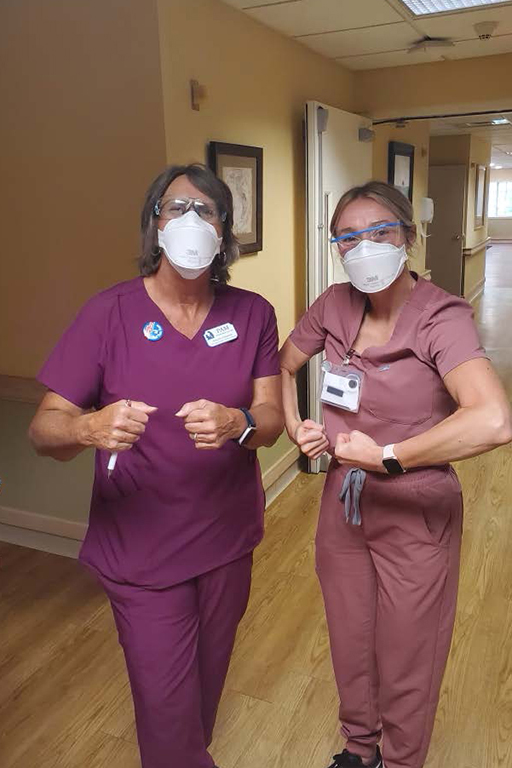 One of those associates is Kelli Hunter, nurse liaison and admissions.
"The process of opening a COVID-19 unit was exciting to me because we were able to help people in our community and keep them close to home," said Kelli. "This is so rewarding because we are able to help people with few options, and I know they will get great care here."
COVID patients have been able to take advantage of the facility's rehab services as they have been recovering. Therapists have been helping these patients learn energy conservation techniques and regain strength, mobility and independence as they recover.
Most of these COVID admissions have come from local assisted living facilities, which has enabled these patients to bypass the busy hospitals, and some have come directly from the hospital.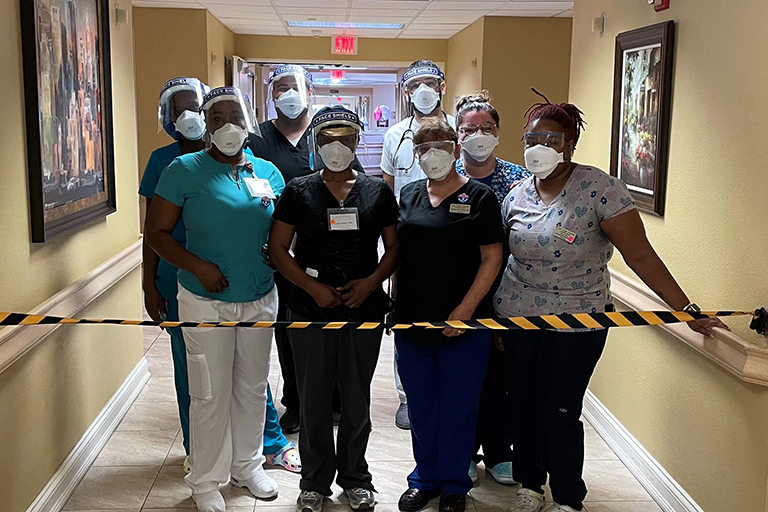 "We were able to take 20 people from one ALF, and they came in scared, but yet they all got to stay together, and we celebrated with them when they all got to go home," said Kelli. "They were 100% fully vaccinated and all recovered well. The administrator of the ALF transported the first few residents himself and came to personally thank us for helping them so quickly."
Several other associates shared what it means to them to assist in this Delta crisis.
"We have all the supplies to protect ourselves and our residents, so it made this process a little less scary," said Socorro Milan, certified nursing assistant. "I like seeing the residents get better. I like seeing the small improvements and being able to share happiness with the residents."
Maria Espinosa, licensed practical nurse, added, "The best part of this experience has been seeing residents come in and then discharging them home. I had COVID-19 myself, so this has made me a different nurse. I have always had compassion for my residents, but I look at shortness of breath and all of the symptoms differently now. I know exactly how my resident feels. Our team over here is a true team – we pull through every day together."
On Sept. 2, residents on the COVID unit also had the chance to receive monoclonal antibody therapy from the local department of health, an infusion treatment designed to help prevent severe symptoms in patients with confirmed COVID cases. Most decided to receive the treatment, and a sense of optimism filled the air.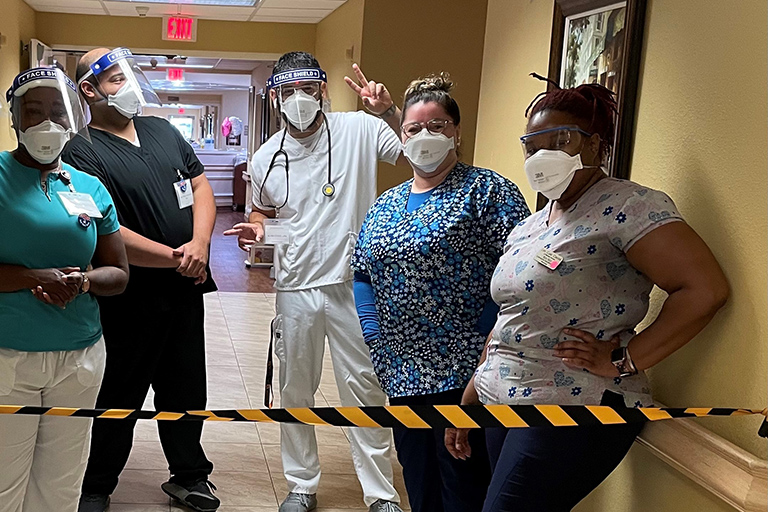 "There's a lot of fear around COVID-19, so the more you can lead with confidence and equip your staff with knowledge and training and all of the PPE that we have available to us, I think that it really sets the tone for the staff to not be afraid, not to run away, but to really meet the challenge and see how you can take that out into the community and make that a positive thing," said Ashlea. "We've seen how there's opportunity to form relationships with our community and serve even more residents."