By Melissa Lawrence, director of rehab services
Marshall New underwent a total hip replacement on his right leg after struggling with bone-on-bone pain caused by years of arthritis.
He was referred to our facility due to new-onset muscle weakness, limitations in dynamic balance, reduced activity tolerance and difficulty with performing mobility tasks. Mr. New came to us with orders for physical and occupational therapy services.
Physical therapy focused on strengthening exercises, gait training and dynamic balance activities. Our PT targeted scar tissue/adhesions by performing soft tissue mobilizations and a contract/relax technique in order to increase range of motion for improved functional outcomes after surgery. She was also able to detect a leg length discrepancy and referred Marshall to a podiatrist. In the meantime, she provided him with a temporary shoe lift in order to promote hip/pelvic alignment during walking.
Occupational therapy focused on restoring Marshall's independence with activities of daily living. He was taught how to use adaptive equipment for completing all lower-body tasks and picking things up off the floor in order to maintain posterior hip precautions put into place by the surgeon. Occupational therapy also focused on different stretches and exercises in order to improve postural alignment. Our OT incorporated activities that he enjoyed and found meaningful in order to promote carry-over and habit development for continued improvement in the future. They were often seen turning exercises into dance moves while listening to his favorite songs by the Bee Gees.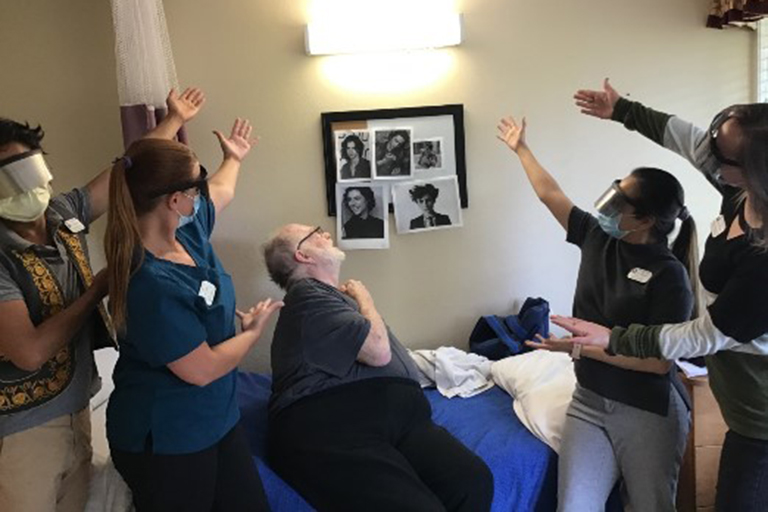 If popularity was a contest, Marshall would come out in front. With his vibrant personality and kindness toward all staff, he was truly a joy to work with. After almost four weeks in our facility, he had regained his strength and was able to return home independently. He was referred to home health services to assist with the transition and maintain the progress that he made. We all miss the compliments and jokes he told on a daily basis but know that Marshall is right where he wants to be… HOME.