Heidi Pino, Life Care Public Relations
Orva Miller is a long-term resident at Life Care Center of LaGrange, Indiana, who deals with cerebral palsy.
The disease affects the curvature of Orva's spine, and from time to time, he is reassessed to see how the team at the facility can adjust his care to maximize his mobility and quality of life.
In July 2021, he was experiencing increased pain, and he needed more help with bed mobility and transfers (such as from his bed to his wheelchair) and moderate assistance with his wheelchair mobility.
Occupational therapy evaluated him and was able to put into practice skills they had learned in a 12-week seating and positioning course through Permobil.
During that course, participating associates received instruction booklets in the mail. Each week, they took part in an online training with a presentation and test. After completing the test, the team ordered the tool kit, which included a variety of cushions and backrests to try on residents.
"This course has proven to be very valuable to our facility, residents and therapists," said Michelle Watson, director of rehab services at Life Care Center of LaGrange. "We now know which cushion, backrest and type of wheelchair is best for individuals based on their specific body type and diagnosis. It has allowed us to think outside of the box and be more creative with wheelchair positioning."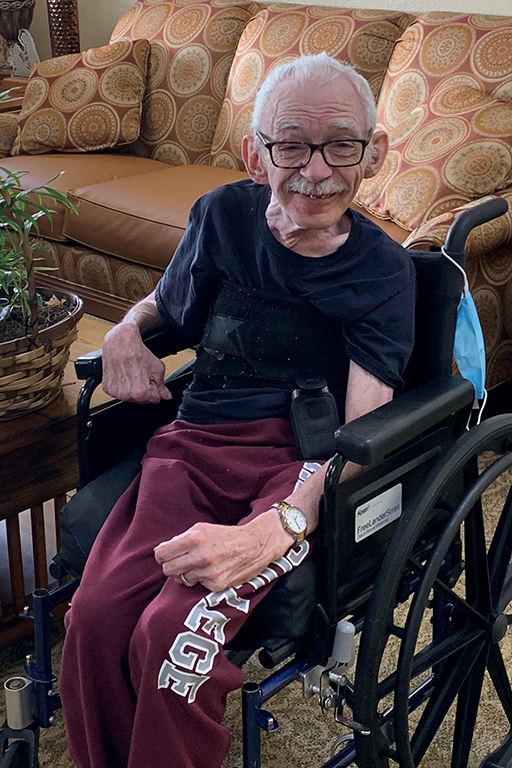 Thanks to that training, the OT team was able to find a cushion to improve Orva's positioning and comfort.
"Therapy got me a new cushion, and now I don't have any more back pain, and I get around better," Orva said. "I feel so much better now!"
Orva is now at a moderate assistance level for bed mobility and transfers and a supervision level for wheelchair mobility.
Michelle shared, "We were so happy we were able to help Mr. Miller feel more comfortable in his wheelchair and to improve his independence with mobility."