After taking inventory of personal protective equipment (PPE) for buildings in the Mountain State Division, the Clinical Services Division leadership team realized that soon buildings would be low on items such as masks. Right away, the team acted and began to collaborate on how they could make enough PPE to meet the buildings' needs.
"We didn't start out thinking it was going to be a formal project," said Michelle Shockey, division director of clinical services. "A few weeks ago, we learned there was a shortage of PPE in our facilities – one of the most important things being masks. At that time, there were guidelines issued by the CDC that gave us instructions on how to make masks. I went home that night, and my daughter, granddaughter and I took out our sewing machines and watched a YouTube video to learn how to make the proper masks. We sent a picture to my co-workers, and everyone was like, 'Hey, we can do that!'"
Once they found the proper patterns and learned how to make the masks, they began collecting the materials they needed to make them in large quantities.
"Because Michelle and her sister owned a craft store, she had access to stuff that the average person can't buy because of her license to own the store," said Valeri Veraldi, regional director of clinical services. "She was able to get a lot of this stuff wholesale. The problem is elastic is hard to get. We've had to get creative with some of our materials. I've been to the Dollar Store three times in the last six days, and the lady at the register said to me, 'You're seriously into hair ties, aren't you?' I said, 'Yeah, we need them to make masks!'"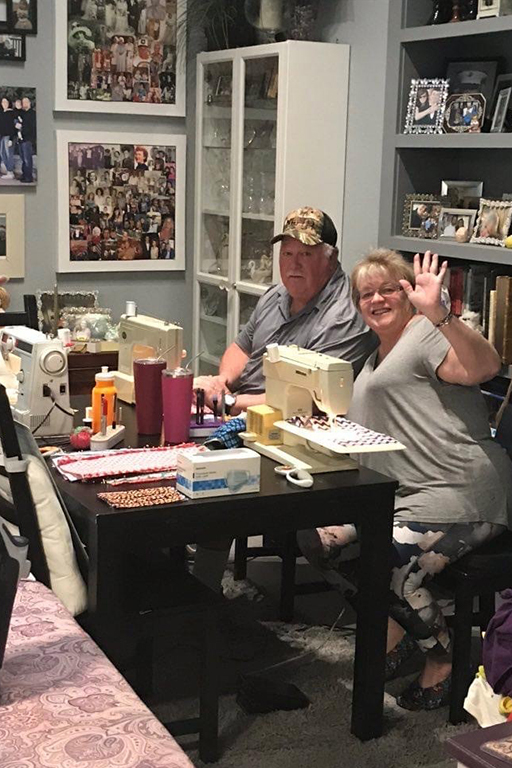 According to Valerie, they've also used elastic bandages as elastic, bandanas and T-shirts for material and vacuum bags, furnace filters and even coffee filters as filters for the masks.
"We've made small, medium and large masks with different patterns," said Valerie. "Mask covers, regular masks and N-95 masks. We keep adapting to make them better and better!"
However, it's not just the Clinical Services team making the masks anymore. The team has networked and recruited many volunteers for the project. Aja Gomez, regional director of clinical services for the southern region of Colorado, rallied her troops by inviting friends and family to help with the project.
"I put it on Facebook and made a group of family and friends and got a pretty good response," said Aja. "I was laughing because I came home and had four deliveries of masks in one day. I think I got up to like 650 masks. Then, JoAnn's Fabrics – one of my girlfriends is the manager over there – started to make masks. They are trying to make us about 200 a week. They kept their staff hired on but closed the stores, and they are having them sew these masks."
Aja said she also has some special helpers assisting her with the project.
"I have six little ones who are helping, and it keeps them busy between schoolwork," said Aja. "They are having so much fun, and they're so cute!"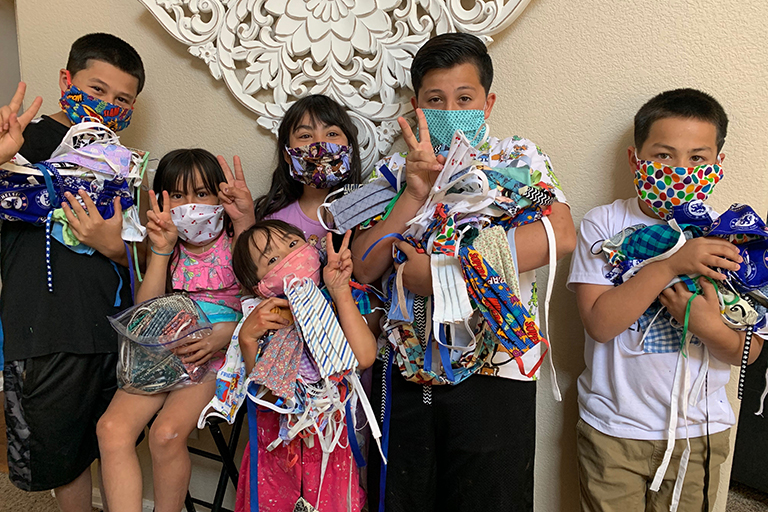 So far, the team has made and collected over 1,000 masks, with donations coming in each week! Buildings who have received masks so far include Life Care Center of Pueblo, Cañon Lodge Care Center, Columbine Manor, Life Care Center of Longmont, Berkley Manor Care Center and Life Care Center of Colorado Springs.
However, the masks serve an even greater purpose to the associates and residents than just their practical use.
"I think it helps lift their spirit to have something colorful on," said Valerie. "The patients comment on the patterns. We've got things with cats, dogs – even the Eiffel Tower! I think it's very scary for the patients to see us all in masks, so seeing us in something bright and colorful cheers them up."
With rave reviews from associates and residents of the Mountain States Division, the team is continuing with their efforts to provide plenty of masks for each of their facilities.
"Our main objective is to keep both our residents and associates safe and protected," said Michelle. "Obviously, we want them and their families to be well, but we also want to give them what they need so that it reduces fear. I think gratitude has been the No. 1 response I've heard from them. They've had a lot of fun picking and choosing the patterns that they want. I think it's the personal touch they feel. They know we want to take care of them and that we are doing everything in our power to let them know that despite all this craziness, we are fighting for them. We are in this fight together!"