Heidi Pino, Life Care Public Relations
Feb. 14, 2021, brought the first Valentine's Day since the start of the COVID-19 pandemic. For Life Care's facilities, though, almost a full year of learning to do activities while social distancing led to no lack of fun… or love!
Here's how some of our centers around the country celebrated this year (alphabetically by facility name).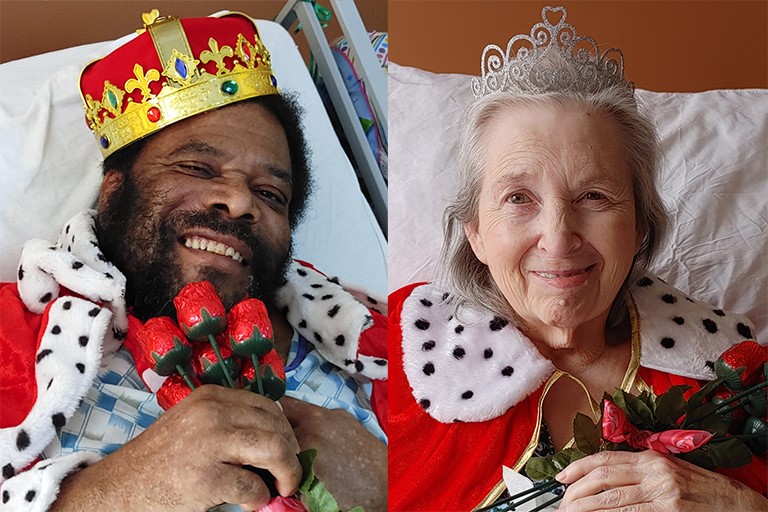 At Life Care Center of Cape Girardeau, Missouri, residents filled out valentine cards for each other and staff members. They received bags of candy and homemade cards designed by an associate's daughter. The facility also held a coloring contest with first- and second-place winners that got the residents' artistic side involved in the holiday. And of course, the facility crowned its annual King and Queen – Howard Ross and Mary Stone this year.
Cherry Hill Manor Nursing and Rehabilitation Center in Johnston, Rhode Island, continued its 10-year tradition of offering Balloon-O-Grams. They gave friends and family members the opportunity to send a Valentine's Day gift to a loved one at the facility, and for associates to grab a last-minute gift after a busy shift. "Our team delivered candy, stuffed animals, Mylar balloons and a special note from each recipient's loved one and got to watch their faces light up as we read the notes aloud," said Michelle Boucher, activities assistant. "As you can imagine, this year was a little more meaningful as family members could not be there in person."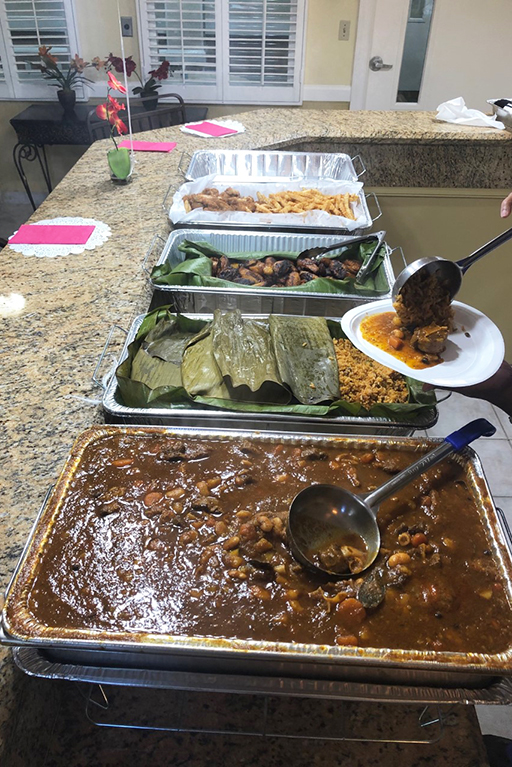 The kitchen staff at The Gardens Court in Palm Beach Gardens, Florida, did their own special party. Augustine Santiago, the new food services director, made a special feast for his dietary staff to say thank you for all they do to meet residents' nutritional needs.
At the beginning of February, activities associates at Hale Anuenue Restorative Care Center in Hilo, Hawaii, helped residents make valentines to decorate their rooms or send to their families. The dietary director wore a Valentine's Day outfit and passed out candy to residents and associates. The facility also held a drawing for a Valentine's Day court – king, queen, prince and princess, for both of its units.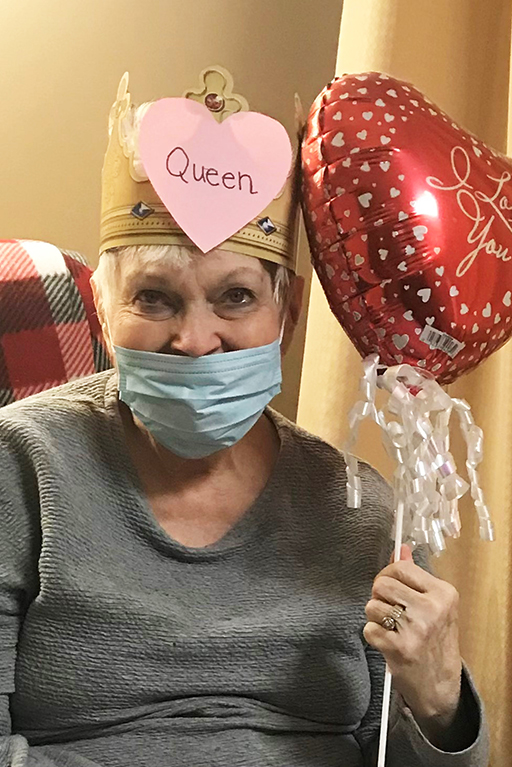 At Life Care Center of Hixson, Tennessee, residents received conversation hearts for writing statements of love to share with the facility on the bulletin board outside the activity room. Residents also mailed valentines to their families, and on Valentine's Day, residents received goody bags made by Girl Scout Troop 40372. The day after Valentine's, the facility crowned a king and queen with crowns from Burger King. "It wasn't our normal Valentine's Day party, but the residents kept busy all week doing something pertaining to Valentine's," said Mae Petty, activity director.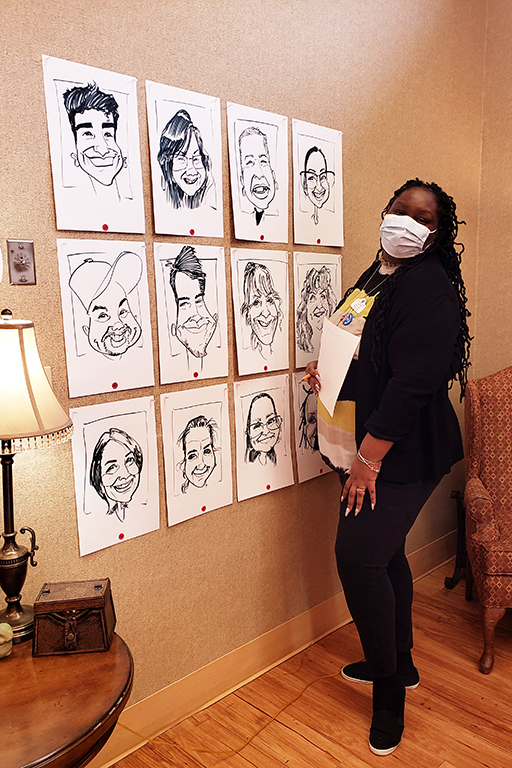 Life Care Center of Kirkland, Washington, held a whole week of activities as well. With a Valentine's tree with decorations, crafts, karaoke and games, residents and associates saw the love everywhere. Each day, the facility featured a different country and shared with the residents about that country's Valentine's Day traditions, as well as preparing food from that nation for residents to try. Associates also took photos of several associates and sent them to a caricature artist. He drew them, and everyone tried to guess who the real person behind the cartoon drawing was. Associate photos were also used in a Cupid game in which associates used a Nerf bow and arrow to hit a heart on the nose of the associates. A "kissing" booth was a popular place to take photos, and associates dressed up like famous duos, such as peanut butter and jelly or bacon and eggs. They went around the building handing out treats, quizzing staff about PPE and asking residents fun trivia questions. Families sent their loved ones in the facility special candy grams as well.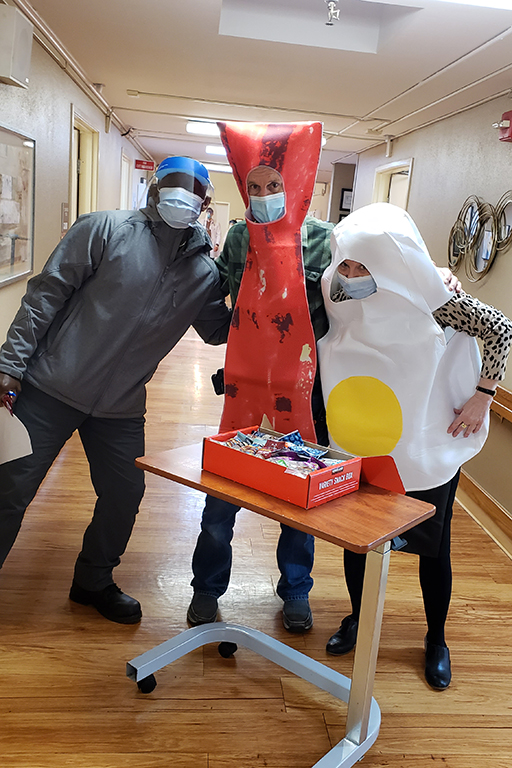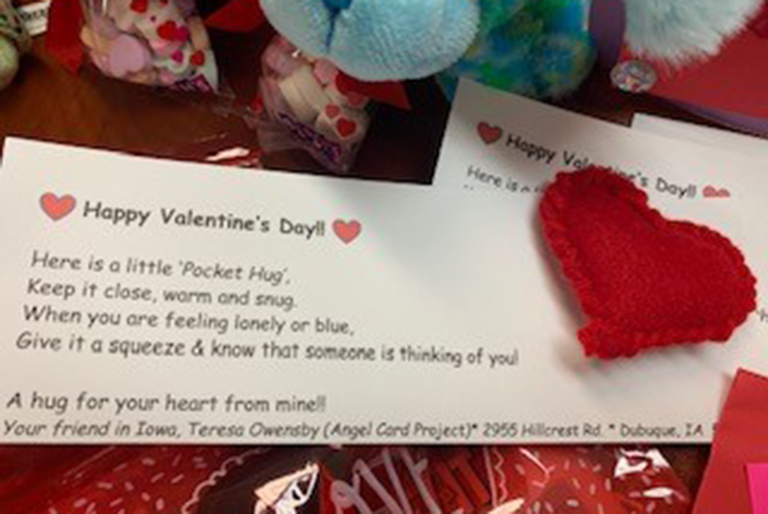 The activity team at Life Care Center of Kona, Hawaii, put together goody bags for the residents, filled with Japanese Senbei crackers, Rice Krispies Treats, cheddar cheese fish crackers, pretzels and chocolates. Residents also received valentines through the Angel Card Project, as well as from members of the Kona Baptist Church. Teresa Owensby made pocket hugs, and Nancy Haitsuka donated 107 chocolate heart boxes for residents and associates, along with more goody bags and stuffed animals. "The giving spirit of these amazing individuals brought love throughout our facility," said Patricia Biegner, activity director.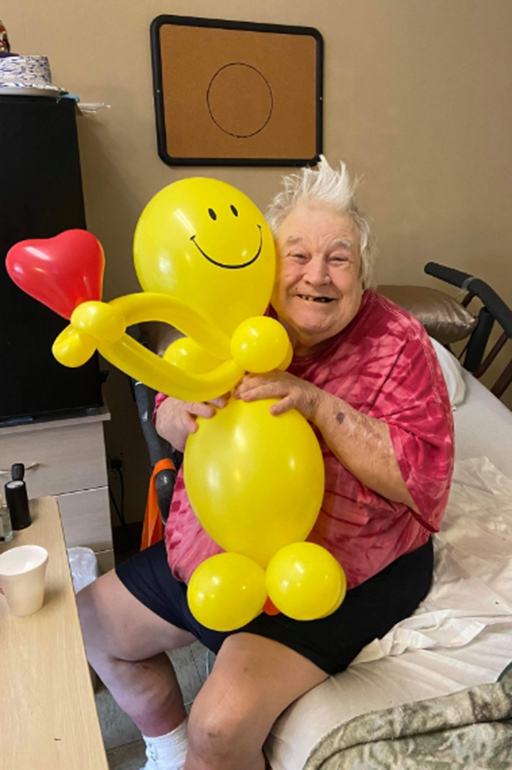 Thanks to the support of the community, residents at Life Care Center of Morehead, Kentucky, received balloon buddies! "We set a goal that every resident in our building would feel loved on Valentine's Day, and we searched high and low for what we could do for these sweet residents," said Jaysa Kiser, business development director. "The community crushed it!" In less than 24 hours, community members delivered enough money to ensure each resident received a balloon buddy.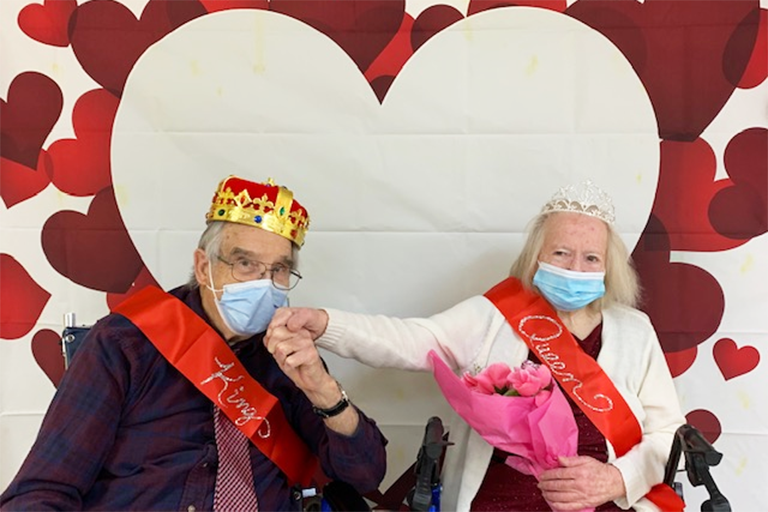 Life Care Center of Orange Park, Florida, held a bake sale with individually wrapped treats. During the sale, associates voted for the Valentine's Day King and Queen, with Joseph and Shirley Mixon earning that honor. They have been married for 53 years, and they were honored and proud to receive their crowns and sashes as associates cheered and congratulated them. "You have really touched my heart," Joseph said. And residents enjoyed dancing and singing a bunch of hit love songs during the facility's hallway Valentine's Day party.
At Life Care Center of Paradise Valley in Phoenix, the Resident Council president, Fanta Benson-Hammond, got busy sharing love for Valentine's Day. She made each long-term resident a handmade and heart-felt Valentine's Day card. That was 70 total. "They were happily received," said Lorna Mattox, activity director. Besides Fanta, a teen volunteer, Roya Vahedian, also delivered something special – 70 individually-decorated 5x7 canvasses for the residents that are now proudly hanging in their rooms. Each canvas has a unique and individualized message. "It was her goal to make each resident feel the community understands, empathizes and has not forgotten those we care for," said Lorna. "Her paintings were a huge success and much loved on Valentine's Day." Of course, associates got in on the celebration too, and Eddie Fraire, activity assistant, played Cupid to deliver goodies to the residents.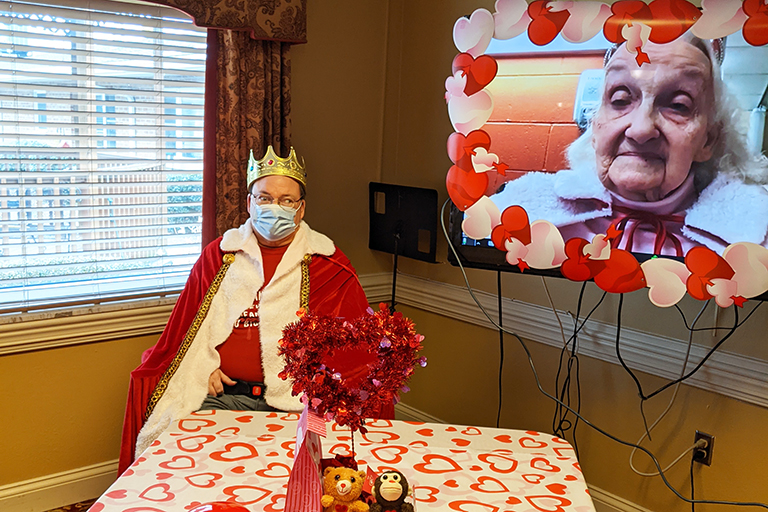 Parkview Care Center in Evansville, Indiana, adapted its annual Valentine's Day King and Queen contest to the times. While the King was able to come to the socially distanced party, the Queen was staying in the yellow zone for infection control protocols. "To make her feel included in such a fun event, I set up a Zoom call from my laptop to one of the tablets we have and then hooked the laptop up to the TV," said Christopher Rhew, activity director. "She could see all of us and hear us. She had as good a time as anybody. The rest of the party included a hat and a bag of candy for each resident, as well as a cupcake and ice cream. We also listened to music and did a little karaoke for the first time in months."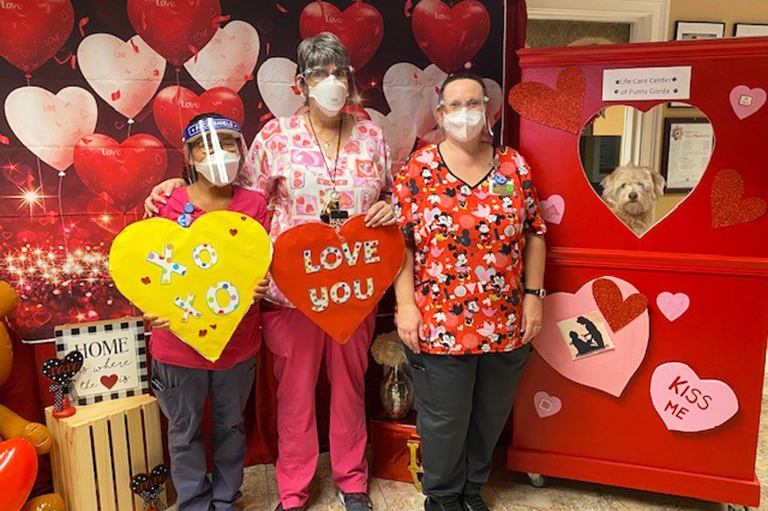 At Life Care Center of Punta Gorda, Florida, Trilogy Home Health sponsored a photo booth that was a big hit with residents and associates alike! Associates served residents Valentine's Day cookies and lemonade, and Greg Patterson, certified nursing assistant, sang for the residents in the courtyard.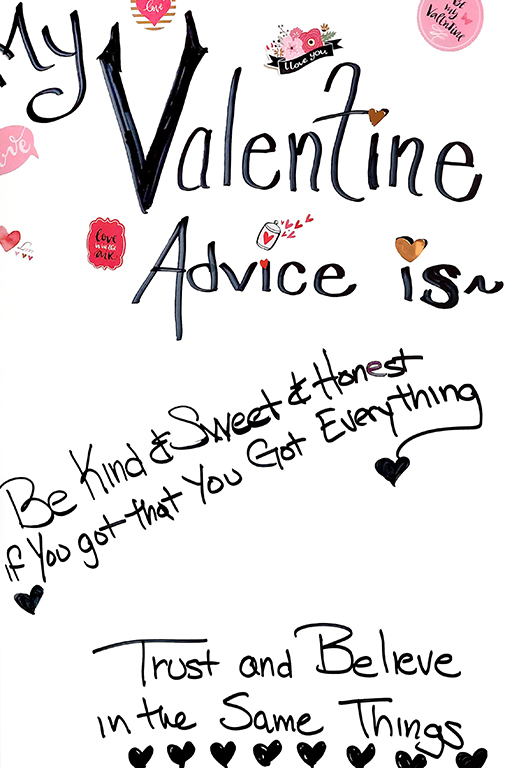 Residents at Life Care Center of Sierra Vista, Arizona, participated in an activity in which they shared signs with their sage advice for a happy Valentine's Day. They put the posters outside their rooms, and everyone loved reading each other's advice. "Some are funny, and others very true," said one resident.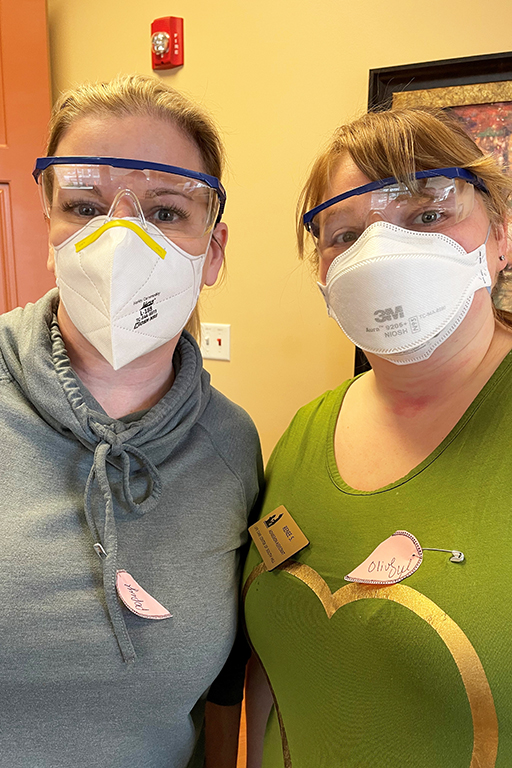 Life Care Center of South Hill in Puyallup, Washington, benefitted from valentines created by local volunteers. It's so good to have community members reach out to show they care about our residents! Associates also played the Broken Heart game: Each staff member was pinned with half of a paper heart (for example, "Juliet") and had to find the associate with the other half ("Romeo"). "We played this game last year, and it was well received," said Connie Russell, activity director.
Life Care Center of Tucson, Arizona, usually holds a Sweetheart Ball, but this year, associates made it a Sweetheart Parade. The week prior to Valentine's, residents and associates voted on their favorite sweethearts, and for Valentine's, a king, queen, prince and princess were crowned. The royal court met in the activities room, where the Resident Council president crowned each of them and draped them with a sash. The gentlemen received scepters, while the ladies got roses. The residents waited in their doorways, and the royal court proceeded throughout the facility, waving to the residents and associates. Everyone enjoyed Valentine's Day treats in the afternoon, including cheese and crackers, pizza rolls, cupcakes and pineapple-cranberry punch. "During these crazy times, with out-of-the-box thinking, we were still able to have a special, beautiful Valentine's Day event," said Morgiana Correa, activity director.