Heidi Pino, Life Care Public Relations
Jan. 23-29 is Activity Professionals Week, and at Life Care, we are blessed to have some of the best in the industry! Let's meet some of our amazing activity directors around the country…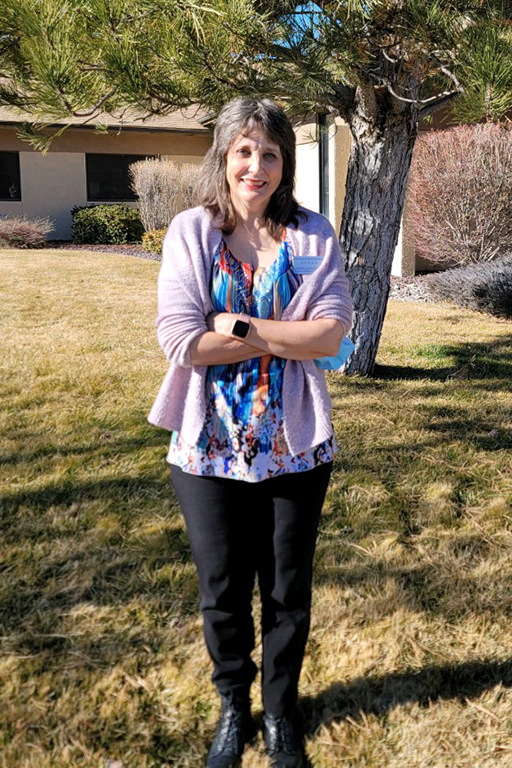 Adriene Angelini – Life Care Center of Reno, Nevada
Adriene has been at Life Care Center of Reno her entire 13-year career in activities!
"I love seniors, and I always wanted to do something meaningful with them," Adriene shared. "I think it is so important for them to know that they are loved. I like to see them feel important and that they're still a valuable part of the community."
Matthew Rhodes, executive director, shared, "Adriene is easily the most sincere human I have ever met. She knows every single detail about all of our long-term care residents and would drop everything in her personal life if it meant she needed to come to the facility to give a resident a hug."
Adriene's favorite activities to do with the residents are taking them outside for gardening and, in fall and winter, holding pumpkin-decorating and gingerbread house contests.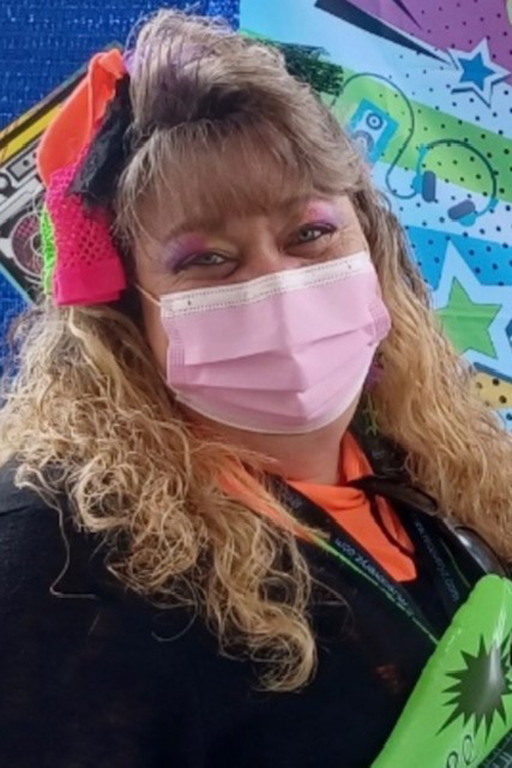 Robin Dake – Life Care Center of Orange Park, Florida
Robin got involved in activities after working in other roles in the skilled nursing field. She started as a housekeeper and was also a certified nursing assistant, rehab tech and restorative aide. She joined the team in Orange Park in 2019.
"Then, COVID hit the U.S. a short time later," said Margery Flannagan, business development director. "When all other area skilled nursing facilities were cancelling activities left and right, Robin and her team brainstormed ways to continue the famous events for which she is known."
Many activities became in-room activities with the help of the facility's in-house TV channel. Soon, residents were playing bingo, participating in cold cooking classes and painting in the safety of their rooms. Robin also created several mobile floats to pass out goodies from room to room – from an ice cream truck to Santa's sleigh.
"I just love the residents and making them happy and adding meaning to their lives," Robin said.
As an artist who likes to sketch and do colored pencil and charcoal drawings, her favorite activities with the residents are, not surprisingly, the art-focused ones.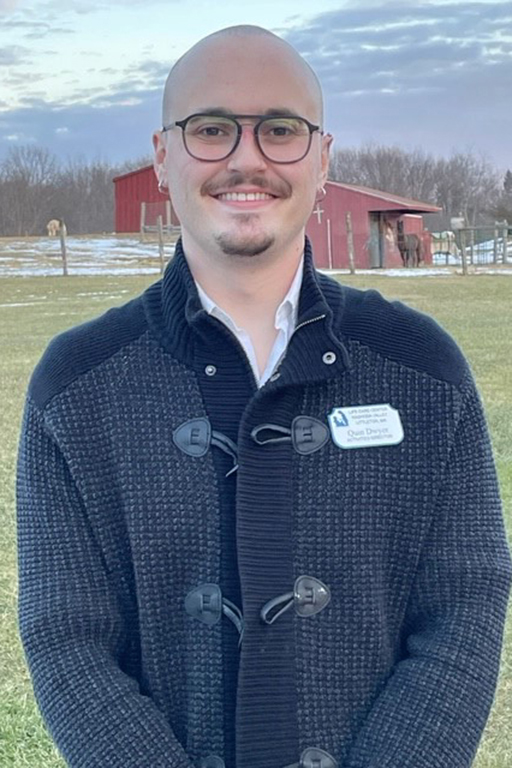 Quinlan "Quin" Dwyer – Life Care Center of Nashoba Valley in Littleton, Massachusetts
Quin was looking for a good fit for his psychology degree and love of music, and he found one in activities! He started as a volunteer and intern at The Highlands in Fitchburg, Massachusetts, and was hired as an activities assistant at Life Care Center of Merrimack Valley in North Billerica, Massachusetts. He has been with the team at Life Care Center of Nashoba Valley for three and a half years.
"I love making a difference in the residents' lives," Quin shared. "It's the most vulnerable population, even before COVID. I love the residents here and this company. It's an amazing thing to do what I do and be able to get paid for it!"
Shari LaRoche, executive director, shared, "You can always find Quin around the facility with his musical instruments, especially his guitar playing and singing songs to our residents and our associates. Quin has been committed and dedicated to our residents and works endlessly to ensure they are engaged in the activity programming."
Quin's favorite activities follow his passion – music. He especially loves doing the monthly drum circles.
"It gets people across all different levels involved," Quin said of the drumming. "It's community at its purest form."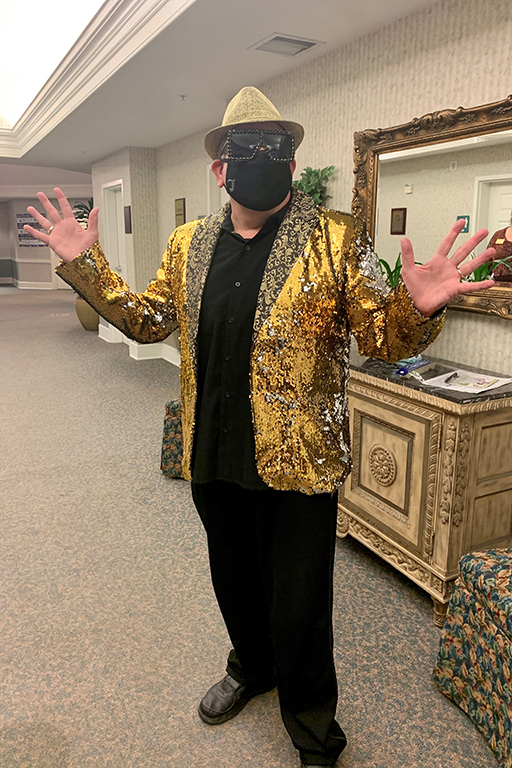 Glenn Fischer – Garden Terrace Healthcare Center of Federal Way, Washington
Like Quin, Glenn's interest in activities also began with music. He was a singing entertainer in Ohio when he first got involved with skilled nursing facilities, and he's loved it ever since. He became an activity director in 1999 and has been at Garden Terrace for three years.
"Being an activity director actually is my dream job," he said. "This is what I was born to do."
Megan Larson, executive director, shared about the impression Glenn made on his first day on the job at Garden Terrace: "He walked into standup meeting with a beach ball and a portable radio and had all the managers do the Macarena dance. He has brought so much energy and new ideas to our activity department."
Especially during the COVID pandemic, Glenn has used the in-house TV channel to bring smiles to the residents, everything from having a John Wayne Day to including TV programming in other languages for residents who have other native tongues. He brings in entertainment focused on the residents' individual favorite music, shows, etc.
His favorite activity, though, harkens back to his entertaining days. He loves to play his ukulele and sing.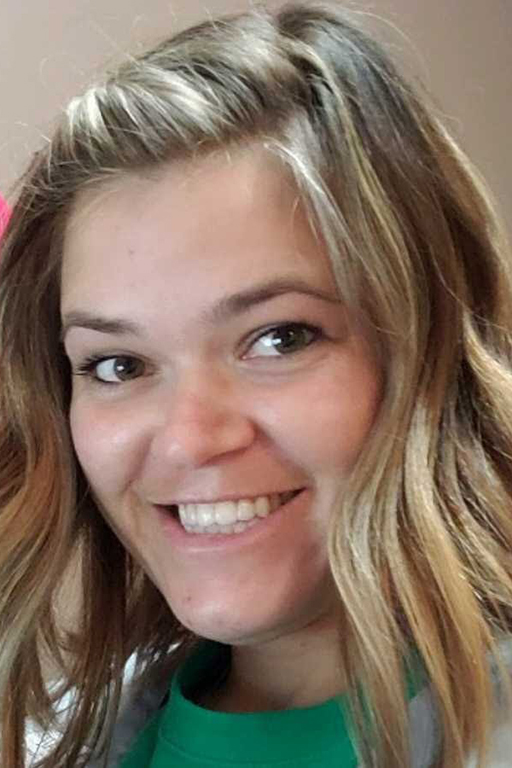 Katie Thomas – Life Care Center of Rochester, Indiana
Katie's interest in activities began when she was working as a CNA at Life Care Center of Rochester.
"When I was doing care for the residents, I found myself going into their rooms and getting to know them, and I wanted to continue having fun with them," Katie said.
She has been working in activities since 2012.
"One of my favorite things is hearing the residents' stories and their wisdom," Katie added. "I have a soft spot for history."
During the pandemic, Katie was instrumental in lifting residents' and associates' spirits.
"When residents couldn't come out of their rooms and things were so limited, we started many fun things over the speaker," said Stacy Cromer, Life Care's Central Division vice president, who was working as executive director at the center. "Katie started an every morning over-the-speaker weather update, then what was going on in the world. Then she played a song where all staff would stand in the hallway and most residents at their door with the American flag. Katie ended it with a prayer."
The routine added a sense of unity and solidarity among those at the facility. Katie has also assisted as a CNA on the halls to provide direct care.
Katie's favorite activity with the residents?
"I really love doing manicures with the ladies because it makes them feel pretty and we get to talk."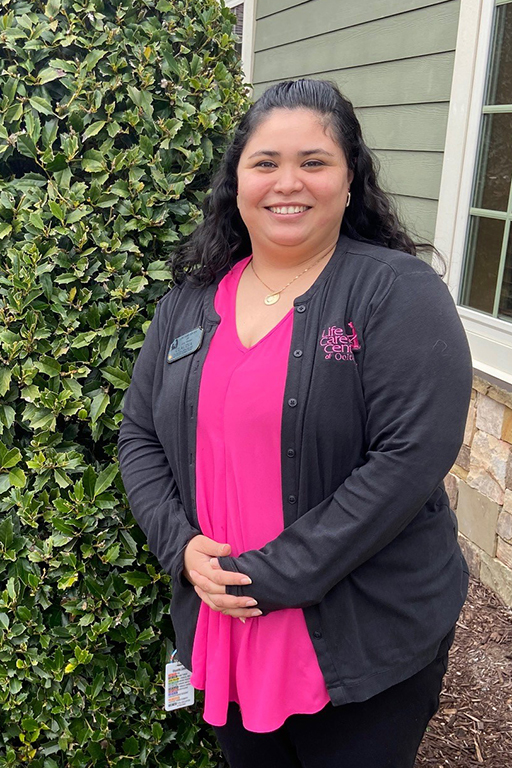 Claudia Zendejas – Life Care Center of Ooltewah, Tennessee
Claudia began her career in activities after visiting her grandfather at a skilled nursing facility in California.
"I started volunteering five days a week, and the staff were like, 'Why don't you just work here?'" Claudia shared. And so, she started as an activity assistant there.
When Claudia moved to Chattanooga, she took the activities job at Life Care Center of Ooltewah.
"Once I stepped into a nursing home, I just couldn't leave it anymore," Claudia added. "The residents challenge me. It's like a never-ending learning experience."
Ashley Borja, senior executive director at the facility, shared: "Throughout this pandemic, Claudia took the time to go through the TNA program to become a CNA to help the team and help the patients. She is so creative and always coming up with fun crafts for patients to do. They have dubbed the name 'Tutorial Tuesday' where they all learn how to do something new. Recently, they made puzzles from scratch, and the residents loved it!"
So, what is Claudia's favorite activity? Since a lot of the residents used to hunt, target shooting with foam blasters is, well, a blast!
"It's very, very fun!" Claudia explained. "They're all rooting for each other, and the ones who are usually the most quiet are the loudest when we do target shooting."
Thank you to all our amazing activity professionals for all you do for our residents!