On Sept. 4, 2020, Ms. Yueqin Li, a resident at The Highlands, a skilled nursing and rehabilitation facility in Fitchburg, Massachusetts, took the oath to become a U.S. citizen.
Yueqin came to the United States from China in 1999 to live with her daughters. It is customary in Chinese culture that once a parent retires, he or she will move in with the children to help care for their grandchildren. Yueqin's daughters had moved to the U.S. for graduate school, then stayed after graduation to start working, so Yueqin moved in with her daughter Lijuan He in Massachusetts. After some time, Yueqin needed to move into an independent living facility. She stayed there until her dementia worsened to the point that she needed more care. She moved into The Highlands in April 2019.
"We are so grateful for all the care and support from The Highlands," Lijuan said. "We really appreciate all of the associates there."
Yueqin is originally from Tongling, Anhui, in China, a beautiful mountain city. She was born and raised there and raised her children there as well. It is a more difficult process to move cities in China than in the U.S., so most people do not move away from the city where they are born. Tongling's economy mostly revolves around several nearby copper mines, so there is a lot of industrial activity.
Yueqin married Fugui when she was about 20 years old. They were married for around 30 years and had two daughters together before he passed away in 1991. Fugui worked in supply chain management at a major company in China. Yueqin attended a technical school. After graduation, she worked as a team leader in a manufacturing plant for over 20 years to recharge truck batteries.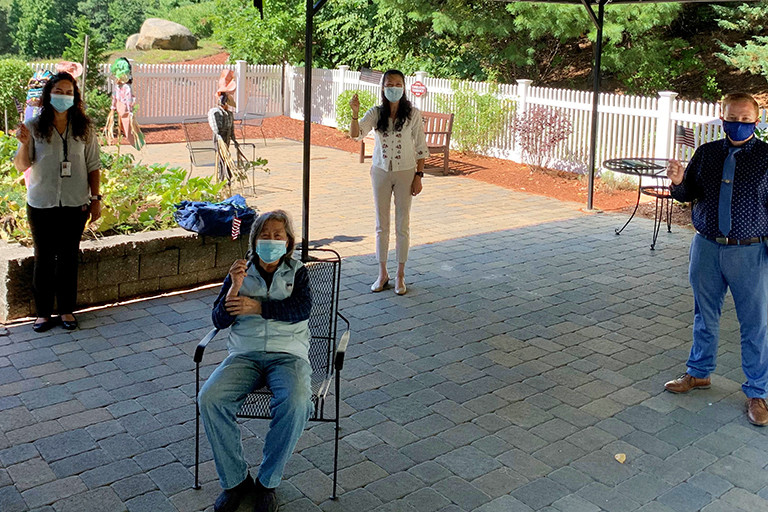 After living in the United States for several years, Yueqin begun to love the country. She fell in love with the people here as well as the freedom she was offered. After 18 to 19 years of having a green card, and both of her daughters becoming U.S. citizens, Yueqin decided it was her turn. She applied for her citizenship and was sworn in a year later. About five years before she applied, Yueqin began studying for the citizenship exam. She studied every day to make sure she knew the answers. However, due to her severe dementia and lack of knowledge of the English language, the department decided to waive the exam portion so she wouldn't have to take it.
Yueqin was so happy to be sworn in as a U.S. citizen at the age of 77. Lijuan was there to translate for her and celebrate.