Heidi Pino, Life Care Public Relations
Life Care Center of Kirkland was recently named a Best Nursing Home by two major publications - Newsweek magazine and U.S. News & World Report.
"We are super excited and pleased and proud," said Ellie Basham, executive director. "This means a lot to us."
Newsweek based its Best Nursing Homes list on data from Statista Inc., a worldwide data research firm. Statista determined the Best Nursing Homes based on a combination of:
Survey results from medical experts
Data from the Centers for Medicare and Medicaid Services on

staffing
health inspection
quality measures

Facility's handling of the COVID-19 threat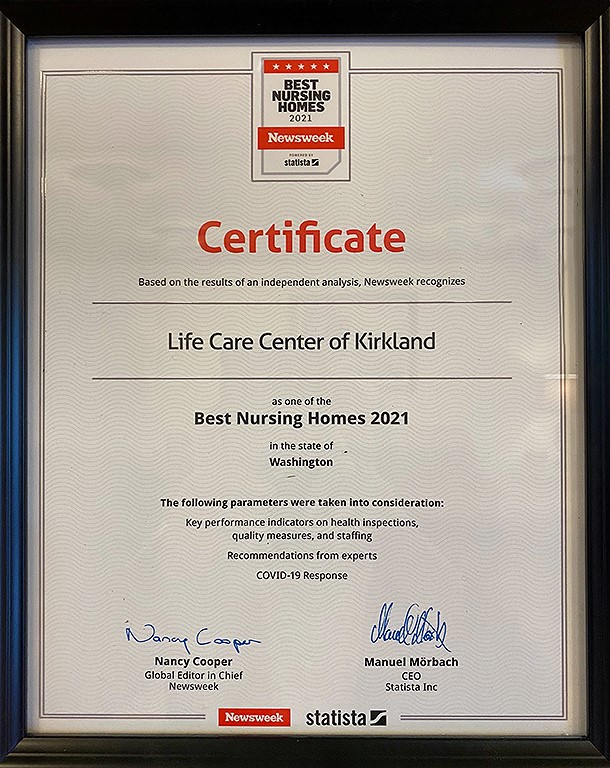 Twenty states, including Washington, were reviewed with data from May 24, 2020, until Aug. 2, 2020. Each state had a differing number of Best Nursing Homes listed and ranked.
Nine facilities in Washington were named Best Nursing Homes, with Life Care Center of Kirkland ranking number five.
In the U.S. News & World Report 2020-2021 Best Nursing Home list, nursing and rehab centers nationwide were rated in a Long-Term Care and Short-Stay Rehab categories.
According to Mark White, vice president of specialty marketing at U.S. News, "Only 21 percent of U.S. nursing homes earned at least one badge."
Life Care Center of Kirkland earned the Best Nursing Home badge in the Short-Stay Rehab category.