Easter means hope, and even the COVID-19 pandemic can't take that away.
Life Care facilities around the country found ways to celebrate this meaningful holiday this year that were both safe and fun. While each community made Easter special, here are a few highlights!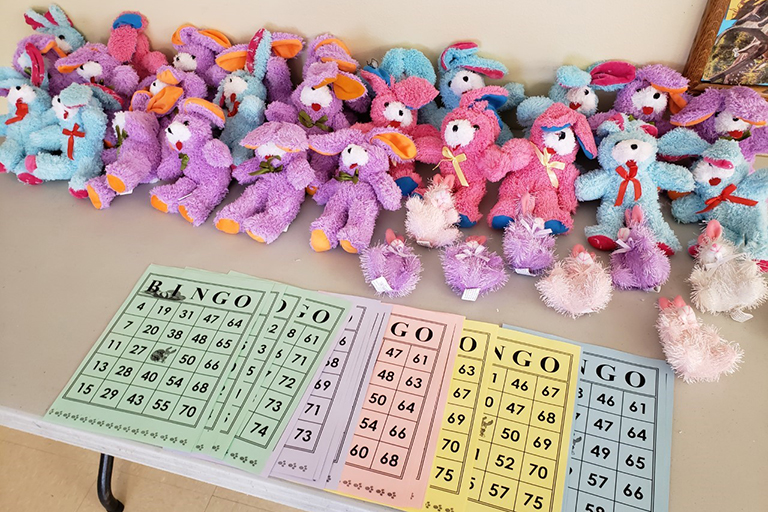 Life Care Center of Wilbraham, Massachusetts had special Easter bingo games all weekend with dry-erase bingo cards for easy sanitation. Winners won themselves a stuffed animal bunny buddy of their own.
Lady residents at Life Care Center of Sierra Vista, Arizona, decorated springtime hats on Good Friday. On Holy Saturday, they took part in an Easter egg hunt throughout the building. On Easter Sunday, associates delivered baskets from the Easter Bunny, and individual residents were able to take communion. The ladies also wore their new hats to the facility's Easter parade down the halls, spaced appropriately apart.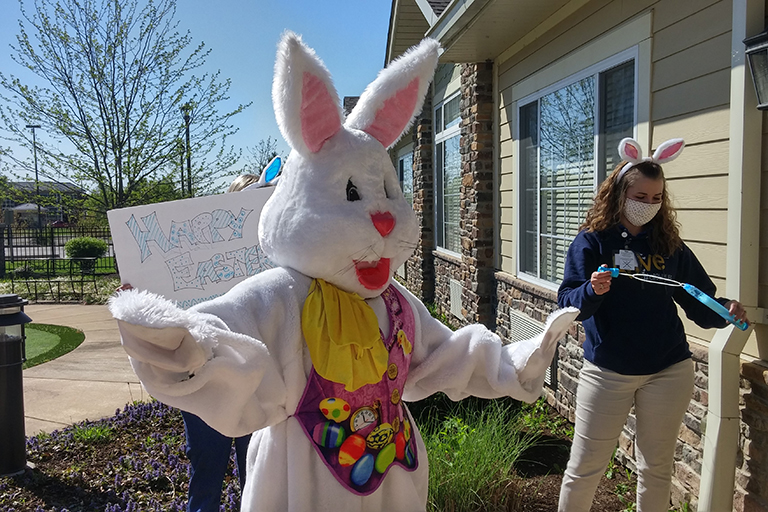 Volunteers from Crown Hospice did a little dance for residents at Life Care Center of Cape Girardeau, Missouri, dressed up with bunny ears and one person in an Easter Bunny costume. Residents also enjoyed receiving goody-filled Easter eggs, FaceTiming with family and having ice cream. "We did not get to have our annual egg hunt, but the residents still had a lot of fun!" shared Kaylee Bagby, activity assistant.
The team at Alderwood Manor in Spokane, Washington, filled jumbo eggs with chocolate bunnies, assorted candies, puzzle booklets, pens and an Easter-themed stuffed animal. "It was a lot of fun to pass them out to each resident in their rooms, and it made our residents very happy!" said Sean Aiken, activity director. "It has certainly been a challenge this last month, but it completely makes my entire day when I can make my residents happy."
Life Care Center of Paradise Valley, Arizona, shared the Easter love with residents' family and friends by having residents put messages on a spring-decorated whiteboard. They then took photos of the residents holding their messages. For residents who had phones, they could then text the photos to their friends and family members, and for those who didn't, associates printed out a copy and mailed it to the resident's loved one.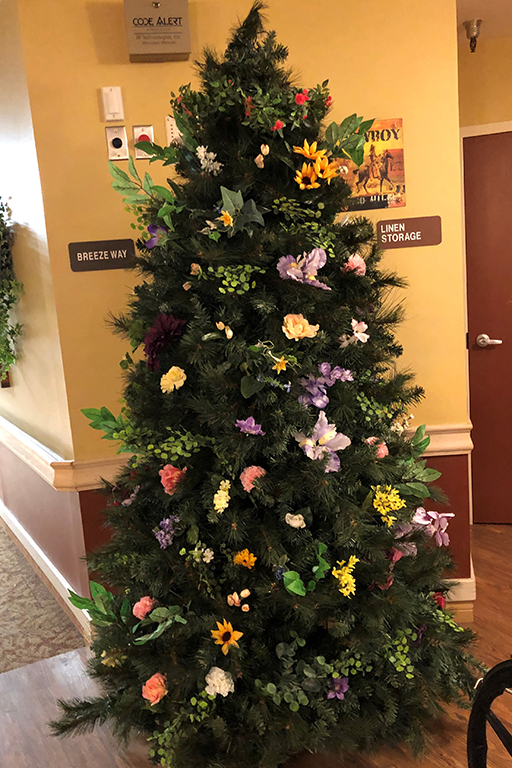 Associates at Columbine Manor Care Center in Salida, Colorado, took the celebration to the trees. They hung Easter eggs on the trees outside for residents to look at through their windows and made an Easter tree inside. "We offered one decoration per room, like an Easter basket full of flowers," shared Courtney Price, activity director. Associates went door to door and delivered large-print non-denominational Scripture readings coloring pages and word puzzles. The therapy director also brought his guitar and went down the halls playing music and singing songs with the residents.
Life Care Center of Kirkland, Washington, started Easter off by playing The Messiah Easter selections by the Westminster Chapel Choir and Orchestra on the in-house television channel. Associates brought around Easter bags with Bibles, socks, truffles and sugar-free candy for diabetic residents. Residents went outside one by one to hunt for eggs, and they closed out the day with the movie "Easter Parade" playing on the in-house channel.
Members of a local church visited Life Care Center of LaGrange, Indiana, and sang from the courtyard with speakers set up inside the facility so residents could watch them out the window and hear their voices.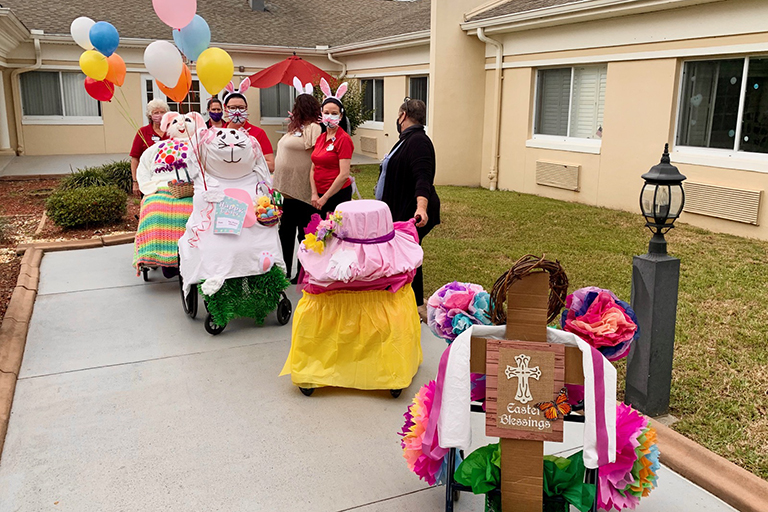 Life Care Center of Citrus County in Lecanto, Florida, held an Easter parade and resurrection celebration with decorated floats. "It was really nice of you all to do that for us," said the Resident Council president. "I enjoyed seeing the different decorations and smiled when I saw you all pass by a second time on the sidewalk."
Associates at Life Care Center of Blount County in Louisville, Tennessee, passed out laminated Easter prayers along with goody bags filled with hand sanitizer, tissues, hand lotions and eyeglass cleaning cloths. "Most of our residents wished for the prayers to be read to them and then hung up in their rooms," shared Rachel Hart, director of activities.
Life Care Center of Winter Haven, Florida, had a special Easter service. "During the week leading up to Easter, the residents were growing anxious about how different Easter would be this year," explained Ashlea Evans, executive director. "One of our residents is retired from ministering as a pastor at Faith Outreach in Lake Alfred. Prior to COVID-19, she was still active with her church family weekly and was more than willing to provide a brief sermon for our residents." Members from Crestview Baptist Church and St. Johns United Methodist Church brought music, and residents enjoyed a service outside while spaced safely apart.