Hazel Plummer, the oldest person in the state of Massachusetts, celebrated her 112th birthday on June 19, 2020, at Life Care Center of Nashoba Valley in Littleton.
The day started out with some pampering – a haircut and style from Dehlia Dustin, business office manager, who also happens to be a licensed hairdresser. Hazel looked great for her party, which included a drive-through parade!
The local police kicked off the event driving through the facility's driveway while flashing their lights, and they were followed by many of Hazel's friends and family. They cheered and wished Hazel a very happy birthday.
But the fun wasn't over. In advance of Hazel's birthday, associates had put out a call for birthday cards. They were hoping to receive 112, and she ended up with 500, sent from all over the United States! The facility also received 112 cupcakes.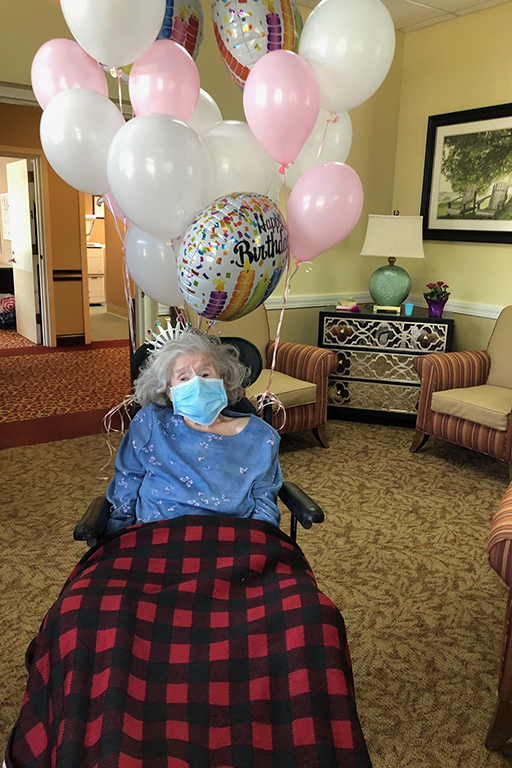 Born in Somerville, Massachusetts, in 1908, Hazel survived the Spanish flu and now the COVID-19 pandemic. As a seamstress, she worked for an upscale designer on Newbury Street in Boston. She married in 1934 and had two children. She made wedding and bridesmaid dresses from her home and was an active churchgoer who never drank alcohol or smoked.
Hazel has resided at the facility since May 2017.
"The staff at the Life Care Center made my mother's 112th birthday really special," said her son, David. "Specifically, I must recognize Debra Thrush's effort in requesting people to mail birthday cards with the objective of receiving 112. The goal was exceeded greatly because she received 648 cards from 40-plus states, Australia, Canada and England. Debra also arranged for a drive-by with Littleton Police and other friends. She was assisted by Missy Francoeur for a visit by us where her the majority of her cards were all on display. She also arranged for Dehlia to cut and style her hair, and my mother looked lovely. It was quite a special day."