Heidi Pino, Life Care Public Relations
It was a somber day at the Rivergate Complex in Riverview, Michigan, on Oct. 22, 2020.
The twin facilities, Rivergate Terrace and Rivergate Health Care Center, each held a memorial service honoring those they lost to COVID-19 this past spring.
Rivergate Terrace held its service first.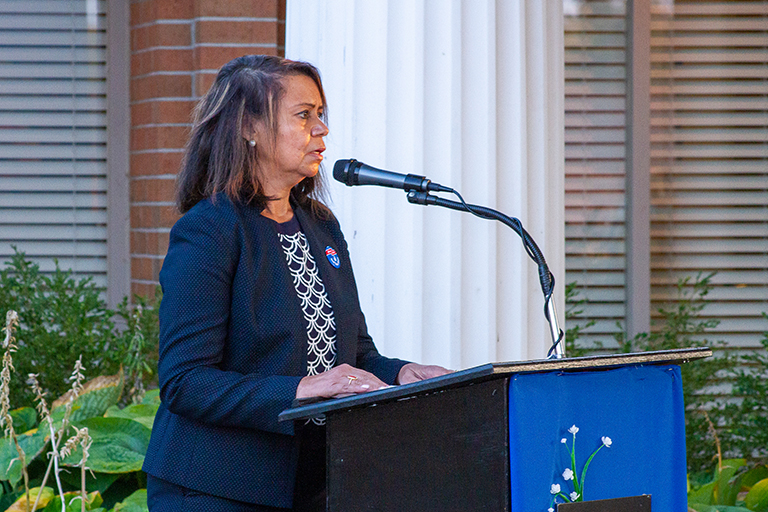 "This gathering is for us to come together to mourn as one and remember our lost residents, each and every single one of them, ensuring their memory will never be undone," said Sujata Chaddha, executive director.
John Polturanus, vice president of Life Care Centers of America's Lakes Region, shared a few thoughts as well.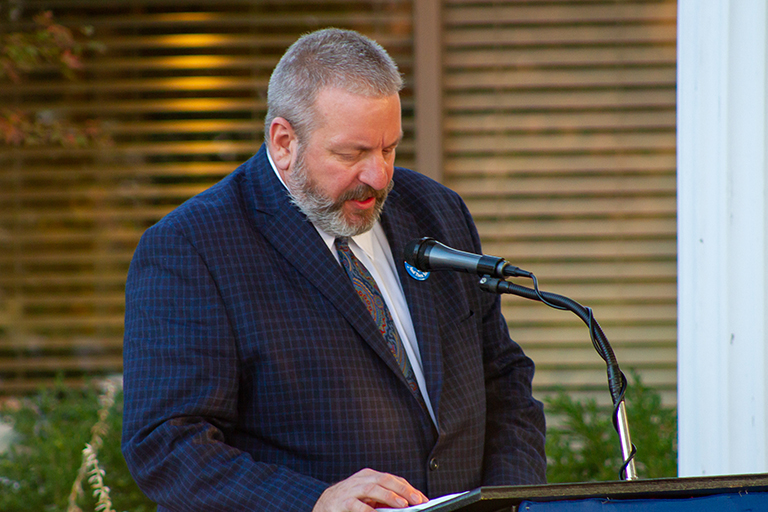 "Our associates and residents rose to the occasion, to the challenge," John said. "They became heroes. They became champions. Our fearless associates didn't back down. They faced the virus head-on, doing everything possible to slow its spread. One associate lost her life, and part of our team is now missing. She will never be forgotten."
Rivergate Terrace held a candlelight ceremony, lighting a candle for each of the 37 residents, as well as the associate, who passed away from COVID-19.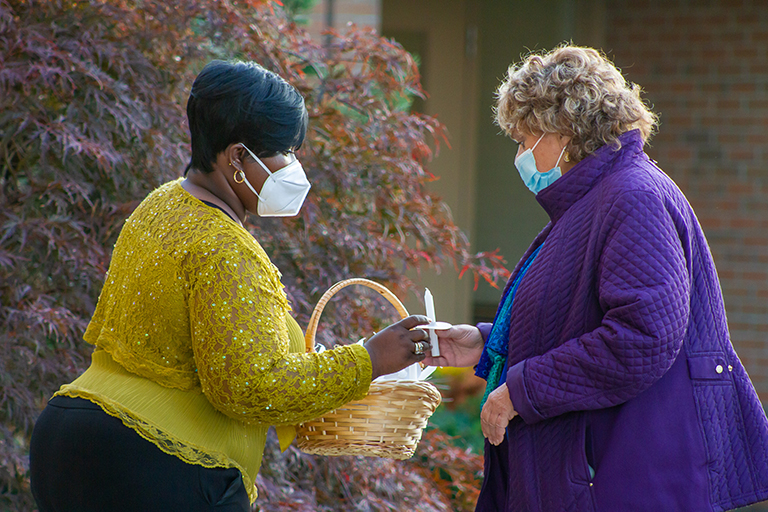 Several associates then read these individuals' names and rang a bell for those whose families chose not to name them.
After a prayer by Amy McMillan, a local minister, Sujata then unveiled a plaque commemorating those at the facility who lost their lives to COVID-19. It will be a permanent memorial in their honor.
Nancy Mousseau, admissions director, shared some words of thanks to the community for their support during the outbreak, especially through words of encouragement, participation in the facility's drive-through parade and more.
"All of these gestures have meant the world to us here at the Terrace," Nancy shared. "These gestures carried us."
Shortly after the conclusion of the Rivergate Terrace service, Rivergate Health Care Center hosted its memorial service as well. Since the program took place at dusk, associates had lit 20 luminary bags along the front, representing the 20 residents who had lost their lives to COVID-19.
Bethany Reames, admissions coordinator, welcomed the guests, followed by the lighting of four candles, led by Paula Sebest, food services manager at the facility and an ordained minister. The four candles represented grief, courage, memory and love.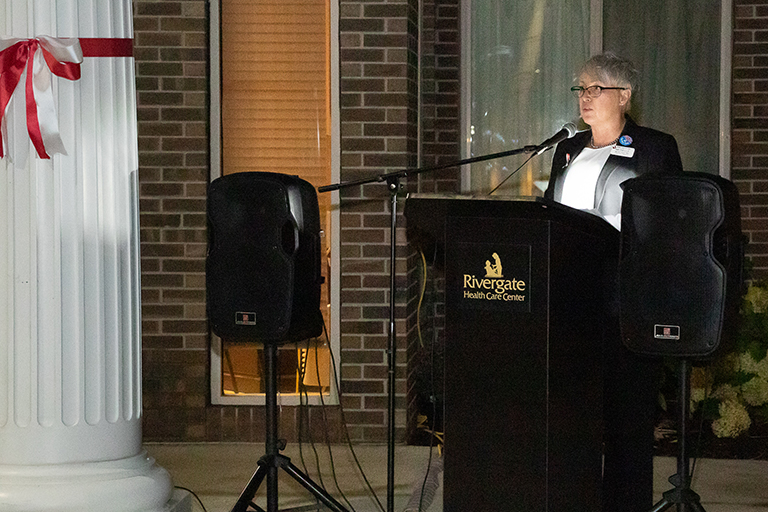 Michelle Peeper, executive director, shared some of her experience during the COVID-19 outbreak.
"When I learned of our first positive case of COVID-19 (Oana Jecu, director of nursing had given me the news), my heart sank, and I had a moment of disbelief," Michelle remembered. "We had done everything we could to prevent the entry of COVID-19 into our building. We were the first in the area to close our doors to visitors before the state of Michigan and the CDC even recommended that we should – how could this be? We closely reviewed each potential resident for any indication of fever, cough or shortness of breath… but it still happened.
"Then there was this beautiful ray of light that came out of this darkness: the associates of Rivergate Health Care Center," Michelle continued. "Their love and compassion to care for our residents, our family, began to rise in the building. Everyone was doing everything they could to support each other, and even cry together when one of our residents was lost. The associates of Rivergate Health Care Center make me so proud. They are true champions, and we know our fight is not over! We will keep fighting to protect our residents and associates."
Associates read the names of several of the residents lost to COVID-19 while a bell rang, while simply ringing the bell for the residents whose families chose to remain private.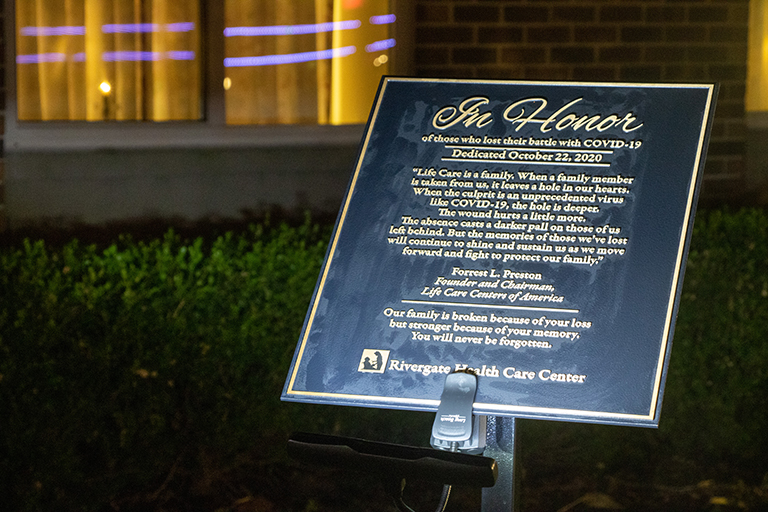 Michelle also uncovered a permanent memorial plaque in front of her facility to remember those lost, and John Polturanus shared some closing thoughts.
As the two memorial services closed with the setting of the sun, the candles lit in honor of those lost shone bright, reminding onlookers of the memories, and the hope, that remain. Both Rivergate teams of champions still stand strong, shining the light of their love.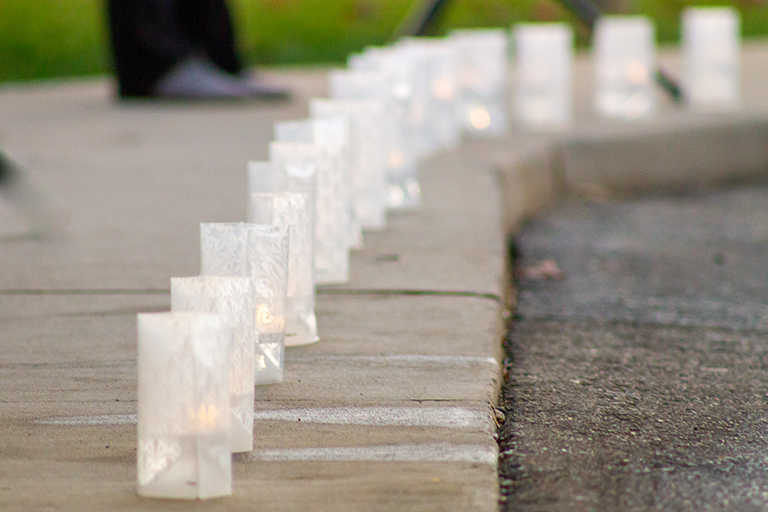 Rivergate Terrace Memorial Service
Rivergate Health Care Center Memorial Service