Heidi Pino, Life Care Public Relations
On March 29, 2021, Valley View Villa in Fort Morgan, Colorado, hosted a grand re-opening to welcome back residents' families and friends.
It has been a long year since nursing homes around the country shut their doors to visitors, and the reopening guidance recently put out by the Centers for Medicare and Medicaid Services is a welcome change. Valley View Villa's residents have been keeping in touch with their families through phone calls, video chats and window visits, but nothing can replace the in-person connection of being face to face.
Even better, residents who have been vaccinated don't have to stay six feet apart, even though the masks remain on.
"They can hug each other finally," said Jessica Strong, executive director at Valley View Villa. "Some of them haven't had a hug from a family member in a year."
At the reopening, the facility held a ribbon cutting ceremony.
"I've been dreaming of this day for 54 weeks, and it's even better than I imagined!" said Cathy Powell, daughter of resident Barb Brasby. "We clung to each other, soaking up sunshine and touch. Holding each other again was glorious."
For her part, Barb shared, "I think it is so wonderful. That was the best visit ever."
Barb's son, Matt Brasby, added, "It felt good walking down the hall to Mom's room again. It is a delight to see Mom again face to face, look at family pictures and be able to give her a hug and hold her hand. And a big thanks to the staff for all the extra work over the last year and continuing now."
The facility continues to follow infection control protocols and guidance from CMS and the CDC. Masks, hand hygiene and frequent sanitization are standard, and the facility has made vaccinations available for free for residents and staff.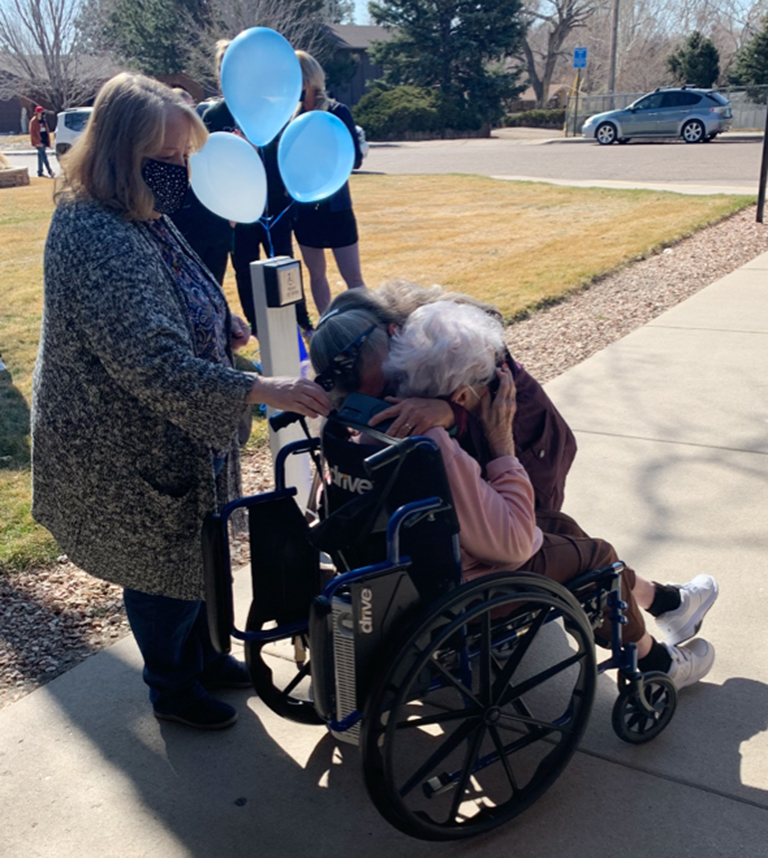 The facility's dedication to resident safety is working, too. The center currently has five stars from CMS, the highest rating given, and was named a 2020-2021 Best Nursing Home for both Long-term Care and Short-stay Rehab by U.S. News & World Report. Only 21 percent of nursing homes around the country earned at least one Best Nursing Home badge. In addition, many of the facility's staff have been working there for years, and the facility attributes a good part of its success to its staffing stability, especially among its leadership team.
Now, with the reopened visitations, associates are looking forward to being able to meet the residents' social needs on this deeper level once again.
"It is such a thrill," said resident Faye Cable. "They can come up and hug you and say, 'Grandma, I love you,' or, 'Mom, I love you.' Just makes your old heart pump, pump, bump, bump. And my goodness, the grandkids have grown so much! I had to look up at 'em, you know."
"It means the world to us," said Gloria Webb, Faye's daughter. "It's just awesome to see her and hug her. You know, she just keeps asking, 'Give me more hugs. Give me more hugs.' It has been so great."