By Dirk Schmidt, director of rehab services
When Kathleen Dorn came to Valley West Health Care Center in Eugene, Oregon, she was not in a good state.
She was recently here for rehab after a right below-knee amputation, but then the wound became infected, and she had to undergo a resection with an above-knee amputation. Additionally, she had another infection and developed pneumonia, which weakened her further.
Kathleen needed help with bed mobility, was dependent with all transfers from one surface to another, was not able to stand and required extensive assistance for dressing and toileting. She also had a pressure wound on her remaining left heel when she came back from the hospital. Her mood was also depressed having to cope with the recent loss of her lower leg and the fear about an uncertain future.
Kathleen received physical and occupational therapy services to help her move around by herself as well as perform her self-care tasks so she could be able to return to her assisted living facility with only limited assistance.
Physical therapy used electrotherapy to help with wound healing, as well as stretching and strengthening exercises. Occupational therapy focused on enabling Kathleen to learn techniques to dress herself and improve her upper-body strength to assist better with mobility.
She learned how to use a slide board to transfer from her bed to her power wheelchair. When she was strong enough, she was then able to perform those tasks without any helper.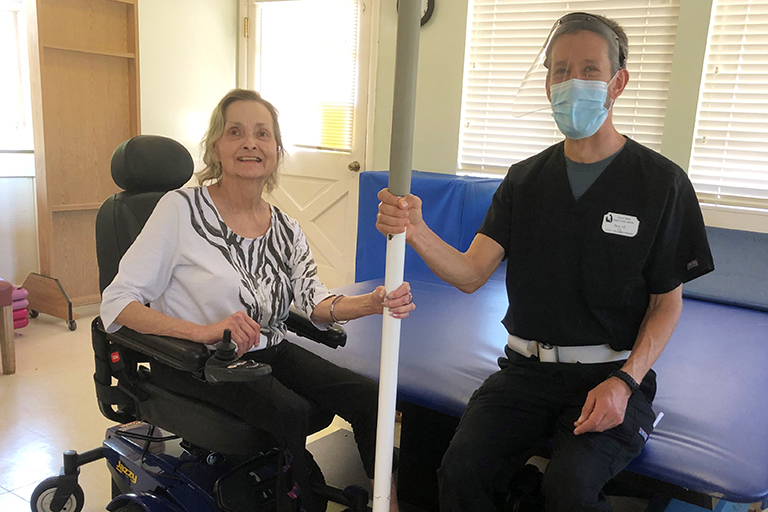 Kathleen is going back to her assisted living facility and is planning to join a self-help group for people who have undergone amputations. She will continue therapy with home health and is planning to get a prosthesis to be able to walk again.
"When I came in here, I felt really down, but then therapy picked me up," Kathleen said.
She is happy to share her story in order to encourage others to not give up but work hard to overcome obstacles and be successful.